Do you dream of becoming a professional cosmetologist? You want to follow your passion, pursue the aesthetic path. You are looking for a spa apprenticeship in Dak Lak.
To help you get the reference information. The following article Miss Tram will introduce to you a list of the most prestigious cosmetic tattoo and skin care facilities in Dak Lak. Let's follow the article with Miss Tram!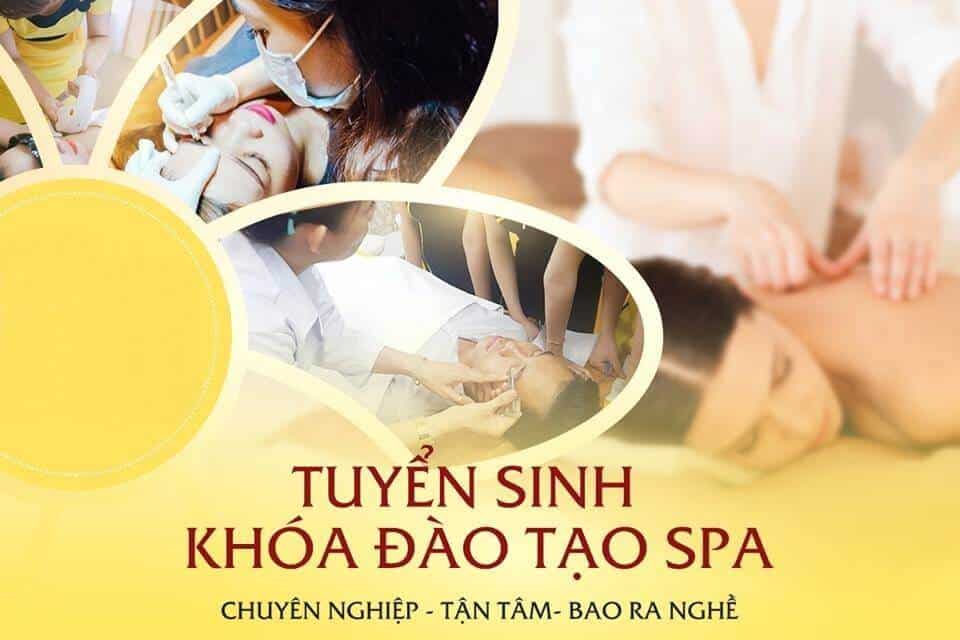 Top 10+ Spas Teaching Skin Care, Tattooing, Cosmetic Sculpting In Dak Lak.
1. Seoul Spa
With many years of experience in the profession, along with a team of qualified and skilled teachers, Seoul Spa is definitely the ideal place for you.
Address: 93 Dien Bien Phu, Thang Loi, City. Buon Ma Thuot, Dak Lak

Phone: 1900.6947
2. Chicken Spa
The training program of Ga Spa is compiled methodically and meticulously, always close to actual needs and at the same time is a model training model for many establishments to follow.
Address: 6 Huy Can, Thang Loi, City. Buon Ma Thuot, Dak Lak

Phone: 0379.773.517
3. Phuong An Spa
Phuong An Spa is considered as a professional cosmetology training address in Dak Lak with a team of experienced and highly skilled teachers. Therefore, this is a training address that you should not miss.
Address: 509 Le Duan, Ea Tam, City. Buon Ma Thuot, Dak Lak

Phone: 0935.312.031
4. Mun Beauty Spa
With outstanding advantages, as well as the ability to train students extremely well, Mun Beauty Spa is a place worth paying attention to when having passion in the field of cosmetology.
Address: 83 Ngo Quyen, Tan Loi, City. Buon Ma Thuot, Dak Lak

Phone: 0942.700.093
5. Dong Nghi Spa
Students coming to Dong Nghi Spa will be trained with an intensive course by well-known experts in the profession. Moreover, the curriculum here is also compiled in the most meticulous and thorough manner.
Address: 51 Phan Chu Trinh, Thang Loi, City. Buon Ma Thuot, Dak Lak

Phone: (026) .2384.4693
6. Laurel Spa
The courses at Laurel Spa always bring students the latest and most modern beauty methods by experts with many years of experience.
Address: Ly Thuong Kiet, Thang Loi, City. Buon Ma Thuot, Dak Lak

Phone: 0929.481.972
7. Ngoc Dung Spa
Ngoc Dung Spa is famous as a training facility with good quality, reasonable cost, dedicated teachers, so it is very suitable for young people in Dak Lak.
Address: 4 Ngo Quyen, Thang Loi, City. Buon Ma Thuot, Dak Lak

Phone: 0786.525.788
8. Oriental Spa
Phuong Dong Spa owns a set of standard textbooks, compiled in the most methodical and meticulous way. Along with that is a friendly learning environment so you will learn very quickly.
Address: 210 Chu Van An, Tan An, City. Buon Ma Thuot, Dak Lak

Phone: 0982.108.678
9. Kay Spa
The teaching staff at Kay Spa who are leading experts in the beauty care industry will participate in direct teaching.
Address: 28 No Trang Long, Thong Nhat, City. Buon Ma Thuot, Dak Lak

Phone: 0939.627.111
10. Ngoc Spa
When studying at Ngoc Spa, you not only master professional knowledge from basic to advanced. Besides that, you are also trained to develop the necessary skills in the beauty industry.
Address: 38 Pham Hong Thai, Tu An, City. Buon Ma Thuot, Dak Lak

Phone: 0982.203.238
11. Quyen Quyen Spa
With a team of experienced instructors and modern equipment, Quyen Quyen Spa will help you fully grasp the knowledge from basic to advanced and have solid skills.
Address: 92 No Trang Gu, Tan Tien, City. Buon Ma Thuot, Dak Lak

Phone: 0942.652.023
12. Miss Duyen Spa
Modern and spacious facilities; Comprehensive, scientific and professional training programs are the commitments that Miss Duyen Spa brings to students.
Address: 203 Phan Boi Chau, Thong Nhat, City. Buon Ma Thuot, Dak Lak

Phone: 0945.681.331
13. Helen Spa
Participating in the course at Helen Spa, students will practice on modern standard equipment, under the dedicated teaching of instructors.
Address: Tan Loi, City. Buon Ma Thuot, Dak Lak

Phone: 0912.028.698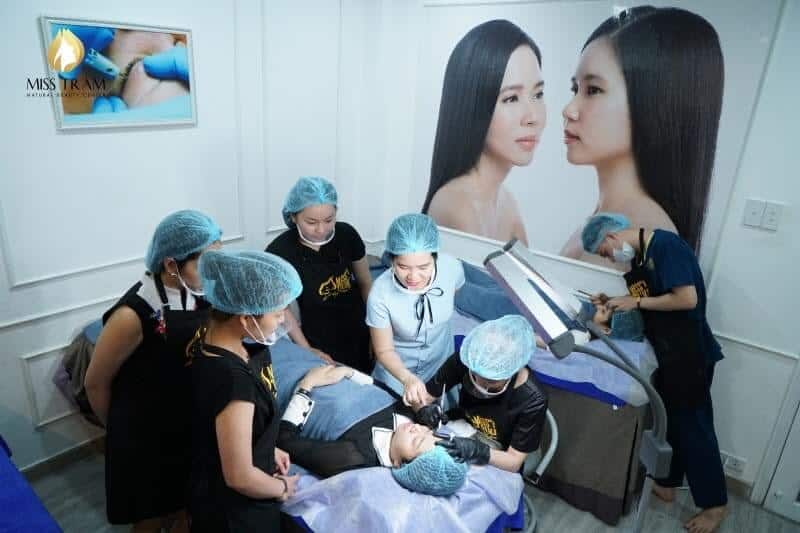 The appearance of many training facilities for skin care, cosmetic tattoo spray today has made many young people who have a passion for the profession still hesitant and confused when choosing. Therefore, to be able to choose a quality training institution, you should master the following 8 notes:
Ask clearly about the requirements - the required qualities of the profession.

Ask about money (tuition, incidental expenses).

Ideas to know about study time.

About the location (place of study – exam – award).

About the true value of the degree upon graduation.

What is the specific curriculum?

Any support after the course.

Must commit in writing.
To better understand these 8 notes, you can find out more information through the article Experience Choosing a Address to Learn Aesthetic Sculpture Tattooing . I hope you find the location that's best for you.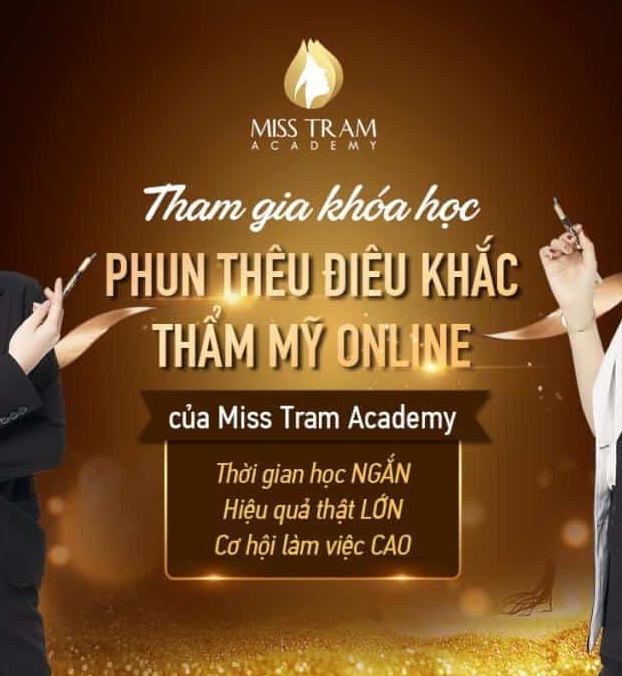 If you are passionate about cosmetic tattooing but because of difficult economic conditions, far away, ..so you can't attend courses directly at the center, don't worry too much. Because now there is an online cosmetic tattoo spray course of Miss Tram. This course does not provide a solution to your concerns and difficulties. Besides, it also helps you save your "time fund".
The online cosmetic tattoo spray course will balance both "quality" and "quantity", helping students after completing the course will be SURE and MASTER.

The course is for those who are passionate about the beauty industry to become a good cosmetic sculptor.

Spa managers will be updated with more advanced knowledge, understanding the industry to be more convenient in their work.

Fully equipped with qualified knowledge and skills to work or open a Spa, Beauty Center.

Study at home with maximum savings

Flexible time.

Join the group to exchange experiences and talk about careers.

Have high income.

Stable work throughout 4 seasons of the year.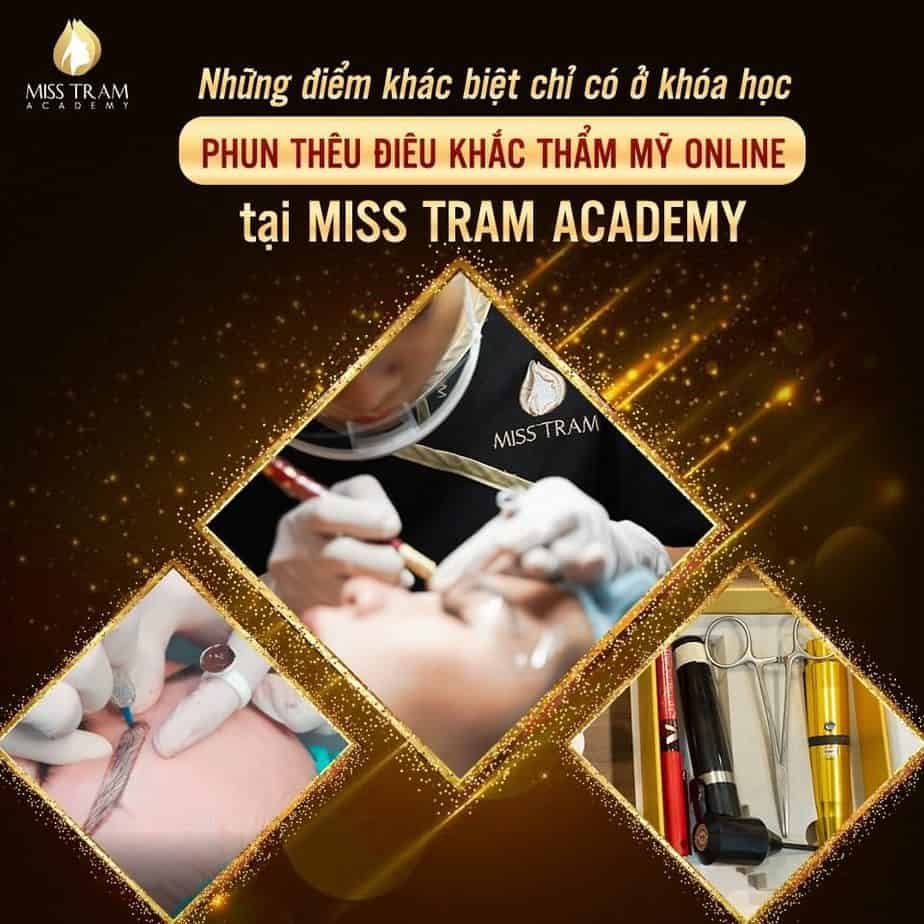 Differences only in Miss Tram's cosmetic tattooing course:
Each lesson is a clear HD quality video, from 15 - 30 minutes with detailed instructions of expert teachers, clear audio, easy to understand communication.

Instructors complete on both eyebrows and eyelids, not just one-handed like in other training institutions.

Students who register for the course will be equipped with a full standard curriculum.

The course is only suitable when you are really serious because you need to complete your lessons in each level, study until you submit them through your account.

You will not have the opportunity to be distracted because you will be directly connected with the Academy Manager to "Design your own timetable" for studying at home.

Instructors will always supervise online to ensure learning quality.

Students participating in the course will be able to join a closed zalo/facebook group, where you can easily send questions, share experiences and learn knowledge.

After completing the submission of the course, students will be able to review directly at Miss Tram Academy from 4 to 10 days and make an application form.

The preparation center is supported by 1-on-1 teachers.
With the difference that Miss Tram's online cosmetic tattooing course brings, it will definitely help you take new steps in your work. From there, you can use it as a "springboard" to further your passion. If you have any questions about the online course, please contact Miss Tram immediately for answers.
Above are the prestigious and quality cosmetic tattoo and skin care training locations in Dak Lak that Miss Tram wants to share with you. Hopefully this is useful information to help you choose the right quality training institution. Thank you for following our posts!