The Safest Sunless Skin Whitening Mask Formula
Many people worry that applying homemade masks will be easier to catch the sun, causing darkening of the skin and many other problems. Indeed, not all masks are suitable for the skin, bringing the expected effect. To help you gain more experience in mask preparation and customer consulting knowledge, Miss Tram Academy will share safe sunless skin whitening mask recipes from natural ingredients.
1. Mistakes when wearing a mask that few people know
One of the simplest and most effective skin care methods is to apply a regular face mask. Being aware of this, most women love to wear masks.
However, we all have the same mistake of thinking that adding more frequency is more effective. The truth is not like that, because our skin has a special and complex structure, if we provide nutrients quickly while the skin has not been able to absorb it, it will cause clogged pores, causing visible signs of aging. greasy excess oil. This is very common in sheet masks that contain a lot of nutrients.
As for masks extracted from nature (fruits, vegetables), although safe and non-irritating, they only bring certain effects if you know how to prepare and adjust the time to stay on the skin. Because some ingredients such as lemon, strawberry, pineapple, yogurt, ... have bleaching properties and when applied for too long will cause skin cells to be affected, turning from good to bad. If these ingredients are overused, the skin can easily dry out, thin and become more sensitive.
In addition, another common mistake is the habit of not washing your face before applying a mask. This prevents nutrients from being absorbed deeply, making the skin more susceptible to infection.
2. Skin whitening masks that don't eat the sun
Recipe 1: Turmeric + honey + yogurt
Turmeric is rich in an antioxidant called curcumin. This substance will support the inhibition of collagenase, elastase and hyaluronidase - which are factors that cause vascular disruption. collagen, elastin and hyaluronic acid. Naturally, the skin needs collagen to keep the skin structure stable and elastin to hold cells together, while hyaluronidase takes on the role of moisturizing, making the skin plump and youthful. Not only that, curcumin also has the ability to heal wounds, soothe irritation on the skin as well as even out dark skin areas.
Referring to honey, we all know that this is a great beauty ingredient, which helps to clean, soften, moisturize and effectively fight aging. When combined with turmeric, the mixture will nourish deep within the cells, improving the pigmentation for a healthier, brighter skin.
Not only that, the gluconic acid in honey is a mild alpha-hydroxy acid that helps brighten and even skin tone, plus antioxidants help neutralize damaging free radicals, thereby supporting nourishment. Protects the skin from UV rays and prevents signs of aging.
As for yogurt, it is highly appreciated for its ability to brighten skin, balance beneficial bacteria for the skin thanks to its rich composition of gluconic acid.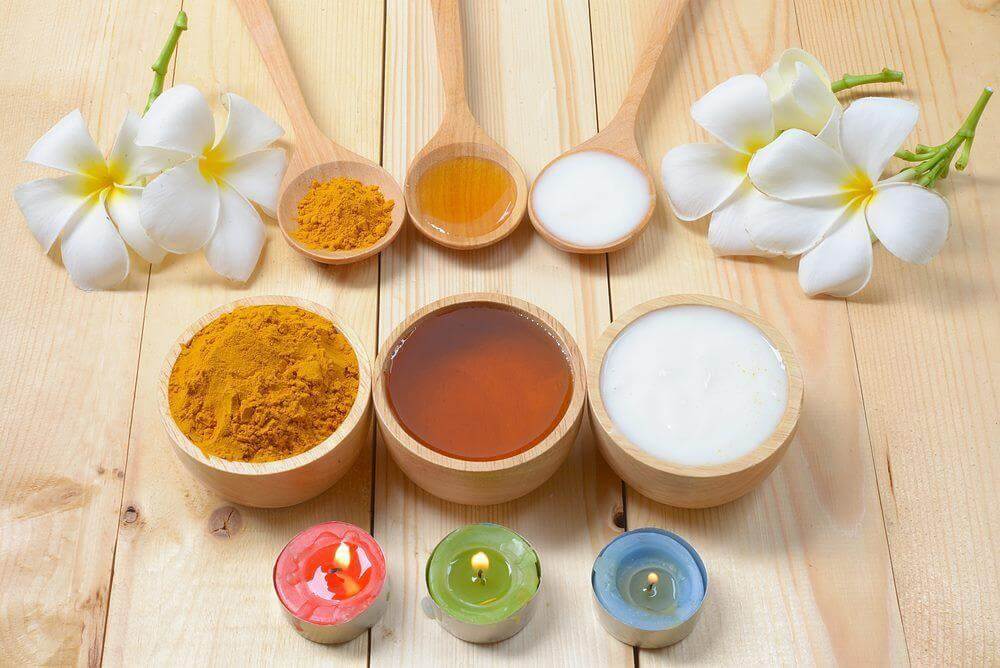 Ingredients to prepare:
1 teaspoon turmeric powder

1 teaspoon raw honey

1 teaspoons unsweetened yogurt chua
Perform: you mix all these ingredients together into a smooth paste and start applying it to the skin. Use a specialized brush or a soft-bristled brush to evenly apply the skin from the forehead to the neck. The mask should only stay on the skin for about 20 minutes and then rinse with warm water.
Recipe 2: Chicken eggs + honey
If you want an effective skin whitening mask that does not catch the sun, you should not ignore egg honey. This is a simple combination but it is not simple because the effect it brings is great.
Chicken eggs contain a lot of protein, which strengthens the connective tissue and promotes the formation of new cells. From there, the skin will be more elastic and firm, minimizing wrinkles on the skin. The magnesium component of eggs will do the job of repelling bad free radicals, reducing the aging process. In particular, cannot ignore collagen - the factor that determines the smoothness of the skin.
So what ingredients help whiten skin? It is the rich content of Vitamin B, which has the ability to metabolize and regenerate the skin, helping to even out the skin tone effectively.
When combined with honey, this formula helps to nourish healthy white skin, while strengthening the barrier so that the skin does not have to be caught in the sun causing darkening.
Ingredients to prepare:
1 teaspoons honey

1 chicken egg
Perform: You separate the whites and yolks, using only the whites for this recipe. The whites need to be whipped, add honey and mix well. Then use the brush to apply evenly on the face. The mask has an ideal time of about 20 minutes, then rinse with water.
Above are 2 safe sunless skin whitening mask recipes, suitable for many skin types. Note that, no matter which mask we wear, the best rule of skin care is to always tell customers to apply sunscreen when going out.
Inherently, the skin structure is very fragile, easily affected by ultraviolet rays, causing damage to the bonds, leading to the health and smoothness of the skin decline. So if there is no safe solution, no matter how much effort is spent on whitening, it will not be as effective as expected.