|Q&A| Essential Kits When Learning Eyelash Extensions What's Included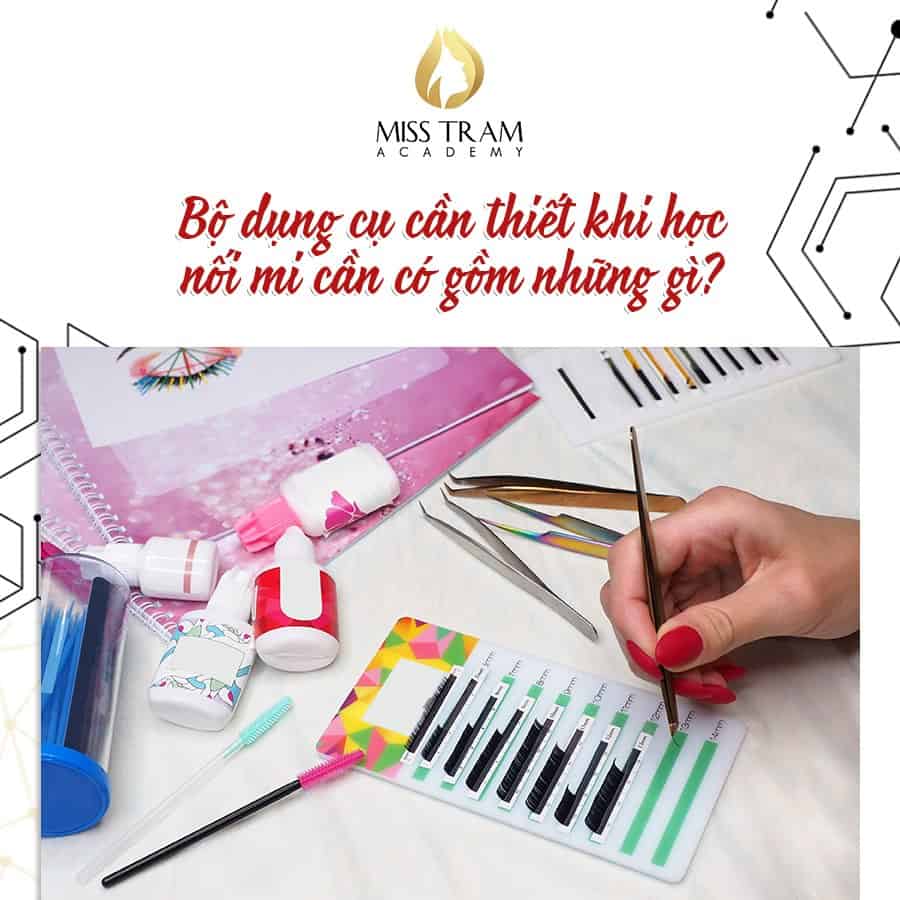 Recently, eyelash extensions have almost become a "national" beauty method because it quickly gives girls a 𝑚𝑖 , 𝑑𝑎̀𝑖 𝑣𝑎̀ . Thanks to that, eyelash extensions artists "do not do all the work", the number of students registering for eyelash extensions courses at training centers and academies also increased significantly.
To learn eyelash extensions, we must have a lot of "effective assistants", however, according to the experience of Miss Tram Academy, you must definitely understand and use the following types fluently:
1. Fake eyelashes
Currently on the market there are many different types of false eyelashes, so you need to know the characteristics of each type of eyelash, the life cycle and the effect of the word to be able to advise and convince your customers.
According to Miss Tram, it is recommended to choose imported eyelashes, typically Korean ones because they have superior beauty and quality.
2. Support solutions
These solutions include: Eyelash extension glue, Eyelash remover wax / eyelash removal gel, Eyelash extension cleaner, ...
In addition, we must equip eyelash extension tools with water to kill bacteria, ensuring safety standards for our customers.
3. Eyelid tweezers
Eyelash extensions cannot be done with bare hands, but need the help of eyelash tweezers. This tool is designed with a small pointed tip, precisely aligning the lashes into the right position.
4. Eyelash brush
The eyelash brush has the effect of smoothing the lashes, separating the lashes for easier manipulation.
5. Blow-drying ball
This tool is quite important because it helps to dry the glue layer faster, reducing the operation time as well as the feeling of wetness for customers.
6. Lamps and eyelash extensions
Due to the very small characteristics of the eyelashes, you must equip these two tools to limit error manipulation during the making. In addition, if enough brightness is ensured, our eyes will not be tired or sore from focusing on looking for too long.
Above are the tools that need to be equipped if you study eyelash extensions. According to Miss Tram, at some training centers, tools and equipment can be managed by students themselves. However, at Miss Tram Academy, you will be fully funded.
Depending on the subject and registered course, we will prepare you with the necessary supplies, maximum support for the apprenticeship process so that each student at Miss Tram has the opportunity to pursue their passion.
Do not hesitate to #Comment/ Inbox or call #HOTLINE 1900 7018 for advice on all your questions about the service.
Classic Eyelash Extensions/ Black Rose Eyelashes/ Katun Eyelashes

Natural 3D Eyelash Extensions – 3D Thick

Eyelash Extensions Volume 3D – 5D

Glitter eyelash extensions

Eyelash extensions with Natural Stones

Miles, remove eyelash extensions