How to Whiten Skin With Rice Bran Powder And Oatmeal
Rice bran powder and oatmeal are two popular ingredients of women in skin care and nourishment. With high nutritional ingredients, together with strong antioxidant compounds and abundant vitamins, both powders provide the ability to brighten and smooth skin, reduce dark spots. Although highly appreciated for its effectiveness, many people must wonder whether rice bran powder and oatmeal are better when it comes to skin whitening? Let's Miss Tram Academy Find out about this right away!
1. Nutrient ingredients in rice bran powder and oatmeal
Comparing 100g of rice bran powder and 100g of oatmeal, we have the following nutritional indicators:
| | | |
| --- | --- | --- |
| Thành phần | Rice bran powder | Oatmeal |
| Vitamin A | 0 IU | 0 IU |
| Vitamin B6 | 4.07 mg | 0.165 mg |
| Vitamin B12 | 0 mcg | 0 mcg |
| Vitamin E (Alpha-tocopherol) | 4.92 mg | 1.01 mg |
| vitamin K | 1.9 mcg | 3.2 mcg |
| thiamine | 2.753 mg | 1.17 mg |
| Riboflavin | 0.284 mg | 0.22 mg |
| Choline | 32.2 mg | 32.2 mg |
| Iron | 18.54 mg | 5.41 mg |
| Magnesium | 781 mg | 235 mg |
| Phosphorus | 1677 mg | 734 mg |
| Potassium | 1485 mg | 566 mg |
| Manganese | 14.21 mg | 5.63 mg |
| S | 15.6 mcg | 45.2 mcg |
| Total Omega-3 Fatty Acids | 0.316g | 0.121g |
In general, the indexes between these two powders are not too different and they share the same essential nutrients for the skin. With these ingredients, rice bran powder and even oatmeal have the ability to moisturize, gently exfoliate, and improve dark skin areas. These two powders can be combined with ingredients such as fresh milk, yogurt, honey, olive oil, etc. to care for body and face skin. If used in the right dosage, with the right frequency, the skin will be greatly improved.
Rice bran powder and oatmeal are very good for skin whitening
2. Rice bran powder and oatmeal which is better when it comes to skin whitening?
Natural origin, rich in nutrients, good skin care ability, rice bran powder and oatmeal are always chosen in skin beauty recipes. However, there is still a certain note between these two powders. Looking at the nutrient composition table above, you can see that rice bran powder contains more vitamin E, minerals with higher content, so it can be said that the ability to whiten skin in a shorter time.
But rice bran powder is more suitable for body skin because with this nutrient content, facial skin is often irritated, causing acne. Meanwhile, oatmeal is good for sensitive skin, nourishes the skin gently, effectively reducing inflammatory problems on the face.
Therefore, when making a mask, you should consider to choose the right formula for the customer's skin condition.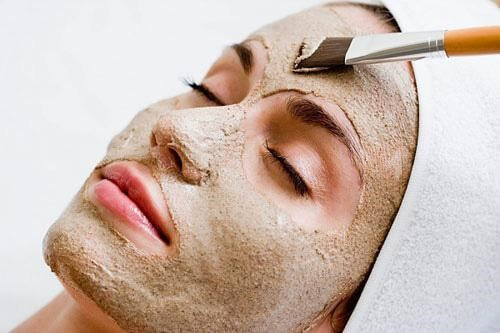 Rice bran powder is good, but using it on the face often causes irritation
Whether it's oatmeal or rice bran powder, when using these ingredients to make a face mask, we also need to note a few points:
Should gently massage to absorb nutrients into the skin, avoiding damage to sensitive skin;

When applying the mask, you need to follow an even, upward circular motion to prevent wrinkles and sagging skin;

Rice bran powder and oatmeal when mixed with hot water need to be cooled to room temperature otherwise it may cause skin burns;

Both types do not apply to skin with open wounds, skin with signs of eczema;

Do not combine these two ingredients with ingredients containing parabens and other harmful chemicals because it can cause premature aging of the skin, sensitivity to UV rays in the sun;

After applying the mask, it is necessary to apply a gentle lotion to balance the moisture of the skin;

When going out in the sun, it is necessary to take measures to shield carefully, apply sunscreen to help the skin from the negative influence of environmental agents.
In addition to the above notes, you should advise customers to have healthy eating habits (eat lots of fruits and vegetables), avoid foods containing sugar and carbohydrates, and keep a cheerful spirit so that problems can arise. The problem on the skin is quickly improved, the skin is fresher and smoother.