How To Make Seaweed Mask For Smooth Skin
Is the strange face made from seaweed real? Seaweed is a familiar food that plays a key role in North Asian cuisine. It is processed into many delicious dishes that are not only nutritious but also help lower cholesterol, lower blood pressure, enhance thyroid function ...
In addition, seaweed is rich in vitamins and minerals, so it has the ability to beautify the skin, not inferior to any kind of beauty cosmetics.
Therefore, you can use seaweed as a beauty ingredient that is both effective and safe. Today, Miss Tram Academy Please share the ways to make masks from seaweed at home that you should apply to have smooth, youthful skin.
1. Seaweed mask for acne
With a moderate amount of salt, seaweed has antiseptic and anti-inflammatory properties, so it can help reduce swelling in the area acne skin. In addition, with the ability to eliminate free radicals, remove the residue of the Fertile clement compound found in seaweed, it will help the body to be purified. Therefore, seaweed will limit the formation and proliferation of acne. Acne seaweed mask is made as follows:

Step 1:

Mix 1 teaspoon of seaweed powder, 1 teaspoon of raw honey and ½ teaspoon of aloe vera gel.

Step 2:

Apply the mixture to the skin and leave it on for 15 minutes.

Step 3:

Rinse with warm water.
You should do this seaweed mask for acne about 2 times a week.
2. White seaweed mask
Seaweed is rich in vitamins and minerals such as vitamins A1, B1, B2, B6, C, E, K, folic acid, niacin, calcium, magnesium, iron, zinc, etc. white skin.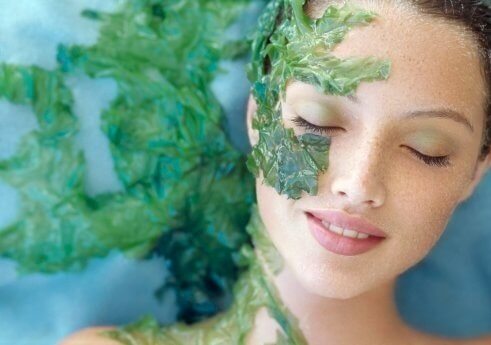 How to make the mask as follows:
Step 1:

Take a small piece of seaweed and soak it in warm water for about 5 minutes

Step 2:

Place a piece of seaweed in the palm of your hand, gently rub it to soften the seaweed.

Step 3:

Rub the seaweed evenly on your face. Wait about 10 minutes, then wash your face.
3. Seaweed mask to treat melasma
How to make seaweed mask has the effect of treating melasma with women's facial skin. The use of seaweed to treat melasma on women's facial skin is being favored by many women because of the miraculous effect that this natural mask can bring.
Step 1:

Use 1 tablespoon of seaweed powder, 2 slices of crushed ripe pineapple, 1 tablespoon of glycerin solution (if available).

Step 2:

Mix the ingredients well and apply it on your face, leave it on for 20 minutes, then wash it off with warm water.
4. Exfoliating Mask
Seaweed has the effect of balancing the amount of oil on the skin by inhibiting the production of excess oil. We can make our own exfoliating mask from seaweed by:
Step 1:

Mix seaweed powder with enough water.

Step 2:

Massage gently on the skin for 3-5 minutes.

Step 3:

Rinse with warm water.
We should only perform exfoliation once or twice a week to keep the skin clear and clean.
5. Anti-Aging Mask
Seaweed contains many antioxidants that help protect the skin from free radicals and prevent skin aging. The formula for the mask for aging skin includes:
Step 1:

Mix one teaspoon of seaweed powder, one teaspoon of raw honey and 2 drops of lavender essential oil.

Step 2:

Apply to skin, relax for 15 minutes and then wash off with water.
If done regularly once a week, you will own smooth and youthful skin.
6. Pore Tightening Mask
Clogged pores cause a lot of skin problems, especially acne. So, you can use a seaweed exfoliating mask to get rid of impurities from deep within the pores.
The recipe for the seaweed mask to tighten pores includes:
Step 1:

Mix 1 teaspoon of seaweed powder, 1 teaspoon of brown sugar, 2 drops of coconut oil.

Step 2:

Massage facial skin in a circle from the inside out, stay on the face for about 1 to 3 minutes.

Step 3:

Clean with warm water.
Maintain using this mask once a week to be able to remove dirt, excess oil from pores and clean skin.
Depending on your skin and needs, you should choose a seaweed mask that's right for you. In order for the mask to work well, you should remove makeup and wash your face before applying the mask. At the same time, you should also pay attention to the time it stays on the skin of each type of mask to avoid counterproductive situations.