Name the Spa is likened to "naming the brainchild" that every KTV is cherishing. A good, impressive, unique name combined with good service will have a very high brand coverage.
So how to give a meaningful Spa name, attract customers in and out continuously, see this article now!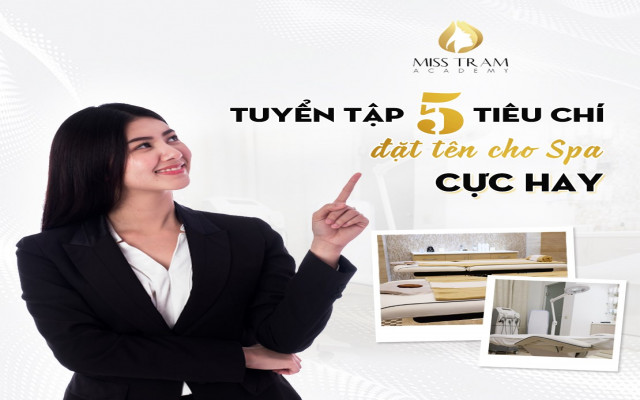 [Q & A] What are the best expenses when naming the best beauty spa?
1. Name Spa after personal name
Social networking sites are on the rise, so many people use their names to build their own brands, easily promoting through channels.

Suitable for small and medium sized Spas or you simply can't think of a better name, you can take advantage of this naming method.
2. Name Spa in a foreign language
For spas that have a lot of foreign guests and high-income customers who frequent, this is not a bad choice.

We can choose Spa names in English, French, Italian... showing unique, trendy and inspiring features. Thereby showing modernity, professionalism and novelty for customers.
3. Name the spa according to feng shui
– Feng Shui in business is very much interested by many people, from location, direction, store name…etc. For Spa too, you can name it according to feng shui five elements. Good luck and fortune for spa owners.
– Apply the first letter to the Spa name that suits your destiny!
The letters of the Kim par: C - Q - R - S - X - Z

Words belonging to the Moc par: G - K

The letters belonging to the Water sign: B – F – M – H – P

The letters of the Fire par: D - J - L - N - T - V

The letters of the Earth destiny: A - E - I - O - U - W - Y
4. Name the spa according to your preferences
For this naming, there are no specific criteria given, because simply "I like it". I find that name good, beautiful, associated with a person, period, memory, imprint... in the life that I have experienced.
For more information, the popular courses (depending on your interests) to get started with the beauty industry are:
Please contact us immediately Miss Tram VietNam for more advice on the study path as well as to see if you are suitable for this profession or not!
See more articles in this category Question and Answer of Miss Tram VietNam!