|Share| Sharing European Standard 3D Lip Spray Technique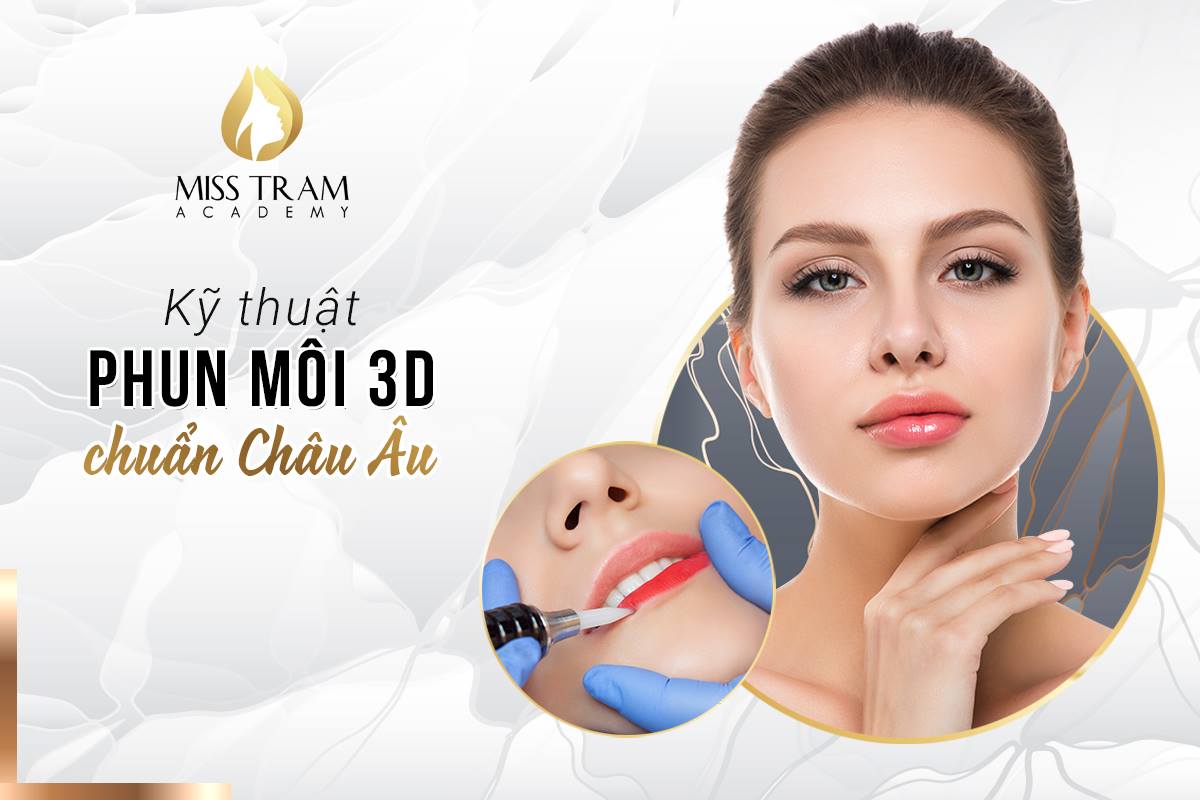 3D lip spray has the ability to create sharp contours, and create a multi-dimensional impact with the most beautiful and natural colors. This is a new technology, which is loved by many women because it brings attractive, outstanding lips from every angle. Spraying 3D lips is also a difficult technique, requiring complex color mixing and lip alignment techniques. Let's listen to some of Miss Tram's sharing about this technique!
What should be noted about European standard 3D lip spray?
As mentioned above, this is a rather complicated technique, requiring good implementation of the following stages:
1. Scaling – contouring lips
First, you must draw the lip line evenly. Depending on how thick or thin your lips are, you can create a suitable lip line. And in the block division step, divide the upper lip into 3 parts, the lower lip into 2 parts. These parts will be applied color in a multi-dimensional effect.
2. Mix colors to create effects
Perform ink phase into 3 levels: dark, medium and light. The ink color used must be the same tone, if you choose the wrong color, it will cause the lip spray to be completely ruined.
3. Spray dark and light colors to show 3D volume for lips
Each tone is sprayed as follows:
▪️ The lip edge, lip corner, inner lip will be the areas to apply bold color spray.
▪️ Medium tones will be used to create harmony, not causing differences between the color parts.
▪️ As for the light color, use spray to focus on the 2 lower lip bags, or you can replace it by applying gloss (should only be incubated for about 5 minutes).
3D lip injection also needs to apply the standard needle technique with equal force, not too fast or too slow, and the depth of the needle is only about 0.2-0.3mm (as suggested by Miss Tram). Because the skin of the lips is thin and sensitive, you should not go back and forth too many times. Each line of needles can be sure to help ink down evenly, minimizing swelling.
Hope you are succesful.
For more information, the popular courses (depending on your interests) to get started with the beauty industry are:
- Course in Tattoo, Embroidery, Aesthetic Sculpture (eyebrows - eyelids - lips)
- Skin Care and Treatment Specialist Training Course
- Professional Eyelash Extensions - Professional Eyelash Curling Course
Please contact Miss Tram immediately for more advice on the study path as well as to see if you are suitable for this profession or not!