The spa industry in Vietnam is an area that many individuals and organizations are interested in because of its ability to develop strongly in recent years. More and more spas are opening, covering the whole country with a variety of services.
If you join the business, work in the spa field, what opportunities and challenges will you face? Explore with Miss Tram Academy through the following article!
What Is Spa? Types of Popular Services at Spa
The spa industry is a health and beauty service industry; includes methods and techniques used to help clients relax, reduce stress, and improve their beauty, appearance, health and well-being.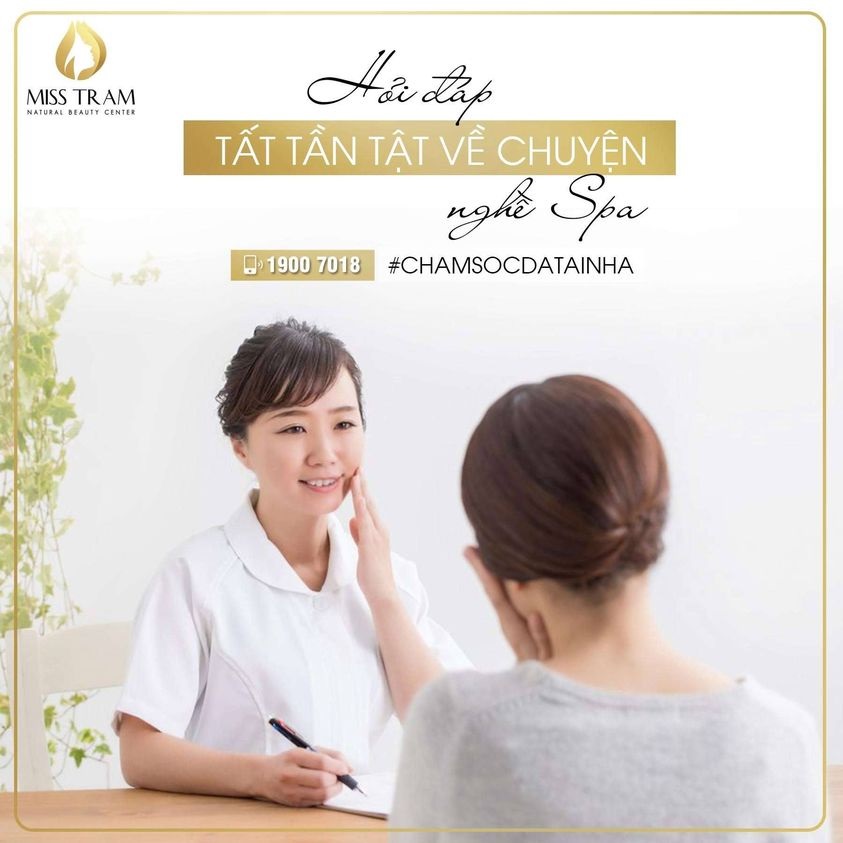 Popular spa services in Vietnam include:
Massage includes traditional massage therapies from many countries such as Thailand, Bali, Japan, Korea, India...

Facial skin care includes procedures such as exfoliating, deep cleaning, moisturizing, acne treatment, skin whitening ...

Nail and pedicure care includes procedures such as gel polish, regular paint, nail mask, massage...

White bath includes skin whitening treatments for the whole body or certain areas of the skin.

Body care: exfoliating, hair removal, fat reduction...

Sauna includes dry or wet sauna sessions with herbs, essential oils, etc.

Body detox includes body detoxification processes such as detox massage, detox sauna, foot detox...

Other treatments include hair care, makeup, tattoo spray...
Spa Industry Development Opportunities
The spa industry is currently developing strongly and has a lot of potential for breakthroughs in the future. Here are the opportunities that the spa industry can exploit:
The demand for beauty and health care is increasing: Spa services are being used by more people to care for health, beauty, reduce stress and improve quality of life.
The development of technology and the cosmetic industry: Regularly update new technologies, techniques and products to help improve the quality of services and effectively meet customers' beauty needs and trends.
Wide target customers: The target customers of the spa industry are not only women but also men and children. This is an opportunity for the spa industry to expand the market and increase sales.
Service diversification: Spa needs to diversify services to meet customer needs. Spa services are not only beauty services, but can also include services related to health, sports and nutrition.
Combine with other industries: The spa industry can combine with other industries such as sports, yoga, cooking and beverages to provide a comprehensive service package for customers. This can help increase sales and diversify spa services.
In short, the spa industry has many growth opportunities in the future, thanks to the growing interest in health and beauty, the development of technology, the diversification of services, the diversity of target customer groups. If these opportunities are well utilized, spas can easily survive and grow strongly in the industry.
Challenges of the Spa Industry
Although the spa industry has many opportunities to develop in the future, it also faces many challenges such as:
Fierce competition: New spas are constantly springing up, along with beauty centers, gyms and other locations that also provide health and beauty care services. This creates a fierce competition for business in the spa industry.
Business conditions: The spa industry requires strict business conditions. To operate a spa, it is necessary to meet many requirements for equipment, professional staff, regulations on safety, hygiene - anti-infection and service quality.
High quality human resourcesSpa is a service industry, so it requires professional and highly qualified staff. However, finding and retaining high-quality employees is not easy, especially in the context of competition between businesses.
Change the trendSpas need to be regularly updated with new trends to not be outdated, but "catching the trend" but not meeting the real needs of customers can lose their trust.
High cost: With the requirement of modern equipment, highly qualified staff and guaranteed service quality, the investment cost to "start up" and operate a spa is quite large.
Hopefully this summary of the opportunities and challenges of the spa industry will be useful to those who plan to enter this field. To be competitive in the spa industry, investing in professional knowledge is also extremely important, contact Miss Tram Academy for more specific advice.