The demand for beauty today is great, so many beauty centers and spas have been opened. Following that is the great demand for human resources and technicians. And many centers have come up with ways to attract employees such as free training in the form of learning by doing. However, should we both study and work for this spa industry? And Miss Tram Academy Find out with the article below.
Should You Study While Working in Spa Industry?
Studying while working is one of the attractive forms offered by many cosmetology establishments to attract human resources for their company. With many benefits advertised by the centers such as free training, vocational training while earning extra income and without spending any costs for accommodation, transportation, etc. a good opportunity for myself. However, hidden behind are the downsides that you can't anticipate.
+ Note: Should You Go To Spa, Hairdressing Or Nail School Today
Like other cosmetology professions, spa If you do (practice) a lot, your skills will be high and your skills will also increase HOWEVER It is important that you have a solid knowledge base, as well as be trained in both theory and practice. That way, more jobs will help improve your skills. And if you don't have a lot of knowledge but have practiced, it's just that the wrong thing is even more wrong, it will be very difficult to correct it later.
The fact that you have not been properly trained, your skills have not been tested, but have worked for guests is considered one of the serious violations of professional ethics. What is more dangerous is that it can cause adverse effects and complications for the skin and health of customers.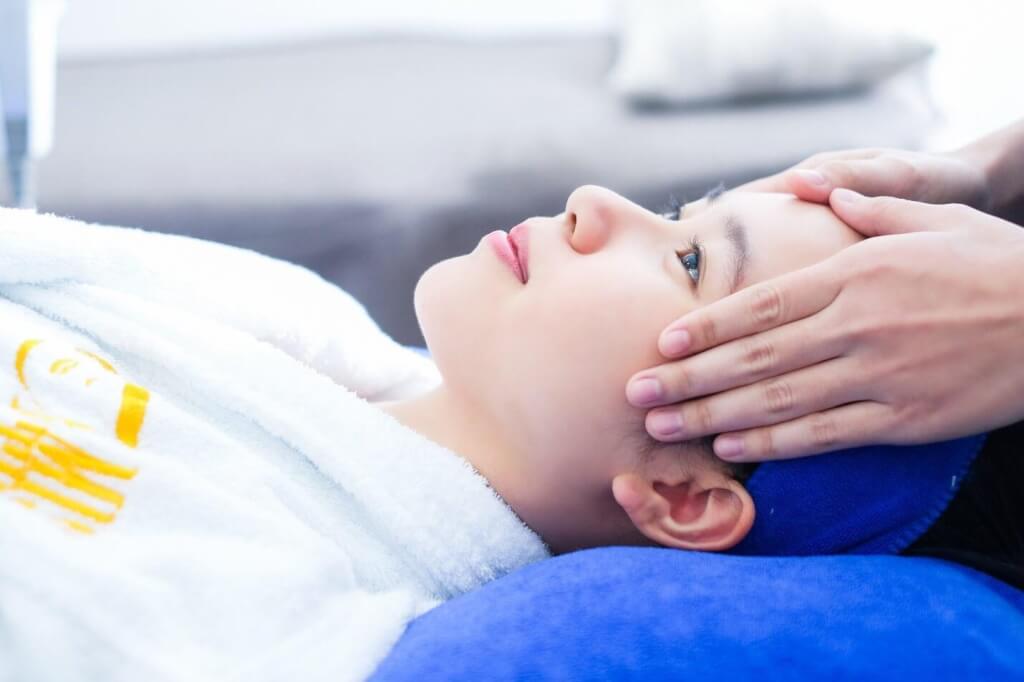 + Note: Is it difficult to learn a spa job?
As with any profession, the "mind" of the profession is very important. It plays a very important part in whether or not you succeed in the profession. For the beauty care profession in general and the spa profession in particular, it is even more important, because it directly affects the skin, aesthetics and health of customers. When you work with your "heart", you will certainly not work for guests when your knowledge and skills are still not good. Is this what Miss Tram said right?
Revolving around the topic of studying and working, Miss Tram Academy sends you some practical counseling cases at the center for reference:
"I want to study and open a shop" to do it gradually?

– this section is not recommended until you have mastered at least one basic skill and knowledge in your program of study (confirmed by your place of study). When you have not finished the course, you have not mastered the procedures, which will cause a lot of difficulties when you perform and handle real problems on guests, leading to errors, damage affecting health. health and beauty of guests, etc., causing loss of reputation, loss of resources and spirit of you as well as your customers.

"Is there any way I can shorten my study time to work and earn more?"

– Usually Spa training courses will be divided into different levels, from basic, to advanced and advanced. You can choose to take the basic course first, when you complete this course you can do the basic level courses for guests, but at the same time you can continue to study to the advanced, and in-depth.

"There is a training center that has just received a job, should I study"

– In this section, you need to understand the learning content and policies of each training place you refer to. If the training center gives you mastery of the basics, then it is a good thing that you work there and continue to study advanced.
Summarizing for the topic of learning by doing, Miss Tram Academy want to share with students that: you need to clearly pay attention to the principle: "Do not advocate the plan of learning through speakers who have gone to work for guests". For this profession, you should not expect that you will be able to do all the courses and levels in a short time. The advice is to learn the basics first, go do the part you already know, and then if there is a need, you can go on to learn more advanced knowledge. That is a good option for you.
+ Note: How long does it take to learn a spa job?
So, if you have time, choose a general course where you will learn from basic to advanced and advanced knowledge. And if you don't have time or want to learn quickly to get to work, choose the basic courses with a shorter time. No matter which learning method you choose, you still need to remember one thing, make sure you have enough knowledge and skills to practice on customers.
With the above sharing, Miss Tram Academy Hope you really understand the need to ensure your own skills before going to work for guests no matter what learning method you choose. Good luck with your decision.
See More The News To Share Other Miss Tram Academy:
What's required for a Spa Practitioner's Certificate?
Law on Opening Aesthetic Tattoo Salon
Answers to questions about whether tattoo sprayers are exposed to chemicals or not