You have a passion for the spa and beauty industry. You are looking for a training address for skin care and cosmetic tattooing in Yen Bai. You do not know any reputable and quality training address. Don't worry, the following list of beauty training institutions, especially skin care and cosmetic tattooing in Yen Bai, introduced by Miss Tram below will certainly be useful information for you. Follow along with Miss Tram!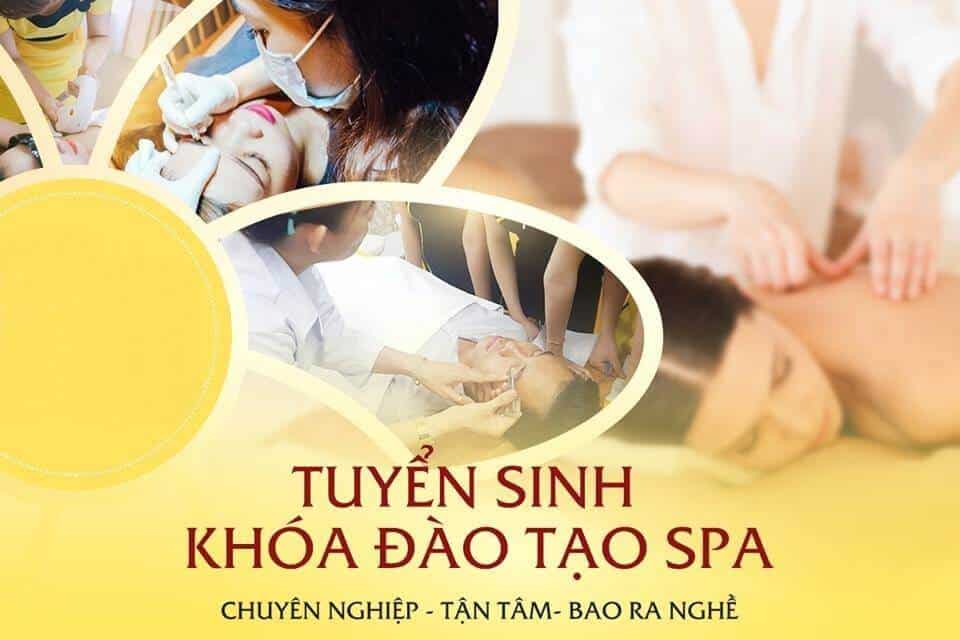 Summary of Top 11 Skin Care, Cosmetic Tattooing Training Institutions in Yen Bai.
Vietnamese - Korean beauty salon
With many years of experience in the beauty industry, Vietnamese - Korean Beauty Salon is the leading prestigious spa address in Yen Bai. Thanks to the good training quality, as well as the carefully compiled curriculum and friendly learning environment.
Address: 920 Dien Bien Street, Dong Tam Ward, City. Yen Bai

Phone: 0833.051.900
Van Anh Beauty Salon Saigon
Van Anh Saigon Beauty Salon is a suitable beauty training address for all subjects, because it has extremely cheap training costs.
Address: 246 Quang Trung Street, Dong Tam Ward, City. Yen Bai

Phone: 0365.708.800
Han Anh Spa
Coming to Han Anh Spa, you will have direct contact with advanced and modern machinery and equipment, along with international standard curriculum.
Address: 139 Le Van Tam, Dong Tam Ward, City. Yen Bai

Phone: 0963.526.566
SEUL beauty salon
With a good training environment, quality training techniques and a team of experienced teachers, SEUL is definitely a reliable address for you.
Address: 533 Dien Bien Street, Dong Tam Ward, City. Yen Bai

Phone: (021) .6629.9399
Anna Spa
Anna Spa is the "golden" address for you to trust. Anna Spa always applies advanced and modern technologies from developed countries into the teaching process.
Address: 199 Dien Bien Street, Yen Ninh Ward, City. Yen Bai

Phone: 0961.019.936
Thu Hang Spa
Thu Hang Spa is a name you should not ignore. With a team of highly skilled teachers with many years of professional experience, you will learn the best quality lessons here.
Address: 286 Ly Thuong Kiet, Yen Ninh Ward, City. Yen Bai
Phone: 0943.691.333
Thanh Xuan Aesthetic Center
Thanh Xuan Aesthetic Center is one of the training institutions chosen by many young people. Because this place not only owns modern equipment, but also has a team of teachers with many years of teaching experience.
Address: 617 Dien Bien Street, Minh Tan Ward, City. Yen Bai

Phone: 0982.236.836
Nguyet Quynh Cosmetology
Nguyet Quynh aesthetic is also one of the great choices for you. Studying here, you will have up to 80% of the time to practice on real models to improve your skills.
Address: 870 Dien Bien Street, Minh Tan Ward, City. Yen Bai

Phone: 0987.110.002
Spray tattoo Ngoc Lisa
Highly skilled lecturers, methodical curriculum, advanced equipment, friendly learning environment are outstanding advantages of courses at Ngoc Lisa.
Address: 118 Dien Bien Street, Dong Tam Ward, Yen Bai City

Phone: 0886.237.866
Mai Mai Beauty
Courses at Mai Mai Beauty always innovate and apply the most advanced technology to the teaching process, in order to bring the best results to students.
Address: 105 Tran Hung Dao, Hong Ha Ward, City. Yen Bai

Phone: 0978.060.368
Minh Chau Asian Beauty Salon
Studying at Minh Chau Asian, you not only have access to many advanced and modern techniques. Besides, you can also study with the leading cosmetologists in Vietnam today.
Address: 353 Dien Bien Street, Yen Ninh Ward, City. Yen Bai

Phone: 0965.255.665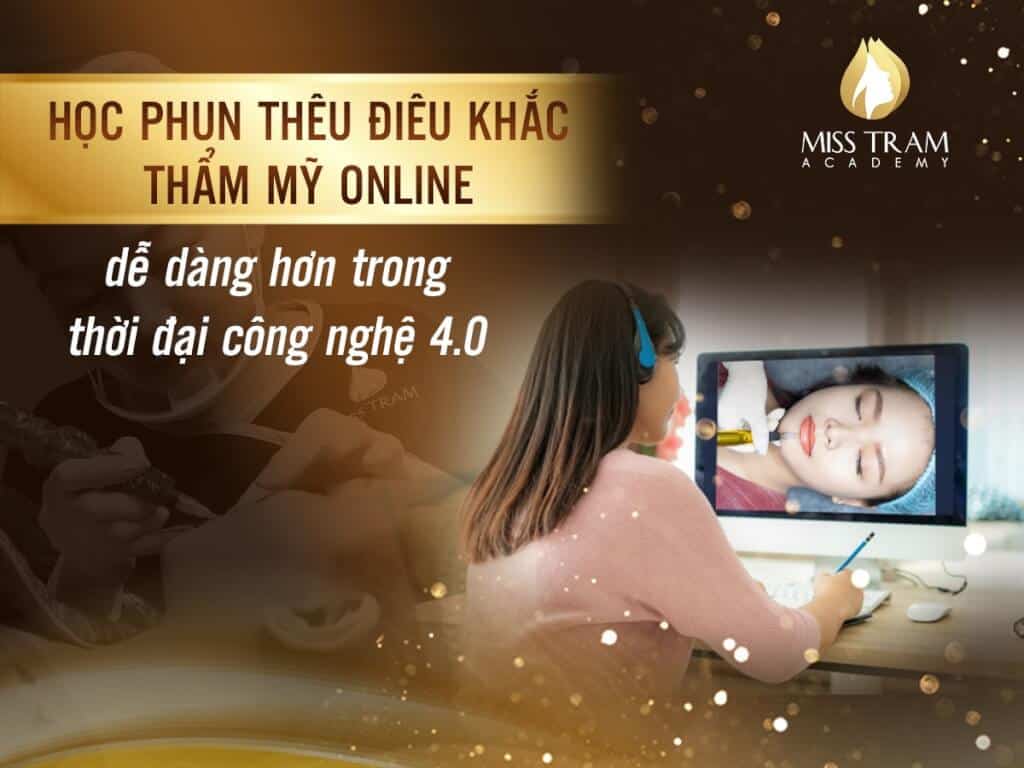 Cosmetic tattooing is a pretty hot industry and promises to grow even more in the future. However, when time is limited and your financial ability does not allow it, it will be difficult for you to study directly at centers that teach cosmetic tattooing. So, this is also the reason why the online cosmetic tattoo spray course at Miss Tram was born.
This course not only saves you money and time, but also gives you extremely useful knowledge about cosmetic tattooing.
So who can join the online cosmetic tattoo spray course at Miss Tram?
Those who do not have time, are too far away or do not have the conditions to come directly to the classes.

Men and women who have a love and passion for the beauty industry, especially cosmetic tattooing.

The students have been trained at school but have forgotten the knowledge or skills related to cosmetic tattooing.

Professionals have started their career in cosmetic tattooing but need to learn more tips or tricks from professionals.
When choosing an online cosmetic tattoo spray course at Miss Tram, you will be sure of knowledge such as:
Comprehensive knowledge base from basic to advanced professional of a cosmetologist.

Firmly on all types of numbing, ink brands, tools, .. on the market with beautiful standard color formula, handling cases where customers have been damaged, not satisfied.

How to choose the method that color is suitable for each eyebrow shape, lip color, eyelid for customers.
In particular, students are also granted VIP accounts, have the right to study online all courses (skin care, cosmetic tattoo spray, makeup, nails, ...) of Miss Tram internal.
Joining Miss Tram Academy's online cosmetic tattoo spray course, you will have: SHORT LEARNING TIME – GREAT EFFICIENCY – HIGH JOB OPPORTUNITIES
The cosmetic tattooing course at Miss Tram will help you solve all obstacles in terms of tuition fees and time. Thereby helping you improve your skills in the best way.

Miss Tram owns a team of experts with more than 17 years of experience, so you will certainly be taught all the special "secrets - tricks" with 1 - 0 - 2.

The curriculum is compiled by a team of extremely meticulous and enthusiastic teachers, according to international standards. Therefore, it is guaranteed that 100% of students will apply well to the safest practical knowledge, and at the same time bring high efficiency in a short time.

Ensure that after completing the course, you will have the same skills as when you study directly at training centers and institutions.

You will have the opportunity to work extended with the income in the form of "terrible".

You will be able to participate in experience sharing sessions, knowledge exchange and career talks with colleagues, auditors and teachers.

Miss Tram is a unit that always updates and anticipates the latest beauty trends in the cosmetic tattoo industry.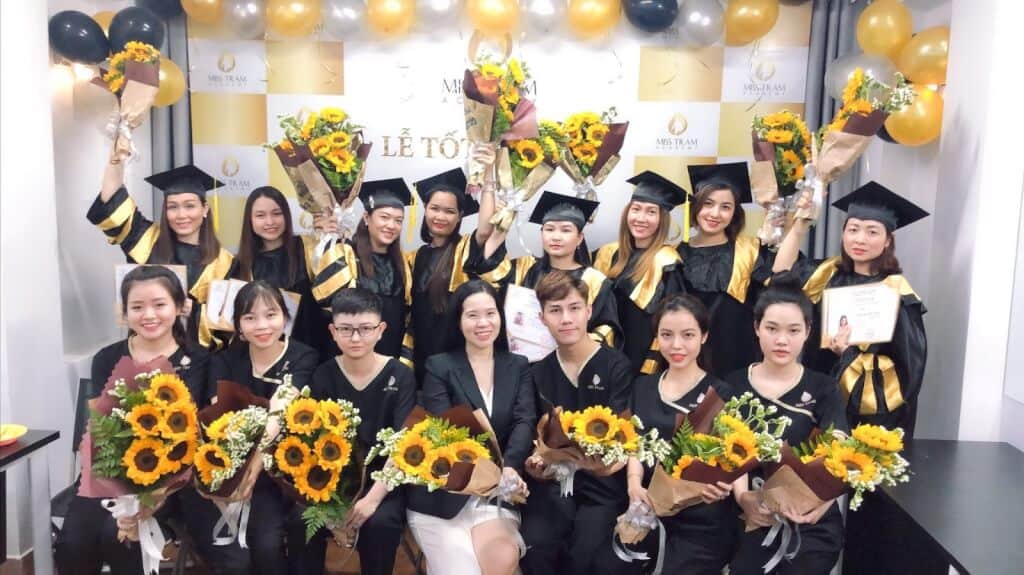 Although Miss Tram's online cosmetic tattoo spray course has only appeared recently, this course has received a lot of love from students. Because in this course, Miss Tram has applied the latest and most standard aesthetic techniques in the world to be able to improve the quality of the course more.
As the demand for human resources for the beauty industry is increasing, more and more competing training institutions have sprung up. It is also because of this that many people do not know which address to choose or even choose the wrong one, and the end result is only a round number.
Therefore, before choosing a beauty training institution, especially cosmetic tattooing, you must consider carefully so that you do not have to choose the right "ghost" school. You need to find out information through reputable review sites and websites to give yourself the most correct results.
However, you will no longer have difficulty choosing a reputable beauty training institution when you master the 8 notes that Miss Tram shared in the following article: https://misstram.edu.vn/kinh-nghiem-chon-noi-dao-tao-spa-nghe-lam-dep/
Hopefully, the information that Miss Tram shared above will help you choose the most prestigious and quality vocational training center. Thank you for following Miss Tram's post!