The current Spa profession are very popular with young people to choose as their main career in the future. Because this profession is less strenuous, the time to learn is fast, the cost is also low, and young people still have time to learn on their own. Skin Care and beautify yourself.
However, many young people have a headache in choosing a reputable vocational training institution to study. Because there are now hundreds of floating, poor-quality vocational training addresses, if you accidentally choose to win, you will lose money unjustly. To make it easier for you to choose a place to study, Miss Tram VietNam please share the top teaching spa in Hoa Binh Open the article below, please read it.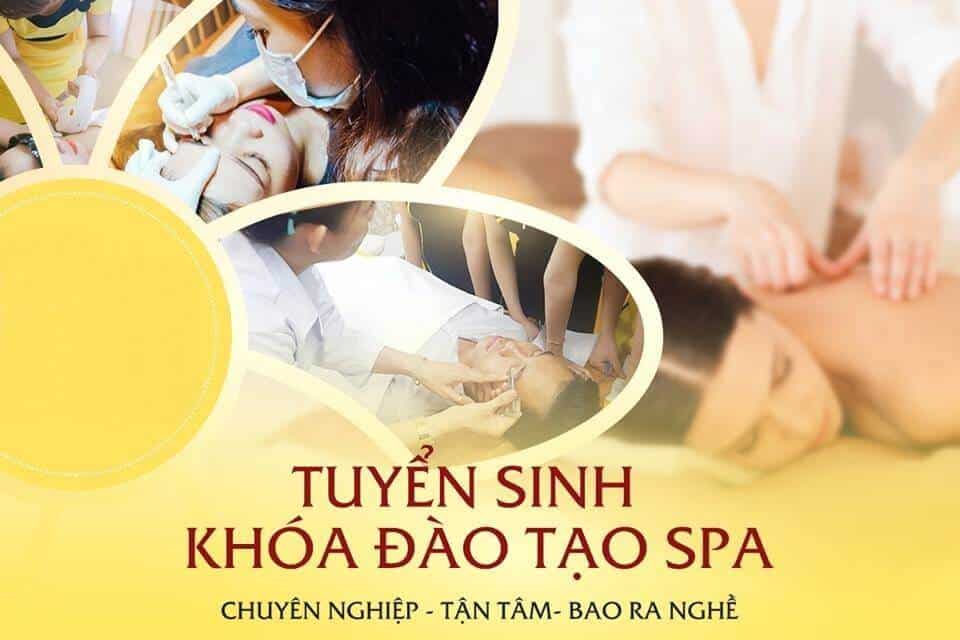 Spa Receives Training on Skin Care and Cosmetic Tattooing in Hoa Binh
1. MB Beauty & Spa
MB Beauty & Spa is a famous spa training address in Hoa Binh with the most advanced and modern equipment system and experienced and skilled teachers.
Address: No. 12 Alley 291 North Tran Hung Dao, Hoa Binh

Phone: 085 268 3361
2. Phuong Dung Spa
By no means inferior, Spa Phuong Dung is also a prestigious spa vocational training address in Hoa Binh with a modern facility system, full of advanced equipment, always updating the latest beauty trend technology.
Address: Da Giang De Street, the back of Phuong Lam Market, Hoa Binh City, Hoa Binh

Phone: 0912.929438 - 0163.4468946
3. H2 Beauty
H2 Beauty With quality spa vocational training, friendly learning environment and methodical teaching program, it is always the address chosen by many young people in Hoa Binh.
Address: Group 1A, Tan Thinh, Hoa Binh City, Hoa Binh

Hotline: 0987411999
4. Ann Spa – Hoa Binh
Possessing a professional spa training style, Ann Spa Always give students the most useful knowledge and lessons.
Address: No. 18, Thuy Thuy Alley, Phuong Lam, Hoa Binh

Hotline: 0368 606 415
5. HANA Spa
HANA Spa is a quality, reputable spa vocational training address with low cost that is highly appreciated by many people in Hoa Binh.
Address: 373 Cu Chinh Lan Street, Dong Tien, Hoa Binh City, Hoa Binh

Phone: 098 990 45 69
6. Ruby Spa
Known as a familiar spa training address in Hoa Binh, Spa Ruby has long received special favor from a large number of students because of the quality of professional teaching that we bring.
Address: 24 Mac Thi Buoi, Phuong Lam, Hoa Binh City, Hoa Binh

Phone: 0978433688
7. Brother Spa94
Come to English spa Students will learn from the knowledge of the spa industry from basic to advanced and especially 80% of the lesson time is practice.
Address: No. 27, Tran Quang Khai, Hoa Binh City, Hoa Binh

Hotline: 0988.250.9

Besides, in order to choose a good spa study address, you need to find out about the information of that facility as well as whether the study program is suitable for your needs and abilities? And how is the cost of studying, time, place of study, degree related in the most specific way.
For more information on this issue Miss Tram VietNam Please suggest readers 8 Notes on Choosing a Beauty Profession & Experience Choosing a Beauty Training Place – Aesthetic Spa Is Right For You. Please refer to offline.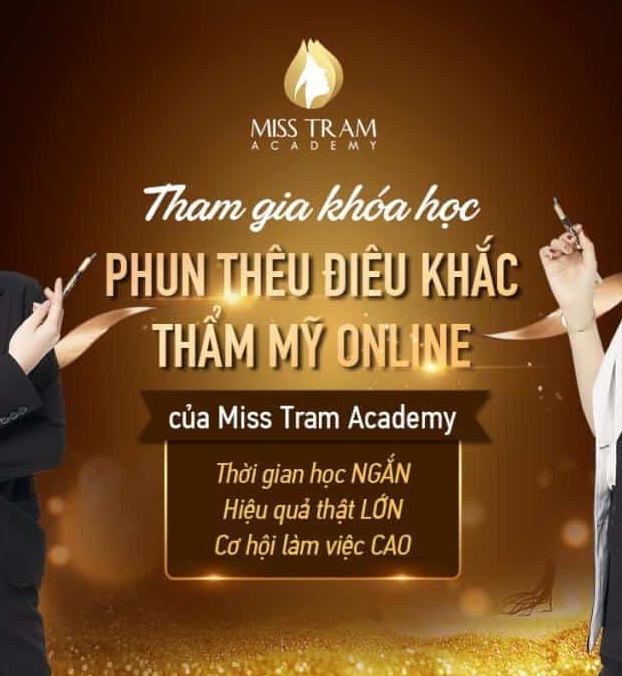 Understanding the concerns of many young people who are passionate about aesthetic sculpture, but encounter obstacles and difficulties such as: cost, time budget, geographical distance, accommodation - birthplace activity, quality of training…. Miss Tram would like to introduce to you a quick - concise - quick solution to the above problem: Online aesthetic sculptural spray embroidery course at Miss Tram.
With this course will solve all problems of students such as:
Solving the problem of tuition fees

Flexible study time and location

EASY TO UNDERSTAND, EASY TO MEMORY, EASY TO PRACTICE

Get out of a job with a STABLE JOB, open a shop with HIGH INCOME

UPDATE KNOWLEDGE regularly during the career at no extra cost.

Manage your learning path with the instructor
* In particular, the versions will not only learn one machine alone but will have Master Dong Bao Tram and Miss Tram's team of experienced professionals accompany throughout the learning process.
In addition, students are also provided with an account VIP, have the right to study all courses online (skin care, cosmetic tattoo spray, makeup, nail, ...) by Miss Tram internally. Have the opportunity to meet, exchange with other students / lecturers / KTV via the internet, group chat, fanpage, forum ... of Miss Tram Academy. Helps increase interactivity, helping you to exchange knowledge about cosmetic tattooing with Instructors, colleagues and friends to increase progress.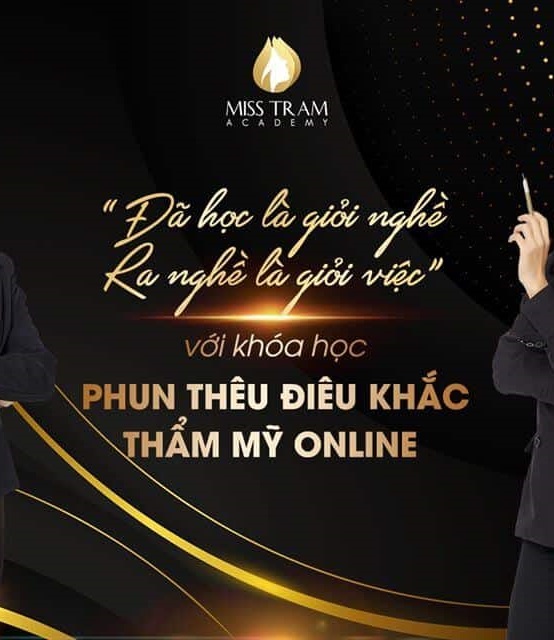 With this online cosmetic embroidery spray course, Miss Tram commits to:
Help students understand more about the profession of Embroidery Embroidery Sculpting Eyebrows - Eyelids - Lips.

There is a comprehensive knowledge base from basic to advanced professional of a beautician.

Master about: Beautiful standard color mixing formula, handling broken, unsatisfied cases of spray embroidery; Types of numbness, brands of ink, tools, ...

Know which eyebrow shape, lip color, eyelid spray method is suitable for you in particular and your customers in general.

Become a Professional Inkjet Embroidery Sculpture Aesthetic Sculptor Eyebrows - Eyelids - Lips professional with stable income.

It is possible to consult Eyebrows – Eyelids – Lips for everyone and open a beauty salon.

The opportunity to become a Lecturer, a Trainer for other young people who have the same passion for the beauty industry as you.
A course with many outstanding advantages, right? So what are you waiting for, contact Miss Tram immediately to be consulted by our team of experts and map out a learning route for you. All course information can be found here: Aesthetic Sculpture Embroidery Course Online – Why Not?
Surely for those who are having a headache in choosing a vocational training address in Hoa Binh for themselves, the above article will be the perfect suggestion for you. Please refer to the information that Miss Tram has shared above to choose the most suitable teaching address for you. Don't forget to share it with your friends and family.