When society is increasingly developing beauty needs not only for women but also men are more interested in this issue. To be able to bring the best services to customers, it requires a team of spa staff to be highly skilled and experienced.
But to have high skills, you have to study, so where to study? This is also a question that worries many people today. With the article below Miss Tram VietNam I would like to introduce to you the list of spas that teach in Thanh HoaPlease refer to more to make the right choice for you.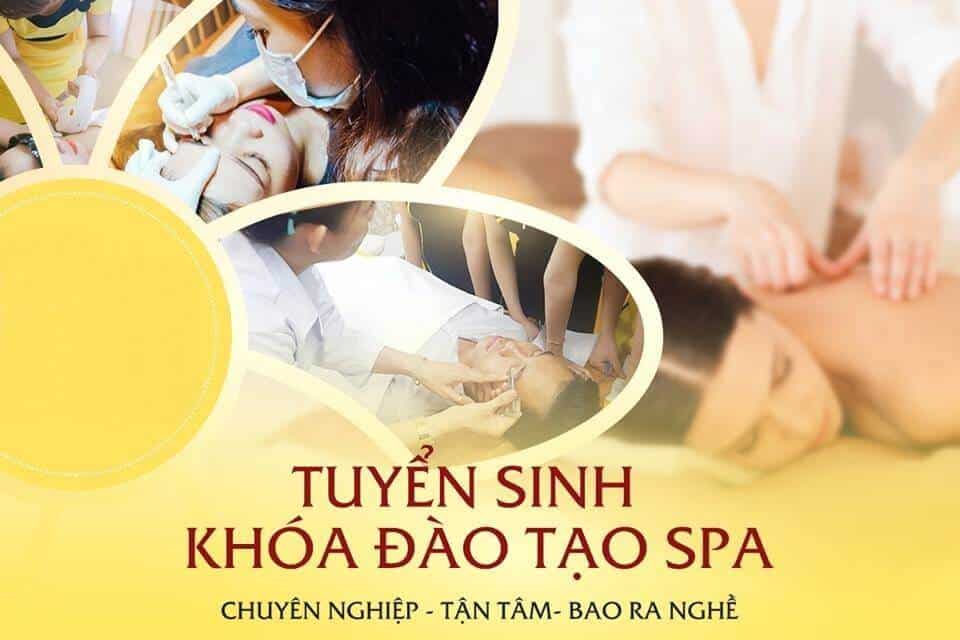 Facility for Training Trainees of Skin Care, Cosmetic Tattooing in Thanh Hoa
1. Thu Ha Spa
With more than 10 years of experience in spa training in Thanh Hoa, Thu Ha Spa It's always been a popular name. Because of the good teaching quality, international standard vocational training process, 100% commitment to creating jobs for students after the training course.
Address: 31 Le Loi Avenue - Lam Son Ward - City. Thanh Hoa

Hotline: 0373 751 045 - 0987 450 336
2. Like Ngoc Spa
Come to Like Ngoc SpaStudents will be taught by professional instructors here. Practice with advanced equipment, practice with real samples regularly to improve skills, and many incentives when participating in the course here.
Address: 653 Ba Trieu - Thanh Hoa City

Hotline: 0972 055 005 - 0915 361 111
3. Eva-Beauty Spa
Famous as a quality and prestigious vocational training address in Thanh Hoa, Eva-Beauty Spa It is highly appreciated by many people for owning a system of modern facilities, good teachers, and a methodical study schedule.
Address: 109 Doi Cung, Truong Thi Ward, City. Thanh Hoa

Hotline: 097 224 36 22
4. clinic Beauty Hanoi – Thanh Hoa
Come to clinic Beauty Students will experience a friendly, modern apprenticeship environment with all the most high-tech machines in the cosmetology industry.
Address: 53 Doi Cung – p. Dong Tho – Thanh Hoa City

Hotline: 0964 240 002
5. Spa Vocational Training Institute No. 1 Thanh Hoa - Viet Han Beauty
With a methodical curriculum, good teachers, and a spacious study environment, the No. 1 Spa Vocational Training Institute in Thanh Hoa - Viet Ha Beauty It will be a vocational training address that young people should not miss.
Address: 85 To Vinh Dien, Dien Bien Ward, Thanh Hoa

Hotline: 0931 388 538
6. Ha Huong Beauty Salon
Ha Huong Beauty Salon is a spa vocational address chosen by many young people in Thanh Hoa because of its good quality of vocational training, friendly teachers and especially, the cost is also very affordable.
Address: Mg2-26 Vincom Shophouse Thanh Hoa (behind the 36-storey vincom building)

Hotline 0975.801.748 VND
7. Spa Beauty One
For young people who are passionate about beauty, they can choose Spa Beauty One to learning. It has the most modern and advanced facilities system, professional curriculum and excellent lecturers.
Address: January 17, Chu Van An, Ward Truong Chinh, City. Thanh Hoa

Hotline: 0823.72.7777
8. Cherry Beauty Salon
Cherry Beauty Salon is a prestigious spa vocational training address in Thanh Hoa that is highly appreciated by many people for its good training quality, focusing on practical hours in class to improve students' skills.
21b Nguyen Trung Truc, Tan Son Ward, Thanh Hoa City (Beside Tay Thanh Market)

234b – Quarter 4, Yen Cat Town, Nhu Xuan District, Thanh Hoa Province

Road 217 Vinh Long, Vinh Loc, Thanh Hoa

Hotline: 0989802998 & 0989859192
9. Thu Cuc Clinic
Too familiar with many young people who love spa in Thanh Hoa, Autumn Chrysanthemum Clinic is a professional spa training address with many facilities across the country. It has a system of modern facilities, methodical textbooks, good teachers, and many attractive incentives.
Address: Lot 11, Phan Chu Trinh Street, Dien Bien Ward, Thanh Hoa City

Hotline: 0964080999
10. Saigon Xinh Spa
Saigon Beauty Spa is also one of the prestigious spa vocational training addresses in Thanh Hoa that is trusted by many people. With professionally designed and methodical curriculum, giving students the best experience.
Address: 98A Dinh Cong Trang, Thanh Hoa City

Hotline: 0968 865 095

With so many vocational training addresses, surely it will be difficult for you to choose right away? Miss Tram would like to suggest you some very useful notes to help you choose a reputable and quality vocational training place quickly and easily.
Find out if this career is right for you.

How much is tuition? Are there any additional costs involved in the process?

How is the study time?

Study location – exam location – degree location.

The value of the degree is awarded after graduation.

Specific curriculum.

Support policies after the course

A written commitment is required.
To learn more about the above notes, you can refer to the article here: Experience Choosing a Spa Apprenticeship Address, Cosmetic Tattooing For Beginners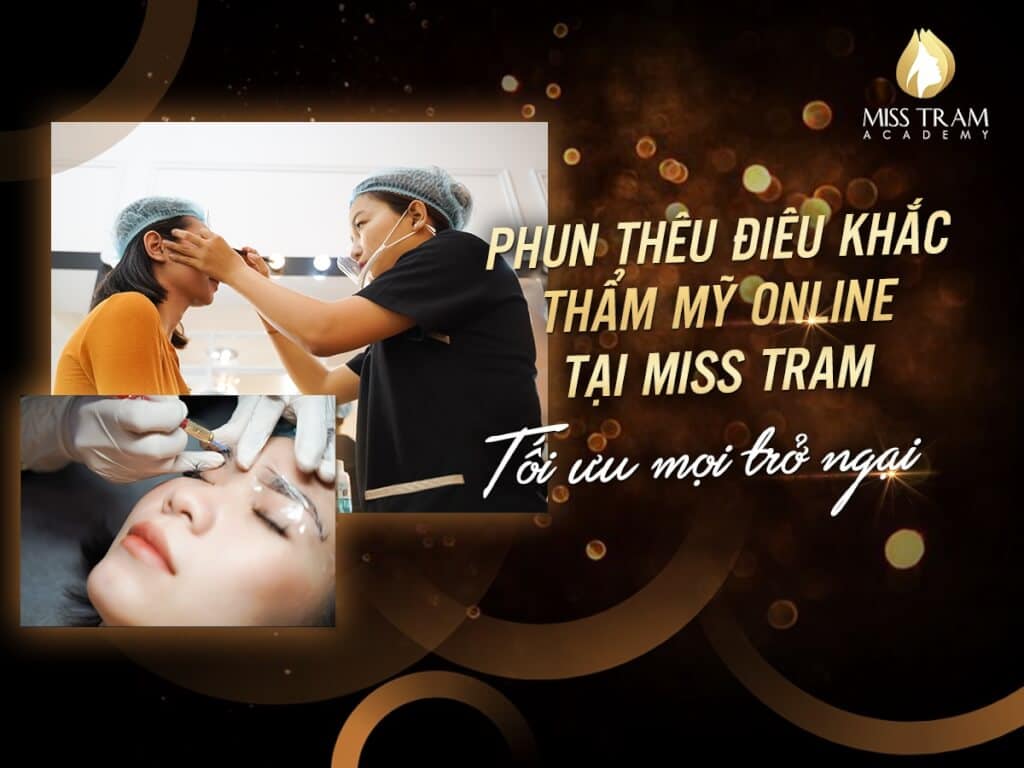 Catching up with the trend of online spa training at home, Miss Tram would like to introduce to you an online cosmetic sculpting embroidery course with the same quality as offline learning because the learning path is designed to be suitable for online and special learning. The cost is too soft.
This course is suitable for students such as:
People who love and want to stick with the profession of Cosmetic Tattooing Eyebrow - Eyelid - Lips.

Those who want to become a professional cosmetic tattoo artist.

People who plan to open a spa at home/beauty center with cosmetic tattooing service Eyebrow - Eyelid - Lips.

Spa managers who want to hone their in-depth knowledge of cosmetic tattooing.

People do not have a specific direction when self-learning cosmetic tattooing on the internet.

There is no time to study directly in the classes of the academy/center.

Want to be flexible in terms of location as well as study time.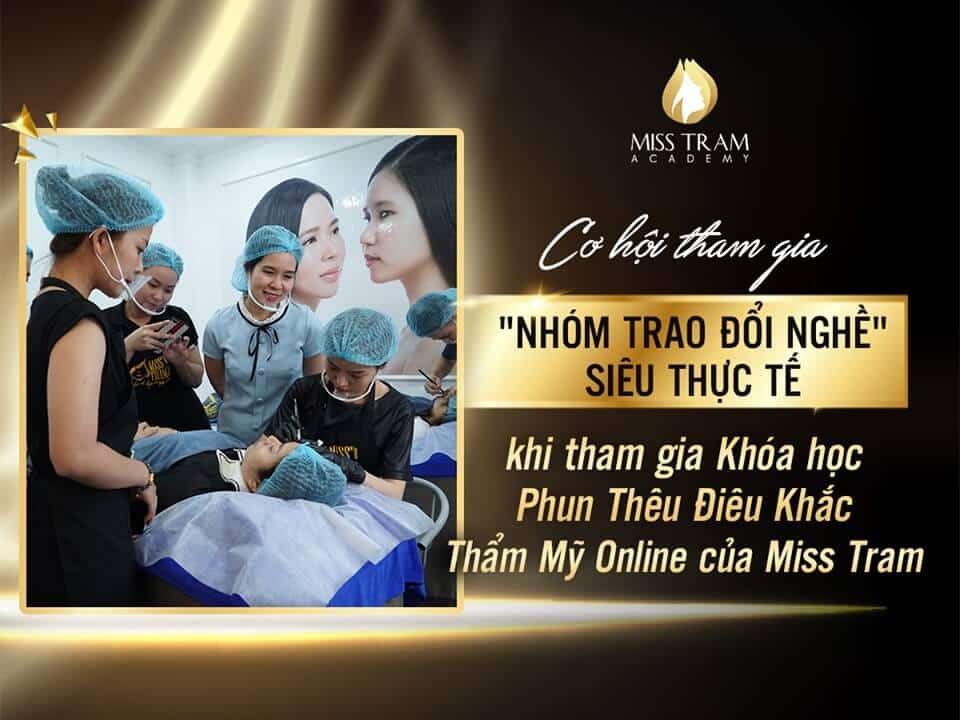 With this course, you can feel secure when accompanying me throughout the learning process Master Dong Bao Tram with a team of experienced experts of Miss Tram. Will support, guide and answer all your questions.
Besides, you also have the opportunity to meet and exchange with other students / lecturers / KTV via the internet, group chat, fanpage, forum ... of Miss Tram Academy. Thereby increasing interactivity, helping you to exchange knowledge about cosmetic tattooing with Instructors, colleagues and friends to increase progress.
In particular, students are also provided with an account VIP, have the right to study online all courses (skin care, cosmetic tattoo spray, makeup, nails, ...) of Miss Tram internal. And there is an additional time of 4-10 days of practical practice at the Center to help strengthen skills and effective skills.
Miss Tram's aesthetic sculptural embroidery spray course will help solve all problems about:
Cost

Flexible study time

EASY TO UNDERSTAND, EASY TO MEMORY, EASY TO PRACTICE

Get out of a job with a STABLE JOB, open a shop with HIGH INCOME

UPDATE KNOWLEDGE regularly during the career at no extra cost.
Just hearing it makes you feel good, right? A course with enough facilities that few places have. So what are you waiting for, if you are interested in this course, you can refer to more detailed information here: Aesthetic Sculpture Embroidery Course Online – Why Not?
Don't waste your time on poor quality vocational schools or in vain searching for places to study. Immediately refer to the information that Miss Tram has shared above to find the most suitable vocational training address for you. Please share this post to let your friends know.