It is no coincidence that today's young people are more interested in following cosmetology apprenticeship, especially skin care and tattoo spray. Because this is one of the professions that are assessed to have the most development opportunities, as well as "make money" today. Although the number of students each year is up to thousands, the number of successful people is quite modest, do you know why?
The main reason here is that you have not chosen the right quality and reputable training institution. In order to understand this problem, the following article Miss Tram VietNam I will present to you a list of A famous skin care and cosmetic tattooing training center in Bac Giang The current. Stay tuned!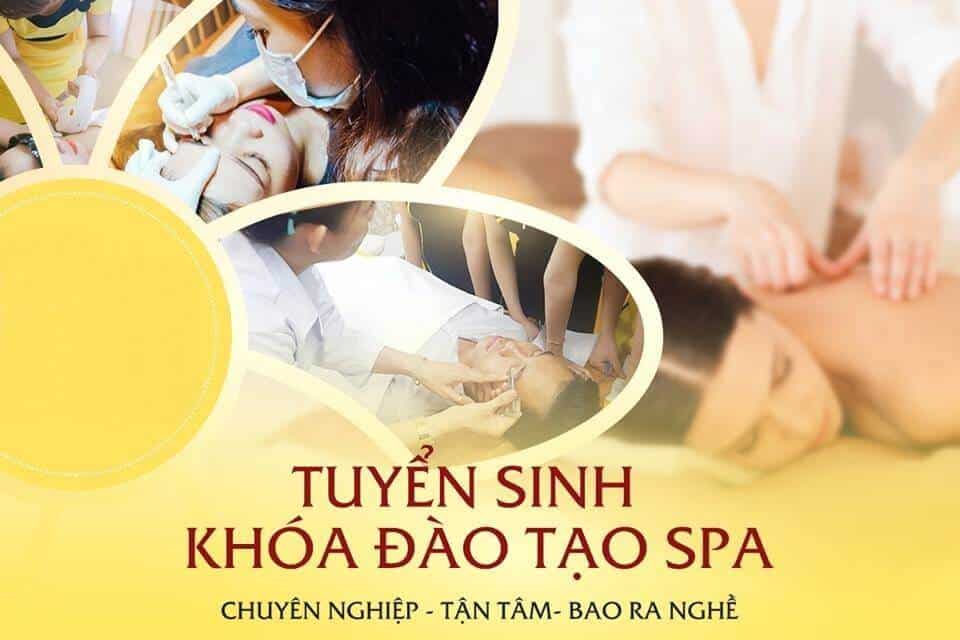 Training Facility for Skin Care, Cosmetic Tattooing in Bac Giang
1. Hansoha Beauty Institute
Hansoha Aesthetic Institute always innovates and applies the most advanced technology to the teaching process, in order to bring the best results to students. So you not only master the professional knowledge but also learn many more necessary skills in the job.
Address: 322 Nguyen Thi Luu, Ngo Quyen Ward, Bac Giang

Phone: 0981.619.998
2. Spa Tokyo
Spa Tokyo owns a team of lecturers with many years of experience in teaching abroad, so when you choose this address, you will surely learn a lot of great knowledge.
Address: 92 Thanh Thien, Le Loi Ward, Bac Giang

Phone: 0964.875.500
3. Royal Spa
In addition to applying new generation technology to the teaching process, Royal Spa also always upgrades and improves teaching methods to be able to bring students the most useful lessons.
Address: No. 183 Hoang Van Thu, Hoang Van Thu Ward, Bac Giang

Phone: 0971.523.633
4. Luu Anh Beauty Spa & Clinic
Here, you will have access to a lot of advanced and modern techniques. Along with that, is the dedicated instruction and thorough guidance from theory to practice by a team of experienced and highly skilled lecturers.
Address: Shophouse Dai Hoang Son, Bac Giang

Phone: 0393.910.910
5. Sunflower Spa
When studying at Sunflower Spa, you will be taught and guided in the most dedicated way by teachers. At the same time, you will be answered all questions, and absolutely will not miss any of the smallest details.
Address: 224 Hoang Van Thu, Hoang Van Thu ward, Bac Giang province

Phone: 0971.632.616
6. Bloom Spa
The courses at Bloom Spa are built to give students the most scientific and quality beauty methods. The curriculum here often adheres to international standards in the beauty and cosmetology industry.
Address: Lot 26 + 27 Shophouse Dai Hoang Son, Bac Giang

Phone: 0868.618.128
7. Queen Spa
Queen Spa will bring you the most in-depth knowledge of skin care and cosmetic tattooing, so that you can confidently work as a cosmetologist at major spas and salons.
Address: 29 Le Duc Trung, Tieu Zone 4, Yen Dung, Bac Giang

Phone: 0988.186.324
8. Korea Spa & Beauty
The teachers at Korea Spa & Beauty are all people with many years of teaching experience, practical work and high expertise.
Address: 387A Le Loi, Hoang Van Thu Ward, Bac Giang

Phone: 0985.576.566
9. Thu Cuc Clinic
Thu Cuc Clinic owns a team of highly skilled, experienced and highly qualified lecturers.
Address: No. 617 – 619 Le Loi Street, Dinh Ke Ward, Bac Giang

Phone: 1900.1920
10. Ngoc Tam Beauty Salon
Ngoc Tam not only owns advanced and modern machines, but also has a very "terrible" teaching staff. Ngoc Tam owns a team of highly skilled instructors with many years of teaching experience, having taught and trained many students.
Address: No. 3A Alley 134 Le Loi, Le Loi Ward, Bac Giang

Phone: 0974.696.884

Choosing a reputable and quality vocational training institution among hundreds of thousands of names is not simple, isn't it? So, in order to be able to choose the right place to send your dreams and passions, you need to keep a few things in mind:
The results and achievements of the location you choose.

The reputation of that establishment.

Does the center have a large number of students, and what is the assessment of the previous students?

Are the facilities of the training school good or not?

How is the teaching staff?

Training curriculum.

Prestigious, quality degree?

Employment situation after the course ends.

Course support programs.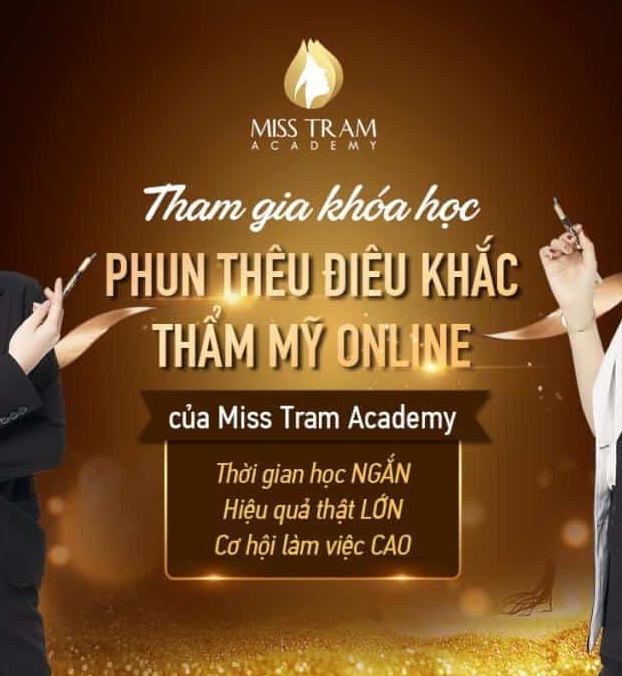 If you have great passion and want to pursue a career in cosmetic tattooing, but you can't come to study directly at the center because you don't have the conditions, don't worry too much. By online cosmetic tattoo spray course of Miss Tram VietNam will help you to solve these problems.
Online cosmetic tattoo spray class at Miss Tram VietNam helps open a new "door" for those who are passionate about the beauty industry but have many limitations or no conditions.
However, there are also many people who think that online courses do not bring the same quality as offline courses. But you know, that thinking is completely wrong. Join Miss Tram to "check out" the following benefits when participating in this useful - effective - wonderful course:
Help save time:
The online cosmetic tattoo spray course helps you be more flexible with your time budget. Because you will not take too much time to move, as well as will not be constrained or influenced by anyone.

You will be able to arrange your own timetable with the Course Manager in the morning - afternoon - evening... or any time of the day.

You need a technological electronic device with a strong internet connection. Therefore, wherever you are, you can join the class
Help save costs: Compared to studying directly at the center, the online cosmetic tattoo spray course is considered the solution to help you save money in the most cost-effective way. Because you absolutely do not lose costs such as: travel, premises, lecturers, meals, accommodation, ...
Highly interactive and connected:
When registering for the online cosmetic tattoo spray course, you will have the opportunity to meet and discuss with other students, lecturers, KTV via the internet, group chat, fanpage, forum, ... of Miss Tram Academy.

Helps increase interactivity, so that you can exchange knowledge about cosmetic tattooing with lecturers, colleagues and friends to develop and improve together.
Vocational skills are not inferior to offline courses:
Although it is an online course, the quality is not inferior to that of an offline course. Because Miss Tram always has a team of teachers who will always accompany you throughout the learning process. From there, you can make the most of your full potential.

If in the course you have a problem that you do not understand, please feel free to ask questions, the lecturers will answer your questions as soon as possible.

After each lesson, you will undergo practical exercises so that the instructor can base on how to evaluate your skills.

After the online cosmetic tattoo spray course ends, students will have about 4 - 10 days of practical practice at the center. This helps students to strengthen their skills and improve their skills.
With the super great benefits that the online cosmetic tattoo spray course at Miss Tram brings, surely you can make your own choice, as well as your own decision, right?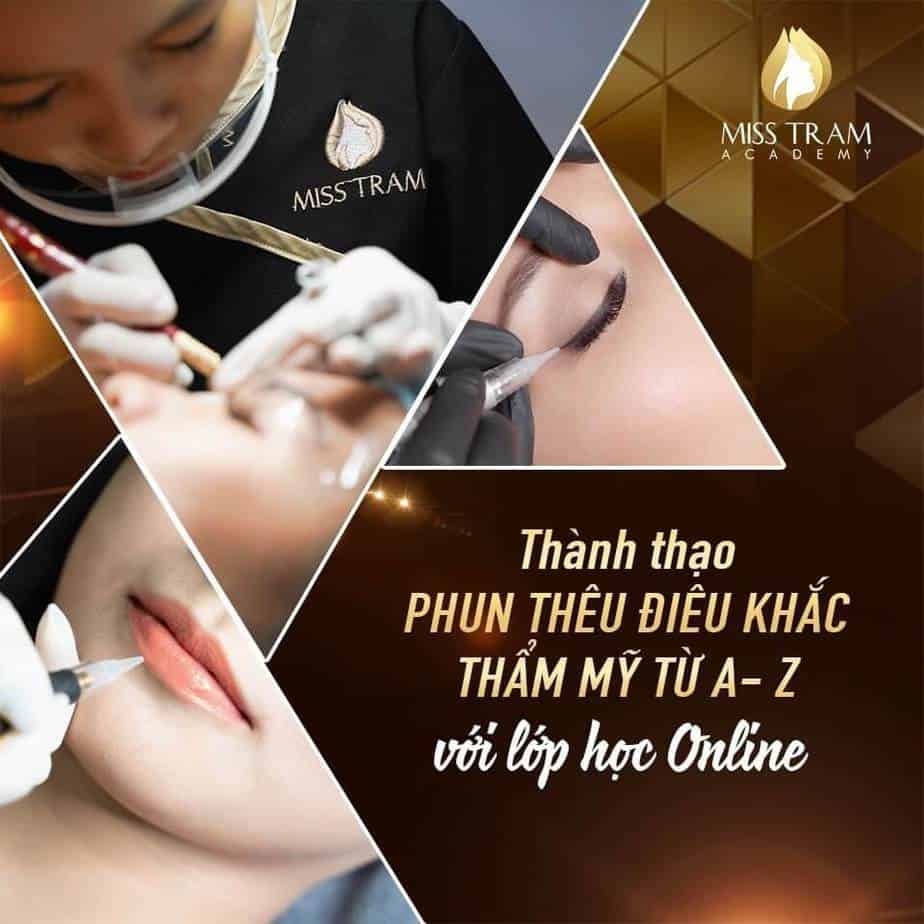 Choosing a training institution is not as difficult as many people think, the important thing here is that you are looking at the right place and going in the right direction. Because if you choose the wrong training institution, the result you get is just zero. Therefore, before making a final decision, you need to research and consider carefully! If you are still confused and do not know how to choose, you can refer to the following article: Spa Apprenticeship Experience – How to Choose a Good Beauty Training Place in Vietnam?
Hopefully, the information that Miss Tram shared above will help you choose the right training facility.