Beauty cosmetology is a common name for many fields, including beauty for eyebrows, eyes and lips. These are all attractive industries with stable and constantly increasing customer demand.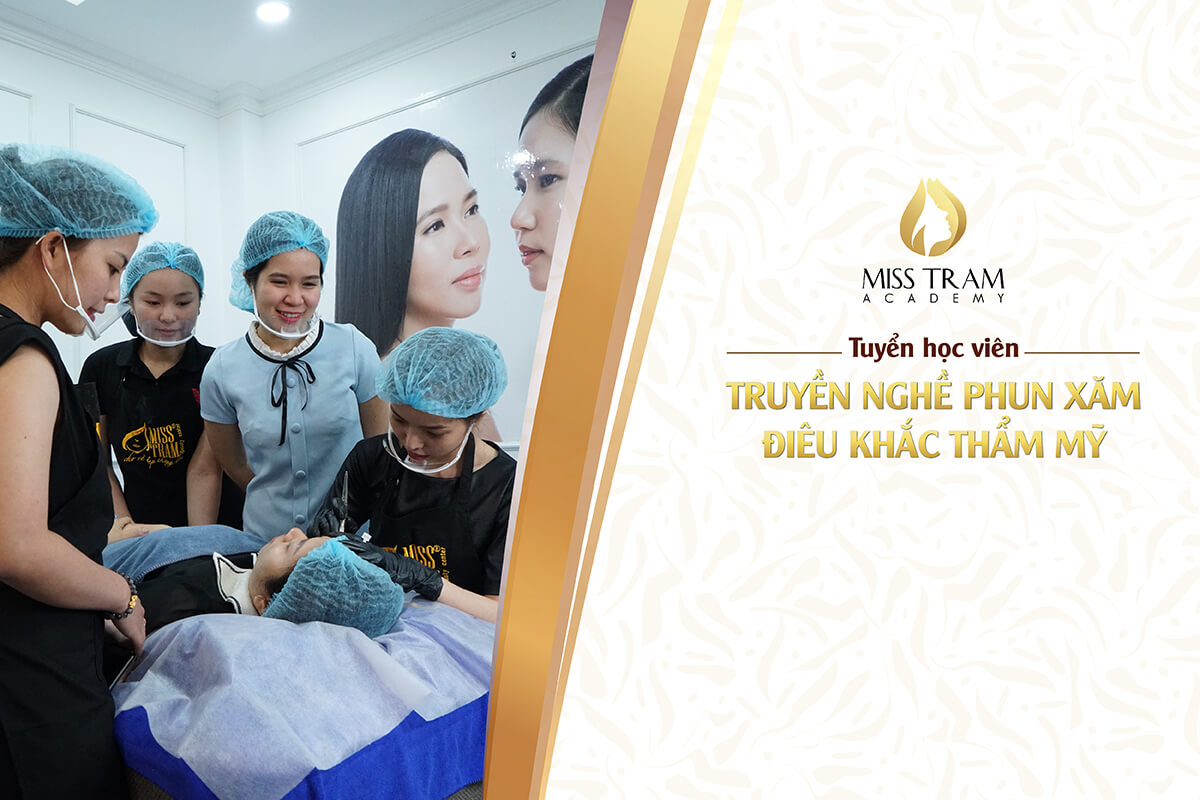 Once you master these skills, you can confidently:
Join the spa system - large aesthetic, receive many attractive career opportunities

Build your own establishment with your own local beauty salons and services

Develop yourself, create a stable income in foreign lands when you settle down or work abroad
Currently, cosmetic eyebrows, eyes or lips are no longer a beauty privilege exclusively for women or any other person, but anyone can choose these methods to become more good-looking. And inherently, attractiveness in appearance will bring us certain advantages in life and work. Therefore, more and more people are looking to modern beauty technologies, cosmetic interventions such as eyebrow embroidery, eyebrow sculpture, eyelid tattoo, crystal lip spray, collagen lip spray,…
The profession of cosmetic eyebrows, eyes and lips can be considered a trending profession, a profession close to the needs of residents because it does not touch "cutlery" much, ensuring the requirements of safety, a beauty. outstanding but natural. Pursuing this field, you can be assured of job opportunities and personal development opportunities because it is predicted to have stability, potential and strong expansion in the future.
LEARN EYEYE, EYE AND LIPS COSMETICS AT MISS TRAM ACADEMY
Choosing a profession to study is difficult, choosing a place to "learn the Way" is even more difficult. Because the person who teaches you knowledge must be a true master, helping you to grasp skills and techniques in the most accurate way. Not only that, they will impart to you practical experiences, making it easier for you to pursue your passion.
Understanding the importance of this, Miss Tram Aesthetic Academy (Miss Tram Academy) would like to introduce to young people the program. TRAINING PROFESSIONAL EYEYE - EYE COSMETICS - LIPS with many attractive and quality courses.
Miss Tram Academy works with the beauty spa brand Miss Tram - Natural Beauty Center is one of the Golden addresses, trusted by many people to choose to send their dreams of beauty, career development and future life. A journey of more than 15 years of sowing beauty, Miss Tram also nurtures many dreams to shine with quality vocational training programs. It is the "passion - knowledge - and morality" that has brought the Miss Tram brand to more and more development, creating trust in a large number of customers and students.
LEARNING PROGRAMS AT MISS TRAM ACADEMY
Eyebrow embroidery
Guide the basic skills of tattoo spray tools, how to choose a good sprayer, sprayer assembly techniques, how to choose good ink, how to preserve equipment, ...

Modern eyebrow embroidery techniques: granulating silk spray, powder spraying, Ombre 3D eyebrow powder coating, ...

How to choose the eyebrow shape, shape the eyebrow shape to suit each face, follow the criteria of anthropology and aesthetics

The process before, during and after the procedure (how to clean eyebrows, numbing, how to use needles, take care of eyebrows after work, ...)

Troubleshooting skills in the process of making eyebrows
Sculpture of eyebrows
The most modern eyebrow sculpting techniques today (3D, 9D)

How to use the European standard eyebrow measure golden ratio

Proficiently use eyebrow sculpting machinery and equipment from the most modern technologies

Restoring eyebrows that have been done through sculpting damaged, discolored, broken or broken, damaged eyebrows into new natural beautiful sculpted eyebrows

How to edit the shape, the old embroidered eyebrow thread into a new sculptural eyebrow

Techniques for numbing eyebrows, how to mix ink in each case

How to choose sculpting ink colors, editing tips, and troubleshooting problems when sculpting eyebrows
Eyelid injection, micro-touch eyelid sculpting
Technique of Spraying eyeliner classic, eyeliner shading, eyeliner magic make up

Spraying/sculpting techniques for natural eyelids, water eyelids, fishtail eyelids, phoenix eyelids, deer eyelids, etc.

Specialized in sculpting micro-touched eyelids

Common mistakes in spraying/sculpting new eyelids and how to fix them

Technique to erase old ink color, safe incubation method according to European standards
Spray and sculpt naturally beautiful lips
Lip spray technique: crystal, soot, collagen, Full Lips (Aqua Lips), Ombre Lips, Queen Lips, ..

European technology micro-lip sculpting from basic to advanced

Full micro-lip sculpting, soot lip sculpting, crystal lips, collagen, stem cells, etc.

Method of shaping lips, correcting unsightly lip shapes such as too thin lips, small upper lips, thin bottom lips, small lips, thick lips, lips with two drooping edges, uneven upper and lower lips together

The most standard ink color mixing technique

Standards when anesthetizing, darkening and spraying / sculpting on the lips
MISS TRAM ACADEMY – LEARNING WITH GOODS
At Miss Tram Academy, all eyebrow-eye-lip cosmetology training programs are maximized with practice time on real models, helping students effectively apply the knowledge they have learned. Not only was the profession transmitted by the whole CENTER, students are also shared by leading experts at Miss Tram EXPERIENCE, KNOWLEDGE to have more skills to deal well with situations that arise while working.
Studying at Miss Tram, you will quickly own all the knowledge about machines, equipment, inkjet embroidery, how to preserve ink, conduct operations, fix errors, ...
SPECIAL:
Full set of machines and tools during the course

Examination for vocational certificates issued by the Vietnam National General Department of Vocational Training has a lifetime value nationwide

Associate & support certification with Legal Training Centers in the US, Australia

Teaching with curriculum in 3 languages ​​(at the request of students): Vietnamese, English, Chinese

There are classes on demand: for students preparing to exit, need to open a store, overseas Vietnamese return home, study groups, study, study online, get a degree - certificate, ...

Giving away many attractive free classes for students when signing up for the full course of eyebrow and lip aesthetics

Support dormitories for students far away

Free teaching, many jobs for those who have difficult circumstances but are passionate about the profession
Thousands of our students have been successful on their chosen path, confidently developing their profession, confidently creating natural beauty for the Vietnamese community with the most standard eyebrow, eye and lip cosmetic techniques. How about you? Do you want to join Miss Tram Academy to receive these great opportunities?
Do you want to master cosmetic skills such as embroidery, powder spraying, micro-touch sculpting, etc.?

You want to become a professional lip beautician, taking on all the most complex technical and technological manipulations?
COME TO MISS TRAM ACADEMY TODAY
MISS TRAM ACADEMY - MISSTRAM ACADEMY
No. 30 Dang Thi Nhu, Ward Nguyen Thai Binh, District 1, Ho Chi Minh City
126/6 Phan Xich Long, Ward 3, Binh Thanh District
Hotline for consultation: 1900 7018
Sources: https://www.facebook.com/thammymisstramacademy/posts/684162541923003