Most cosmetic tattoo training courses on the market today follow a hard program (including eyebrows, lips, eyes). However, you only need to learn embroidery, sculpting, eyebrow hairstroke by:
You want to focus on developing your skills in this area.

Previously, you have taken the full course of embroidery and sculpting but feel not confident in the area of ​​eyebrow beautification.
Understanding that need, Miss Tram Academy deploys Embroidery spray course, eyebrow sculpting – Learn hairstroke on demand to serve students.
Teaching Spray Embroidery, Sculpting, Hairstroke Eyebrow Each Topic On Demand
In addition to the full-service cosmetic tattooing course (basic to advanced), Miss Tram Academy understands the diverse vocational training needs of students, thereby implementing individual training programs as required.
With cosmetic eyebrow tattooing, Miss Tram Academy will be based on the needs of students to have a suitable training direction.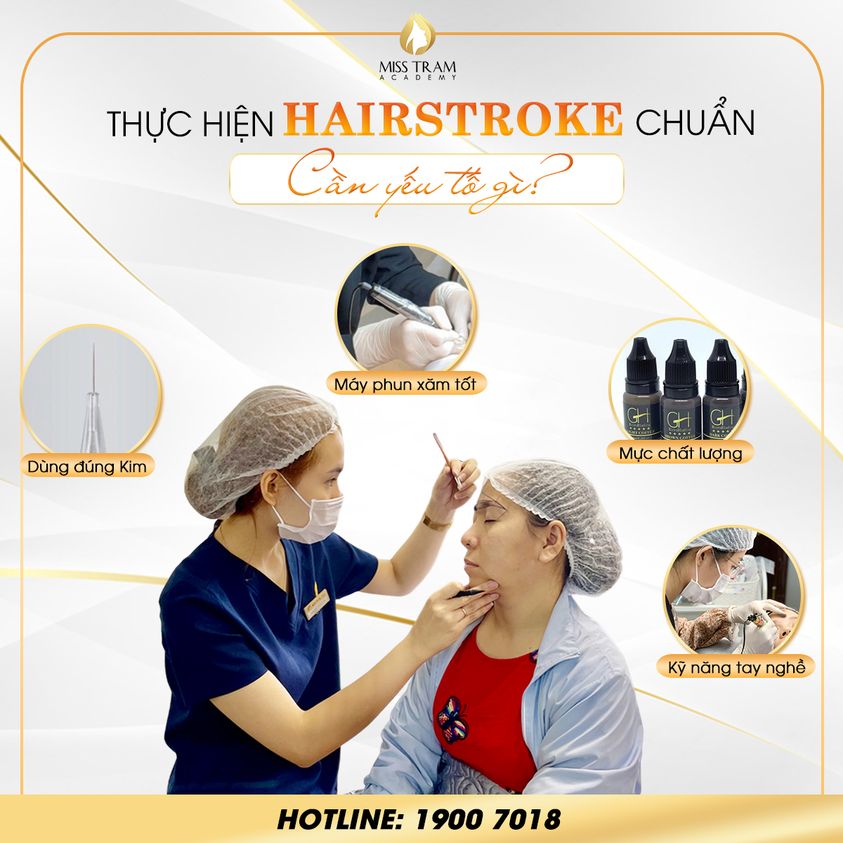 The course of embroidery and eyebrow hairstroke sculpting equips students with:
Knowledge of tattoo spray, embroidery, eyebrow hairstroke: concepts, objects applied to each service, frequently asked questions...

The necessary tools and tools to learn tattooing, embroidery, eyebrow hairstroke.

Safety and hygiene at work.

Define standard face.

Design the right eyebrow shape.

Methods of tattooing, embroidery, eyebrow hairstroke:

Hairstroke eyebrow.

Sculpting eyebrows with natural fibers with 6D - 9D techniques for men and women.

Sculpting eyebrows with natural fibers combined with Spray Ombre/ Shading/ Sandy.

European eyebrow sculpture.

PhiBrows eyebrow sculpture.

3D silk eyebrow sculpture.

Partial engraving.

Spray eyebrows to touch Nano particles.

Spray embroidery and powder 3D.

Spray Ombre eyebrows.

Magic Shading eyebrow spray.

Spray eyebrow powder/Crystal American ink 100% herbal extract.

Spray eyebrow powder Queen toner.

Spray eyebrows covered with silk.

Spray eyebrows with Light Touch particles.

Spray eyebrows with star sprinkle effect.

Spray eyebrow 3D pencil effect.

8D Korean eyebrow threading.

Powder eyebrow wheel.

Standard process for tattooing, embroidery, eyebrow hairstroke services.

Learn to fix damaged eyebrows.

Laser eyebrow tattoo removal.

Directly erase and renew eyebrows.

Medicines to use after eyebrow shaping.
In addition, you can request any topic related to tattoo spray, embroidery, eyebrow hairstroke.
Note:
Tuition fees depend on the subject required by the student and the duration of the training.

Practical learning curriculum will be compiled to suit the needs of students.
Miss Tram Academy accepts to teach a full course of embroidery, sculpting, eyebrow hairstroke and individual teaching according to one/a group of methods.
Reasons to Learn Tattoo, Embroidery, Sculpting, Hairstroke On Demand At Miss Tram Academy
With the desire to energize and support students to develop themselves with the cosmetology - beauty profession, Miss Tram Academy offers a course of tattooing, embroidery, eyebrow hairstroke according to professional requirements, ensuring output quality.
So how did Miss Tram Academy satisfy students? Let's take a look at some of the benefits that Miss Tram Academy brings to students in this course.
Directly in the training class are reputable experts and lecturers in the profession, especially in the presence of Grand Master Dong Bao Tram with more than 20 years of training - operating Miss Tram Natural Beauty Center and Miss Tram Academy.

Committed to professional training in eyebrow beautification topics required by students - ensuring output skills. Training in the form of hands-on work (1:1):

Students observe the instructor's actions first and then practice again. If they do not perform correctly, they will be corrected immediately.

The part that is not good will be included until you master it, then move on to the next lesson.

Teaching according to the curriculum with 3 languages ​​(depending on students' requirements) including Vietnamese, English or Chinese, the curriculum follows the training topic.

Sponsored practice on real samples, meticulous practice guidance – professional, continuous practice (80% of the course time).

Learning in a friendly environment, teachers follow closely throughout the learning process.

Modern facilities, full practice tools.

Convey a lot of practical experience in the profession: soft skills in customer care and the secret to opening a spa later (not also available in centers or schools).

Have the opportunity to receive valuable scholarships and high-paying job opportunities at Miss Tram.

Affordable tuition fees, regular promotions (updated on the center's fanpage and website).

The course at Miss Tram Academy has an output quality standard - students can study until they are proficient in the profession.
In particular, Miss Tram's course does not require a degree, anyone who is passionate and oriented with tattoo spray can study.
Contact the center immediately to arrange a more detailed consultation about the study path that suits your aspirations.