Ha Noi inherently the center of economic development of Vietnam and this is the ideal conditions for all industries here to develop. The people here have a very high quality of life, and everyone's care and beauty needs are also much more focused. Followed by the birth of many vocational training institutions to supply this beauty market. But where is the prestigious and quality address, it is difficult for anyone to answer immediately.
If you are intending to study this spa profession but are still confused about finding a school or a teaching facility, don't worry. With the following post Miss Tram VietNam will introduce you guys Addresses of prestigious and quality vocational spas in Hanoi for your reference. Let's follow up.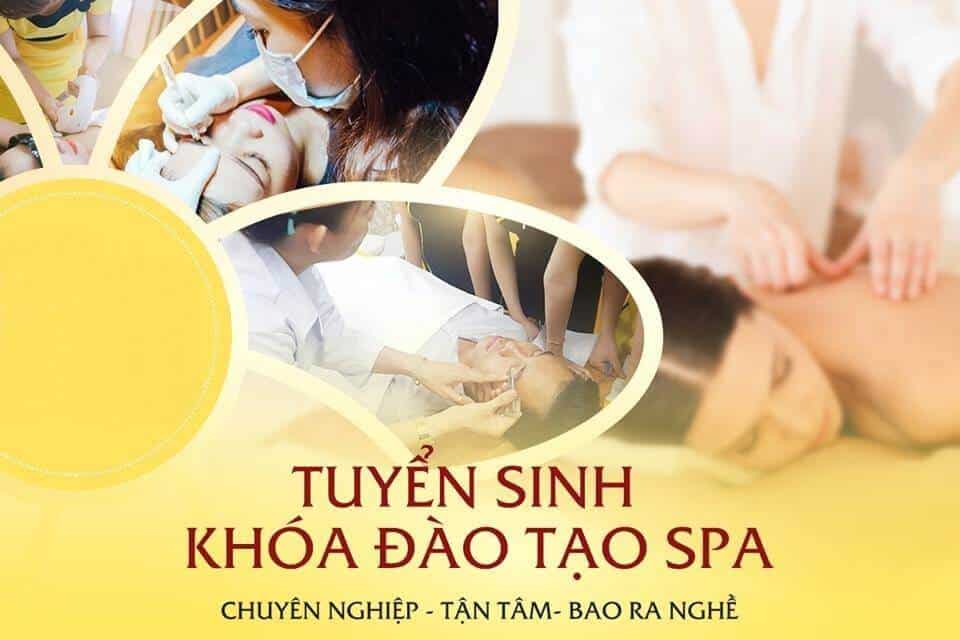 Address for Vocational Training Spa Skin Care, Cosmetic Tattooing In Hanoi
1. Dong A Beauty Salon
Rated as one of the most prestigious and quality spa vocational training addresses in Hanoi, Dong A Beauty Salon attracted a large number of students who want to learn the spa profession to choose to study.
No. 212 Kim Ma, Ba Dinh District, Hanoi,

No. 75 Ba Trieu, Hai Ba Trung District

Phone: 1900.6499 - 0962.77.88.66
2. Vietbeauty International Academy of Cosmetology
Training Academy international aesthetic Vietbeauty owns a team of leading experts from Europe combined with Asia and a team of Vietnamese teachers who are good, knowledgeable and specialized in the beauty profession.
Address: 53 lane 73, Nguyen Trai, Hanoi

Phone: 090.40.40.888 - 090.40.40.999
3. Bich Nguyet Academy
With a vocational training facility Bich Nguyen SpaPractical practice is always more important than ever, helping students hone their skills and understand the acquired knowledge objectively, practically, not just theoretically.
Address: Floor 6+7, No. 2A Dai Co Viet, Hai Ba Trung, Hanoi

Phone: 19006682
4. EVA Beauty Academy & SPA
Choose to study at Beautiful Eva You will receive good quality training, post-graduation support services such as job placement and study costs are also very reasonable.
Address 1: 292-Bui Xuong Trach-Thanh Xuan-Hanoi

Address 2: No. 5 Lot 4 Nam La Khe Urban Area - 368b, Quang Trung Street, Ha Dong - Hanoi

Phone: 0966666030
5. Winnie International Beauty Academy
With more than 10 years of experience, International Aesthetic Training Academy Winnie Academy is a reputable unit in the field of spa teaching. With a team of professional instructors and modern facilities.
Address: B11 Alley 67, Van Cao, Lieu Giai, Ba Dinh, Hanoi

Phone: 0901 788 588 – (024)35.77.55.66
6. Thu Cuc Beauty
With a team of good teachers, many years of experience and a well-designed curriculum, students come to Thu Cuc will be fully equipped with knowledge about the beauty profession.
Address: 5th floor, 286 Thuy Khue, Tay Ho, Hanoi

Phone: 0964 080 999 - 0904 744 999
7. Hand Viet Vocational and Training School
Hand Viet Vocational Training Center is one of the prestigious and top quality vocational training centers in Hanoi, which is highly appreciated by many students for its teaching quality.
Address: Alley 33, 14 Ta Quang Buu Street, Bach Khoa Ward, Hanoi

Phone: 0945 664455
8. FPT Poly K-Beauty Hanoi:
Korean beauty training system Poly-K Beauty is a prestigious training address for Cosmetology - Beauty in Vietnam. The training program is transferred from the leading partner in the field of cosmetology in Korea - the Korean Beauty Training Association (ACE).
Address: FPT Polytechnic Building, Trinh Van Bo Street, Nam Tu Liem, Hanoi.

Phone: (024) 7300 9900
9. Placencare Aesthetic Academy
With more than 12 years of operation Cosmetology training academy Placencare is always the leading professional, prestigious and quality spa training brand in Vietnam.
Address: No. 37 Ngo Thi Nham, Hai Ba Trung, Hanoi

Phone – Hotline: 0913.031.266
10. KOREA COSMETIC TRAINING ACADEMY
KOREA COSMETIC TRAINING ACADEMY With a short apprenticeship period, over 85% of the time is practice to ensure maximum effectiveness in the learning process to help you master practical skills.
Address: 55 Nguyen Van Huyen - Cau Giay - Hanoi

Hotline: 0983.332.633
11. Doctor Kiem Spa Academy
Doctor Kiem Spa is a familiar and prestigious address for students who love spa profession in Hanoi with good training quality, and very reasonable cost.
Address: No. 87, Alley 559, Kim Nguu, Hai Ba Trung, Hanoi

Hotline: 0947.899.468 - 0982769346
12. Sally Academy Beauty Vocational Training Academy
Beauty training academy Sally Academy is a reputable spa vocational training unit with good teaching quality, modern equipment system and a team of experienced instructors.
Address: Lot NV, B25 Nguyen Thi Dinh, Trung Hoa, Thanh Xuan, Hanoi

Phone – Hotline: 1900 636 136
13. Phu Xuan training beauty salon
Phu Xuan Aesthetic Academy is a young center in the field of professional cosmetology training and ranks No. 1 in Vietnam with good teaching quality. Help hundreds of students master the knowledge of spa profession from basic to advanced.
Address: 77 Tran Duy Hung, Cau Giay, Hanoi

Phone – Hotline: 094.681.7777 – 043.556.4377
14. Chihun Korean Academy of Cosmetics
Chihun Korean Aesthetic Academy With a team of experienced, highly qualified teachers with professional ethics and international standard infrastructure, it is definitely the ideal destination for students.
Address: 76 Tran Vi, Mai Dich, Cau Giay, Hanoi

Hotline: 083.248.1111 (zalo) – 098.649.3331
15. DR.BELTER TRAINING ACADEMY
Dr. Belter always focus on the quality of graduate students, commitment and value brought to students for the success of each individual in the spa industry.
Address: 14th floor, Viwaseen building -48 To Huu Tu Liem Hanoi

Phone: 0974272755
16. Hanoi Beauty Academy
Hanoi Beauty Academy With a team of friendly lecturers, constantly updating new techniques, and a system of modern facilities will make anyone who joins study here feel secure and confident.
Address: No. 5/9 Le Duc Tho - My Dinh - Hanoi

Hotline: 0333.090.999
17. Milan Aesthetic Academy
Milan Aesthetic Academy You will have the opportunity to approach as well as update the latest tattoo trends and technologies in the world, so that you can become the most professional tattoo artists.
CS1: 38 Hang Rui Hoan Kiem, Hanoi

CS2: Villa No. 24/11 Trinh Hoai Duc, Cat Linh, Dong Da, Hanoi
18. Beauty salon Xuan Huong
With more than 20 years of experience in beauty services, Xuan Huong Beauty Salon is always a professional quality spa training address chosen by many people in Hanoi.
Address: No. 22 Trieu Viet Vuong, Hai Ba Trung, Hanoi

Phone: 1800.6999 - 0945.72.6666

19. SCI . International Academy of Aesthetic Medicine
SCI International Academy of Aesthetic Medicine is a brand of SCI Group that is highly appreciated by experts for training. As well as the application of new technology of the Medical - Aesthetic industry.
Address: 212 Kim Ma, Kim Ma Ward, Ba Dinh District

Phone: 096 900 0208
20. Korean Aesthetic Academy Meilleur Academy
Korean Aesthetic Academy Meilleur Academy including many prestigious and professional spa courses, with modern facilities, good teachers, and affordable costs. Committed to giving students the best experience.
Address: 6th floor, 144 Doi Can, Ba Dinh, Hanoi

Hotline: 0838.279.123 - 0934 307 678
21. Sviet Beauty spa
Sviet Beauty spa It is also rated as a leading prestigious spa training center in Hanoi. With the use of the "hands-and-go" learning model, teach with the mind "don't ride horses to see flowers".
Address: No. 1. C5A, Lane 17, Hoang Ngoc Phach, Lang Ha Ward, Dong Da, Hanoi

Phone: 0963384325
22. Italian beauty salon
When you come here, you will be able to participate in quality training courses with a methodical curriculum covering basic knowledge from theory to basic and advanced techniques.
Address: 12A Trung Liet - Dong Da - Hanoi

Phone: 024 3288 9666 – 0833116633 – 0822116633
23. TECHCOVA Spa
Techcova Spa is a prestigious spa vocational training institution famous for many advanced modern beauty technologies such as: Max Burn Lipo slimming technology, PRP technology, ...
Address: 136 Ho Tung Mau, Nam Tu Liem, Hanoi

Hotline: 0972177481

Looking for a spa training facility: reputable and quality skin care, cosmetic tattoo spray, you need to master some important notes such as:
Need to find out if this career is right for you?

Please advise on tuition fees, are there any costs incurred during the study process.

Know the information about the study time.

Information about study locations – exam locations – degree locations.

The value of the degree is awarded after graduation.

Specific curriculum.

Support policies after the course

Full written commitment is required.
Understanding the importance of choosing the best vocational training address, Miss Tram would like to suggest:
8 Notes on Choosing a Beauty Career & Experience Choosing a Beauty Training Place Nơi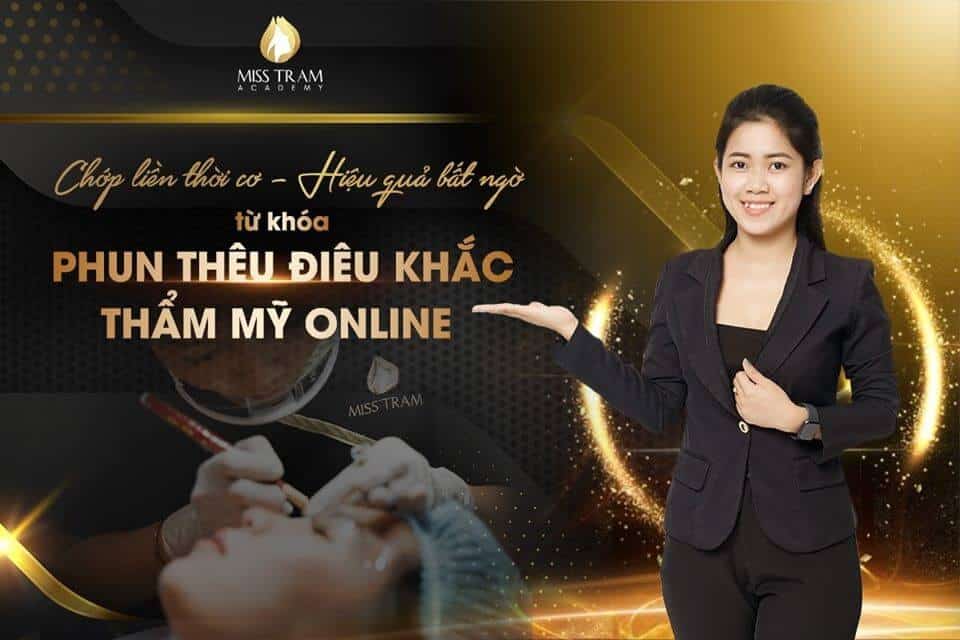 Currently at Miss Tram VietNam still very hot with online aesthetic embroidery spray course at home with professionalism, methodical and effective as offline learning. Therefore, the students are still fully and accurately equipped with the knowledge about the spa profession like learning in class such as:
Equipped with comprehensive knowledge to become a professional tattoo artist.

Be provided with information, how to choose, how to use numbing agents, ink types, tools, etc.

Have access to many new cosmetic tattoo spray knowledge. At the same time have the opportunity to develop yourself with a high income in the future.
* More specifically, students are also granted VIP accounts, have the right to study online all courses (skin care, cosmetic tattoo spray, makeup, nails, ...) of Miss Tram internal.
Miss Tram's online course spray embroidery embroidery sculpting eyebrows - eyelids - lips of Miss Tram for:
People who love and want to stick with the profession of Cosmetic Tattooing Eyebrow - Eyelid - Lips.

Those who want to become a professional cosmetic tattoo artist.

People who plan to open a spa at home/beauty center with cosmetic tattooing service Eyebrow - Eyelid - Lips.

Spa managers who want to hone their in-depth knowledge of cosmetic tattooing.
In addition, if you are a cosmetic tattoo artist, but you do not have a strong grasp of the knowledge – then the Miss Tram cosmetic sculpting and embroidery online course will be ideal for you:
Hand force control.

Identify the color mixing formula for each customer's condition.

Handle cases that need to correct the eyebrow - eyelid - lip style because the customer is not satisfied.

Types of ink, types of numbness, …

Other crisis issues…

There is no specific direction when self-learning cosmetic tattoo spray on the internet.

There is no time to study directly in the classes of the academy/center.

Want to be flexible in terms of location as well as study time.
Besides, you can also be completely secure because during this course, you will also have Master Dong Bao Tram along with a team of experienced instructors and pedagogical skills at Miss Tram Academy. They have always practiced, accumulated knowledge and professional experience to help you have a passion for the profession in the future.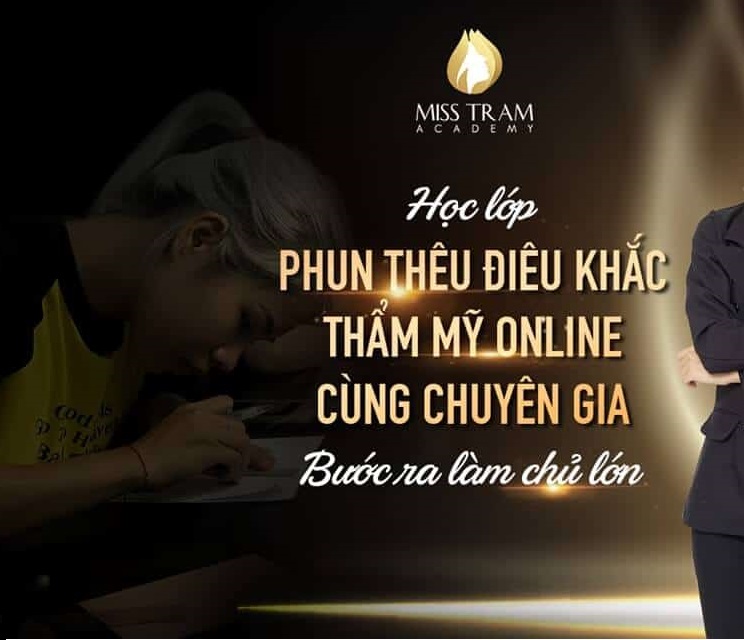 All information about the course of spraying embroidery and sculpting cosmetic eyebrows - eyes - lips at Miss Tram, readers can see more at:
Above is a list of spa and beauty training facilities in Hanoi that Miss Tram has compiled and introduced to readers. Hope you will find a place to practice your skills well and develop your career more. Please share the article so more people know.