Catching up with market trends, many young people race to go to school spa profession, cosmetology to have a high income for themselves. But from the beginning, they do not understand the importance of choosing a vocational training address. It makes many students unable to get a job after graduation because their knowledge or skills are also poor. Therefore, the spa apprenticeship It is not difficult, but choosing a reputable and quality address worthy of entrustment and investment is difficult.
If readers have encountered the above case or are having a headache in choosing a school, don't worry. Miss Tram VietNam I would like to introduce to you the list of spa vocational training facility: skin care, cosmetic tattoo spray at Hai Phong in the article below. Together Miss Tram VietNam look forward to reading!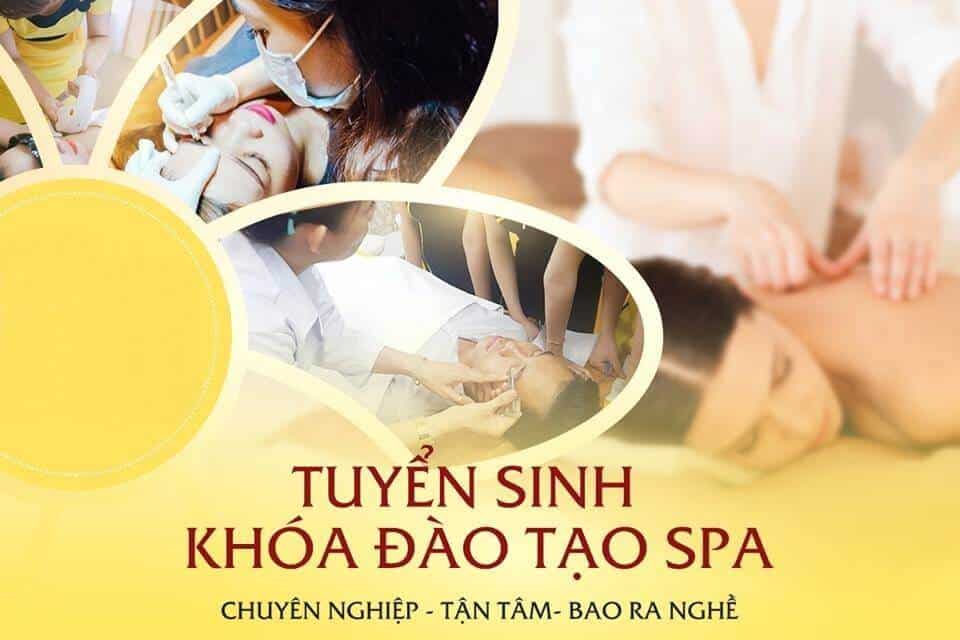 Spa Training on Skin Care, Cosmetic Tattooing In Hai Phong
1. Asian Beauty Salon

Asian Beauty Salon is a prestigious spa teaching address in Hai Phong with modern equipment, friendly learning environment, and methodical curriculum that is trusted by many students.
Address: 340 Hai Ba Trung, Le Chan, Hai Phong

Phone: 0936.822.585
2. Hoa Vy Spa Beauty Salon
Hoa Vy Spa Many young people choose to be a spa apprenticeship place in Hai Phong thanks to the good quality of training services and reasonable prices.
Address: 326C Hai Ba Trung, Le Chan, Hai Phong

Phone: 0934.351.788
3. Elsa Beauty Salon
Elsa Beauty Salon With the most modern space and facilities in Hai Phong city, students will have the best experience.
Address: 1D/30 Tran Nguyen Han, Hai Phong

Phone: 097.47.66666
4. Beauty salon – Yospa
Beauty salon – YoSpa is one of the spa beauty salon centers with large investment in leading modern facilities in Hai Phong.
Address: 7 Tran Khanh Du, Ngo Quyen, Hai Phong

Phone: 0962.860.239
5. Hong Ngoc Beauty Salon
With a system of modern equipment and machines, friendly and enthusiastic teachers, the reason that the beauty salon is Ruby many young people believe in choosing to learn a profession.
Address: Hamlet 1, My Son, Ngu Lao, Thuy Nguyen, Hai Phong

Phone: 0918.956.585
6. Royal Spa Hai Phong
Royal Spa Hai Phong is a quality spa vocational training address, professional curriculum, friendly learning environment that you should not ignore.
CS 1: 251 Hai Ba Trung, Cat Dai, Hai Phong

CS 2: 458 Hoang Minh Thao, Le Chan, Hai Phong

Phone: 0982.592.663 - 0988.589.663
7. Phuong Uyen Spa
Phuong Uyen Spa focus on practice in order to give students good experiences and improve their skills after finishing the course.
Address: 47 Luong Huu Khanh, Pham Ngu Lao,

Hai Phong

Phone: 0948.013.888
8. Qinghai Spa
Famous as a quality spa teaching address, reasonable price. Qinghai Spa It is also a worthy address for you to send it to.
Facility 1: 45 Hai Ba Trung (Cat Dai), Le Chan, Hai Phong – Tel: 0225.3841.583

Facility 2: 268D Da Nang, Ngo Quyen, Hai Phong – Tel: 0225.2601.272
9. Thanh Hoa Spa
Thanh Hoa Spa is one of the most prestigious and famous spa teaching addresses in Hai Phong, with nearly 20 years of experience in the field of beauty.
Address: 414 To Hieu, Le Chan, Hai Phong

Phone: 0225.625.6038 - 0936.606.589
10. Kore Beauty Hai Phong
This is one of the prestigious spa vocational training facilities in Hai Phong that is being trusted and chosen by many people because of its good quality and reasonable price.
Address: Area 8 Hoa Binh Commune, Thuy Nguyen, Hai Phong

Phone: 0365.653.286
11. Swan Beauty Spa
Swan Beauty Spa is a famous spa vocational training place with good quality, just hold hands until students master it.
Address: 70 Tran Nguyen Han, Hai Phong

Phone: 0936.792.079
12. Ngoc Dung Beauty Salon
Ngoc Dung Beauty Salon always gives students good experiences, professional knowledge and the most modern beauty technologies.
Address: 205B Lach Tray Street, Lach Tray Ward, Ngo Quyen, Hai Phong

Phone: 1800.6377
13. Culinary Clinic & Spa
Cuisine Clinic & Spa With a system of modern equipment, enthusiastic and friendly teachers and a methodical study schedule will help students master all the knowledge about that profession.
Address: No. 73 To Hieu Ward, Cau Dat, Ngo Quyen, Hai Phong

Phone: 039.883.9909
14. Himalaya Hai Phong Spa
Himalaya Hai Phong Spa trusted by many students because of its friendly learning environment, easy-to-learn and easy-to-remember curriculum, and improved skills thanks to lots of practice.
Address: No. 2/274A Lach Tray Ngo Quyen, Hai Phong

Phone: 0854.260.788

Combined with the search for a spa apprenticeship address, Miss Tram would like to tell you very useful notes to choose. Vocational training facility for skin care, cosmetic tattoo spray reputations such as:
Need to find out if this career is right for you?

Please advise on tuition fees and costs incurred.

Know the information about the study time.

Information about study locations – exam locations – degree locations.

The value of the degree is awarded after graduation.

Specific curriculum.

Support policies after the course

A written commitment is required.
If you want to know more about the above notes, check out this article: 8 Notes on Choosing a Beauty Profession & Experience Choosing a Beauty Training Place – Aesthetic Spa Is Right For You
In order to help those who want to learn the art of spraying embroidery and aesthetic sculpture but do not have the opportunity to come directly to the center. Miss Tram has brought to young people who are passionate about the profession an effective solution that is: Aesthetic Sculpture Embroidery Course Online.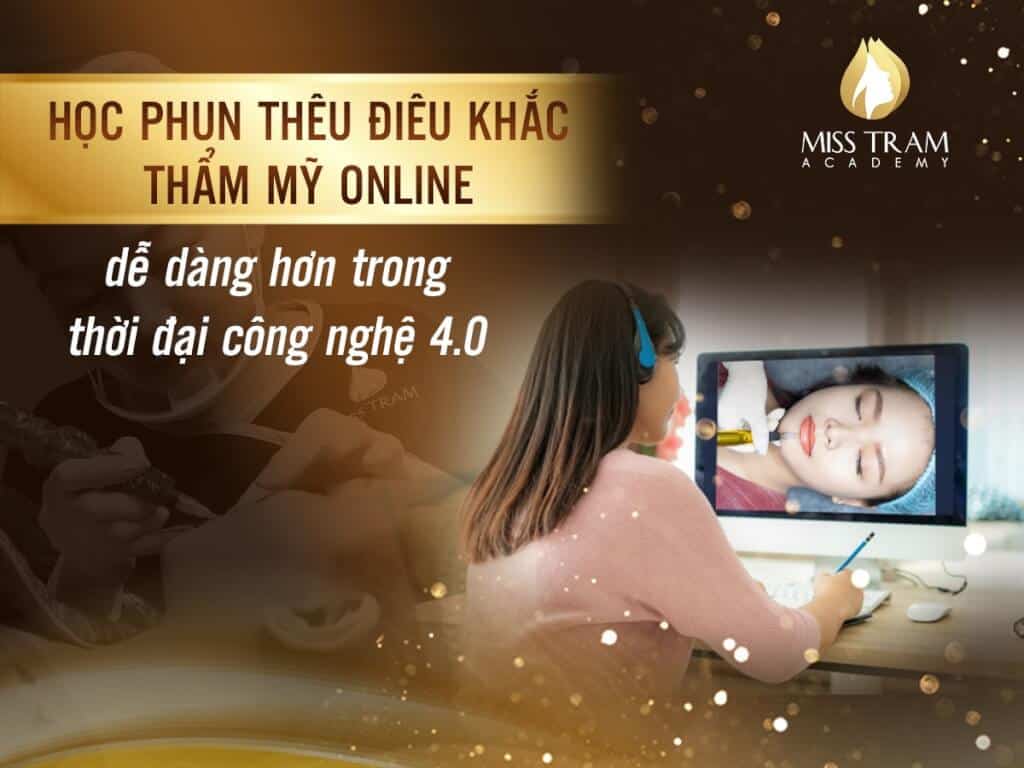 With this course, students will receive benefits such as:
Save time:
The Online Cosmetic Tattooing course helps to be flexible with the time budget, without losing time to move, not to be constrained or influenced by anyone.

Arrange the Timetable with the Course Manager in the Morning – Afternoon – Evening… or any time of the day.

What you need is an internet-connected technology device, which can be studied at home or taken anywhere.
Cost savings:
Online courses are considered a cost-effective solution compared to studying at centers (simply because there will be no travel costs, space costs, lecturer costs, etc.).
Interactive – highly connected:
You have the opportunity to meet, exchange with other students / lecturers / KTV via the internet, group chat, fanpage, forum ... of Miss Tram Academy.

Thereby increasing interaction, helping you to exchange knowledge about cosmetic tattooing with Instructors, colleagues and friends to increase progress.
Mastery is not inferior to offline courses:
Studying online, but not because of that, the quality is lower, guys, the lecturers will always accompany you throughout the learning process to help students develop to their full potential.

If you do not understand where, just ask a question, you will be answered by the Instructor as soon as possible. There are practice exercises, skill assessment through each lesson.

There is an additional time of 4-10 days of practical practice at the Center to help strengthen skills and effective skills.
In particular, you do not need to worry about common cases when studying online such as:
Take care of your phone alone.

When you want to exchange experiences, who should you ask?

Learning Online is afraid that no one will follow me, what if I get discouraged and quit?…vv
Because with the online course of Misstram students will be Master Bao Tram Dong with a team of experienced lecturers with professional and pedagogical skills at Miss Tram Academy companion in the same course.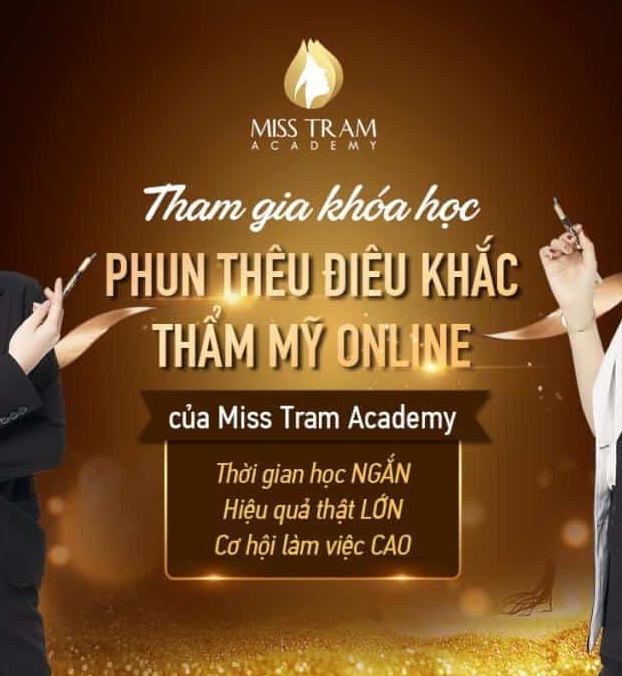 Besides that:
Students participating in the course will be able to join a closed zalo/facebook group, where you can easily send questions, share experiences and learn knowledge.

You will not have to be "alone with a phone" because you will be directly connected to the Academy Manager to design your own study schedule at home.
It's so wonderful, isn't it? To learn more about this course, you can learn more here: Aesthetic Sculpture Embroidery Course Online – Why Not?
Recently, Miss Tram has introduced to readers a list of spa vocational training addresses in Hai Phong with notes on choosing a study location. Most especially, the information about the online aesthetic sculptural spray embroidery course for your reference. Please consider and choose for yourself the most reliable facility!