Everyone wants to find a light job with attractive salary. In fact, this is extremely difficult but not impossible. For the spa profession, the apprenticeship process is not too long, the cost is low, after graduation, if you have good skills, the income is also very significant.
But to do that, you first need to learn, rather than find a place to study. A quality and reputable vocational training place is what you need right now. If you are in Tay Ninh, you can refer to the list of teaching spa addresses that Miss Tram has compiled below.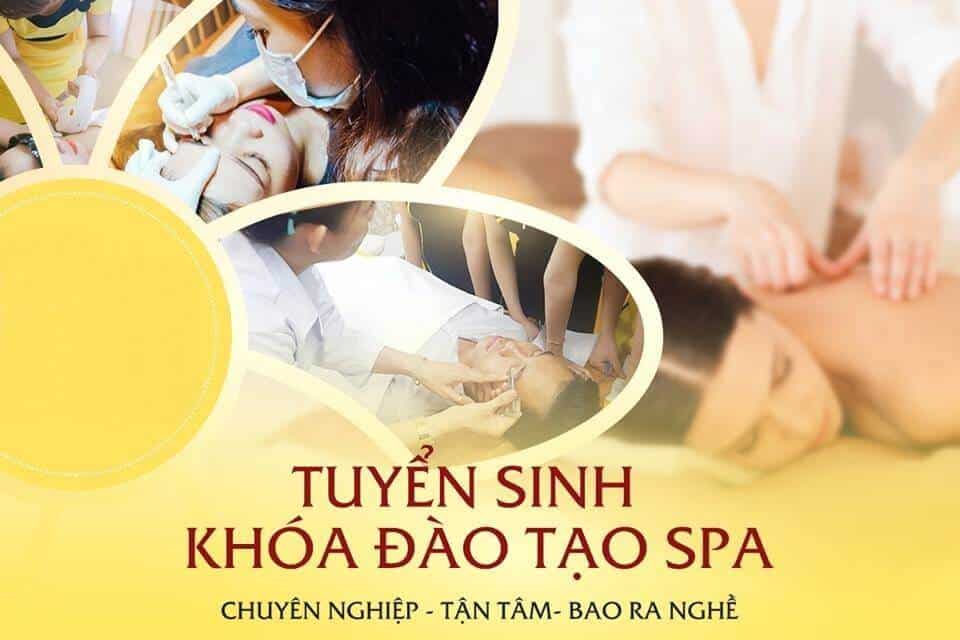 Top 10 Spas Receive Training on Skin Care, Cosmetic Tattooing in Tay Ninh.
1. Diep Thao Medi -spa
Diep Thao Medi-spa is famous as a prestigious and quality spa vocational training address in Tay Ninh when possessing advanced and modern aesthetic machine technologies in the world.
Address: 730 CMT8, Ward 3, TP. Tay Ninh

Hotline: 0987881158
2. Kim Spa Tay Ninh
With good quality vocational training, easy to learn, easy to understand, giving students useful practical lessons, full knowledge of spa profession from basic to advanced, Kim spa is trusted by many young people. learn.
Address: 1023 Cach Mang Thang Tam, Hiep Ninh Ward, City. Tay Ninh

Hotline: 0971 600 602
3. Hana Spa – Tay Ninh
Known as a prestigious spa vocational address, with a methodical learning route, and a friendly learning environment, Hanna Spa is always highly appreciated by students.
Address: 328 30/4 Street, Ward 3, City. Tay Ninh

Hotline: 0941 505 039 - 098 393 4433
4. TINY HOUSE
Tiny House is a prestigious and quality spa vocational address with the criteria of hand-in-hand, detailed instructions for each student, to bring the best experience.
Address: 98 Pham Hung, Hoa Thanh, Tay Ninh

Hotline: 0379.859.501
5. Hong Anh Spa – Spa Jacaranda Spa
Anh Hong Spa is also a popular spa training address for many young people in Tay Ninh because of the good quality of vocational training, and the tuition fee is very affordable.
Address: 144 Huynh Cong Gian, Kp1-P4, City. Tay Ninh

Hotline: 02763.622.116
6. Beauty Spa Page
Trang Beauty Spa owns a system of modern machinery, which is constantly updated with beauty trends in the world to help students expand their knowledge and understanding more.
Address: 141 Vo Thi 6, City. Tay Ninh

Hotline: 093 332 7044
7. Lavender T&T Spa
It is impossible not to mention Laven T&T spa, this is the leading prestigious vocational training address in Tay Ninh with good teachers and professional learning programs.
Address: 150 Au Co, Hiep Dinh Hamlet, Hiep Tan Commune, Hoa Thanh, City. Tay Ninh

Phone: 090 404 04 57
8. Asian Spa
Asian Spa helps students master the theoretical foundation from basic to advanced, focusing on practical lessons to ensure students have the best lessons.
Address: No. 15, Phan Chu Trinh, Ward 6, Tan Bien Town, Tan Bien Dist., Tay Ninh

Phone: 094 959 19 17
9. Luxy Spa
Luxy spa is famous as a prestigious and quality vocational training address thanks to its modern equipment system, enthusiastic and friendly teachers.
Address: 114 Vo Thi Sau, Quarter 5, Ward 4 - Tay Ninh

Hotline: 07878.64.775
10. Linh Dang Spa
Linh Dang Spa is trusted and chosen by many students because of its good training quality, spacious and modern learning environment.
Address: 197 Au Co, Hiep An, Hiep Tan, Hoa Thanh, Tay Ninh

Hotline: 088.885.6535

If you want to find a low-paying job with a high salary, first choose a quality vocational training place, help you master all the knowledge and skills about the spa profession first. For those who are having difficulty in finding a reputable and quality apprenticeship address, Miss Tram would like to suggest you an extremely useful article: 08 Notes on Choosing a Beauty Profession & Experience Choosing a Beauty Training Place – Aesthetic Spa Is Right For You
Currently, in the beauty industry market, online courses are springing up like mushrooms, among them there are also many fraudulent and poor quality establishments that are difficult to distinguish. Making many people lose faith in online courses, understand that Miss Tram would like to introduce to you the online aesthetic sculpting embroidery course committed to top quality but super-saving tuition.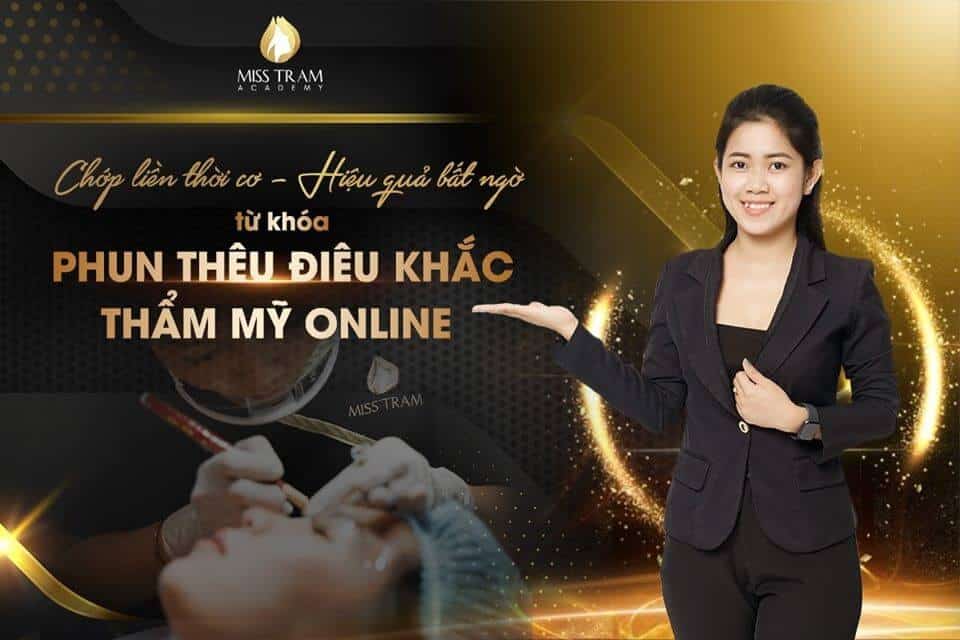 Miss Tram's aesthetic sculptural embroidery spray course is extremely hot because it gives students many benefits such as:
Mastering the knowledge base from basic to advanced in cosmetology.

Trained to easily determine eyebrow shape, lip color, suitable eyelid spray method for each customer. Also learn how to handle crisis in the profession.

It is completely possible to become a Professional Eyebrow Embroidery Sculptor with a stable income.

More specifically, you will be granted a VIP account, have the right to study online all courses (skin care, cosmetic tattoo spray, makeup, nails, ...) of internal Miss Tram.

Instructors complete on both eyebrows and eyelids, not just one forehand like other training institutions.

Students participating in the course will be able to join closed zalo/facebook groups to share experiences and learn knowledge.

Students who complete the course will be granted a certificate recognized by the State for Lifetime nationwide.
To master the lip spray techniques in the Online course, Miss Tram will tell you some useful tips:
Draw lip lines before tattooing:
Draw a frame according to the scale of 2cmx5cm, outline the lip border

Draw a curved contour around the arc

Draw the corner of the upper - lower lip
Standard lip sprayer assembly:
Carefully reading the user manual that comes with the machine will help you understand how to operate, use and maintain the machine well.

Check that each set of machines really fits together, avoiding the situation of loose needle pins, when sprayed out of the machine.

For the charged ones, it is necessary to ensure that the power source is sufficient for their tattooing process.

Warm up before learning to check if the machine runs smoothly.
Lip spray technique:
Shaping lip contour: Identify cases for appropriate treatment (2 wings of uneven lips, thin lips, thick lips, too dark lips.)

Nozzle angle: steady hand position, needle tip perpendicular to the skin surface

The impact force of the injector: maintain a steady hand, do not go too fast, it will give pale or no color results

Needle depth when applying lip contour: insert needle 1 into the skin about 0.3-0.4mm

Needle depth when going inside the lip: Insert needle 1 into the skin 0.3mm deep from the center of the lip to the corner of the lip.
Recently, a brief information about the online cosmetic sculpting and embroidery course at Miss Tram. If you are interested, please click here for more details: Latest Online Beauty Sculpting Embroidery Course.

Beauty is always a constant need of everyone, so the spa profession will always be hot and hot forever. Please rest assured, firmly believe in the profession and especially choose the best vocational training address to help you realize your passion for bringing beauty to everyone. I wish you early success.