Spa Professions in general and skin care profession, cosmetic tattoo spray in particular is currently one of the very hot professions. Therefore, this profession has received the attention of many young people, especially women.
If you are also wanting spa apprenticeship at Ca Mau, but wondering because you don't know which address to choose, please refer to this article. List of Prestigious and quality spa training facility in Ca Mau The following will definitely be useful to you.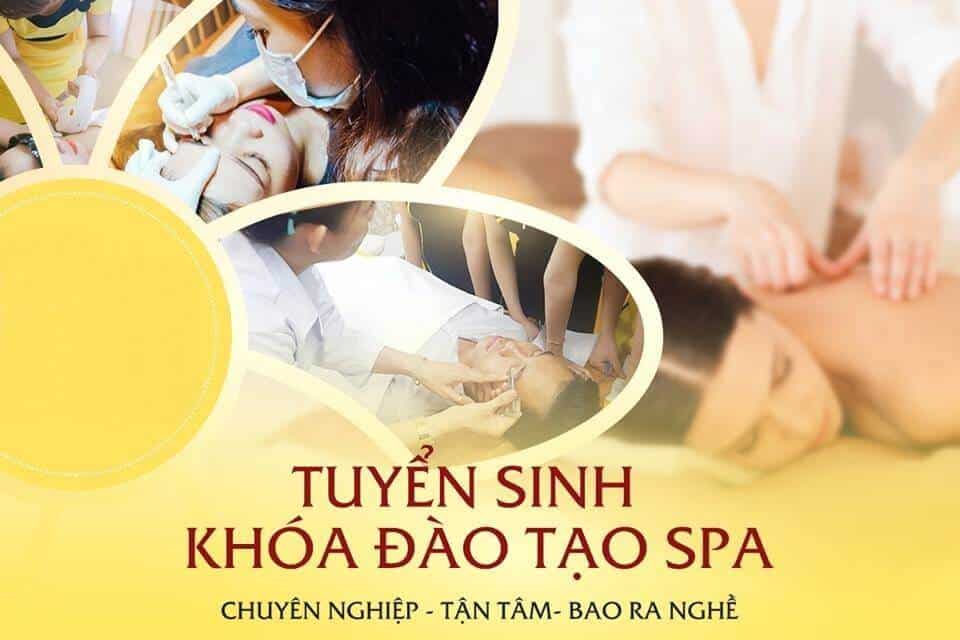 Spa Get Vocational Training on Skin Care, Cosmetic Tattooing at Ca Color
1. DIVA Aesthetic Institute
Training program of DIVA is compiled methodically and meticulously, always close to actual needs and at the same time is a model training model for many institutions to follow.
Address: 21 An Duong Vuong, Ward 7, City. Ca Mau

Phone: 1900.6689
2. Ruby Spa
Ruby Spa is evaluated as a professional cosmetology training address in Ca Mau with a team of experienced and highly skilled teachers. Therefore, this is a training address that you should not miss.
Address: 132 Ngo Quyen, Ward 1, City. Ca Mau

Phone: 0783.676.767
3. Tu Kieu Spa
Coming here, you will be exposed to a full range of modern equipment, manufactured and supplied from many developed countries in the world. Moreover, the teaching staff here are all experienced masters and doctorates.
Address: 247 Nguyen Trai, Ward 9, City. Ca Mau

Phone: 0949.799.409
4. Blinnhi Spa
With outstanding advantages, as well as the ability to train students extremely well, so Blinnhi Spa It is a place worth paying attention to when having a passion in the field of cosmetology.
Address: 333 Nguyen Cong Tru, Ward 8, City. Ca Mau

Phone: 0971.818.848
5. Nguyen Lin Spa
Students coming to Nguyen Lin Spa will be trained with an intensive course by well-known experts in the profession. Moreover, the curriculum here is also compiled in the most meticulous and thorough manner.
Address: 151 Nguyen Cong Tru, Ward 8, City. Ca Mau

Phone: 0938.077.207
6. Kieu Diem Spa
Courses in Kieu Diem Spa always bring to students the latest and most modern beauty methods by experts with many years of experience.
Address: 267/7 Hoang Van Thu, Ward 6, City. Ca Mau

Phone: 0909.199.299
7. Thanh Hang Spa
Thanh Hang Spa is a great choice that you should not miss in Ca Mau. Here, you will be trained intensively from knowledge to professional skills.
Address: No. 40 Nguyen Van Troi Street, Hamlet 5, City. Ca Mau

Phone: 0913.868.185
8. Ngoc Thuy Spa
Ngoc Thuy Spa is an international system of beauty salons with a team of highly qualified and skilled instructors, meeting national standards.
Address: 103A Tran Van Binh, Hamlet 4, City. Ca Mau

Phone: 0917.999.900
9. Happy Spa
happy spa well-known as a training institution with good quality, reasonable cost, dedicated teachers, so it is very suitable for young people in Ca Mau.
Address: 62A Ly Thai To, Ward 2, City. Ca Mau

Phone: 0948.044.776
10. Mai Linh Beauty Salon
Mai Linh Beauty Salon is the unit that owns a set of standard textbooks, compiled in the most methodical and meticulous way. Along with that is a friendly learning environment so you will learn very quickly.
Address: 138 Nguyen Tat Thanh, Ward 8, City. Ca Mau

Phone: (029) .0356.2233

For those of you who have a passion for the cosmetic tattoo industry, choosing a reputable and quality training address has never been easy. Before making a decision, you should know the following:
How reputable is the cosmetology training institution?

Are the facilities and equipment at that center good?

Are the teaching staff experienced?

What is the curriculum and learning path throughout the course?

What are the student support programs at the center?
Besides, if you are confused in choosing a reputable address to send your passion and dreams, you can refer to the following article. https://misstram.edu.vn/kinh-nghiem-chon-noi-dao-tao-spa-nghe-lam-dep/. The useful experiences summarized here by Miss Tram will certainly be useful reference information for you to choose a good spa study place.
[/box]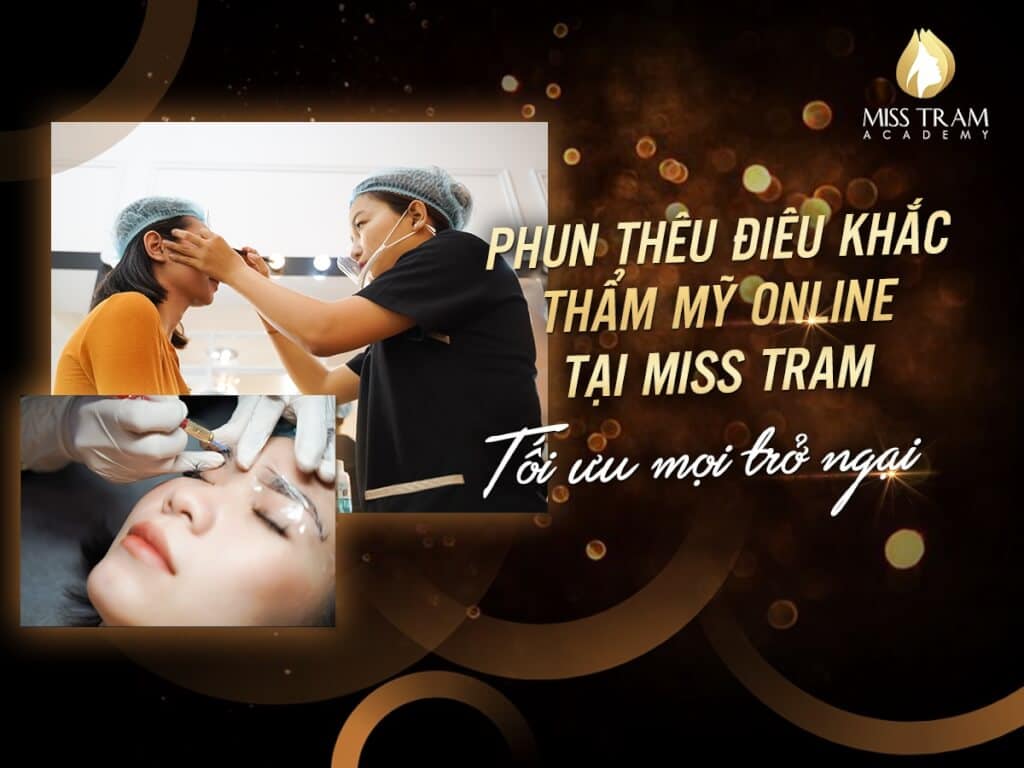 If you are a lover and want to pursue a career in cosmetic tattooing but have difficulty because of geographical distance, time does not allow; Or even if you don't have enough money to come to study directly at the centers, you shouldn't be too worried. With online cosmetic tattoo spray course mà Miss Tram VietNam bring will help"OPTIMIZE EVERY OBSTACLE' of you for so long.
Why does Miss Tram's cosmetic tattooing course do that?
The course is completely suitable for young people who have passion and want to start a business when they only have a few million dong in their pocket.

The course helps you to be more flexible in your study time, you can study anywhere, anytime with just an electronic device with an internet connection.

The curriculum is compiled with the enthusiasm of a team of teachers with more than 17 years of experience, bringing the best quality lessons and easy to understand and absorb.

The quality of training is always guaranteed, the technique is flexible, and the operation is proficient.

Extensive working opportunities at major beauty and spa facilities.
[/box]
So who is Miss Tram's online cosmetic tattoo spray course for?
Those who have a passion for the beauty profession and more specifically, Cosmetic tattooing Eyebrows - Eyelids - Lips.

Those who wish to be able to become an Embroidery Specialist in Aesthetic Sculpture.

Those who manage in spas and want to learn and learn more advanced knowledge about the profession to be more effective at work.

Those who want to open a small spa to a professional Aesthetic Center, which has beauty services for eyebrows - eyelids - lips.

Those who want to fix a crisis problem with a customer but don't know how to solve it.

Those who are ignorant of professional knowledge about cosmetic tattoo spray.

Those who are disoriented with the process of self-studying at home through groups, youtube, facebook, ... and a lot of mixed information on the internet.

Those who are not able to participate in direct courses at the Academy of Cosmetology or Vocational Training Center.

People who want more flexibility in study time and location.
Hopefully, through the above introduction of vocational training spa locations in Ca Mau, it will help you choose the most prestigious and quality address. If you have any questions or concerns, please do not hesitate to contact us directly!