You are having a headache in finding yourself a spa vocational training address qualified at Hue? Do you want to learn a lot of specialized knowledge, solidify your skills after graduation to be able to work in big spas and have high income? Understand that concern Miss Tram VietNam would like to introduce to you the list teaching spa in Thua Thien Hue for your further reference. Please read it.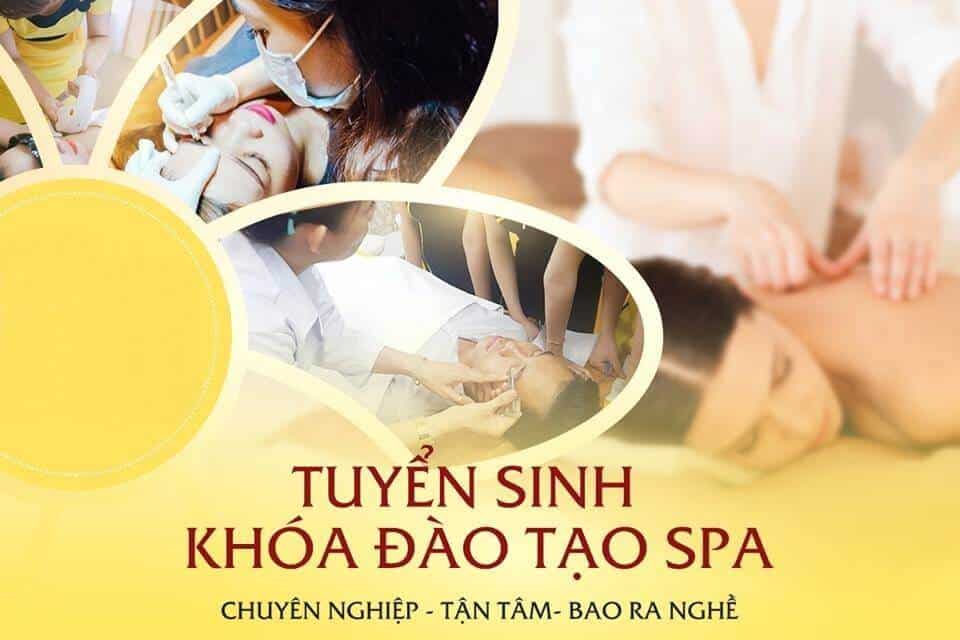 Spa Get Vocational Training on Skin Care, Cosmetic Tattooing In Hue
1. Emmy Hue Beauty Salon
Emmy is a reputable spa vocational training address in Hue, with a system of modern equipment and methodical curriculum.
Address: 69 Ba Trieu, City. Hue

Hotline: 097.126.3003 090.6762.303
2. Thao Vy Spa
Thao Vy Spa specializes in vocational training for students in Hue, always focusing on practice, in order to improve students' skills.
Address: 34 Hai Ba Trung, Hue City

Phone: 0967477137 - 0903510036
3. Smile Spa
With a system of modern facilities, constantly updating new technologies and beauty trends on the market. Smile Spa is always trusted and appreciated by many students.
Address: 61B Ben Nghe, HUE City

Hotline: 0969.497.111 - 0931.989.111
4. Lavender Spa – High-tech Skin Care Institute
Lavender Spa is a pretty famous address in Hue, where there are vocational training with good quality training, the cost is also very affordable.
6 masterpieces 10 Le Quy Don, Hue City

33/1A Le Quy Don, Hue City

Phone: 0962 001 002
5. Daisy nails & Spa
Daisy nails & spa always gives students useful lessons with dedicated teachers, friendly learning environment, easy-to-understand and easy-to-remember curriculum, always focusing on classroom practice hours.
21 Le Quy Don, Hue City

49 Ben Nghe, Hue City

Hotline: 0905 078 888
6. NyNy Beauty Spa
Many young people who are passionate about spa profession choose NyNy to learn the profession because of the good teaching quality, the good, friendly, hands-on teachers are extremely attentive.
Address: 83 Nguyen Sinh Cung, Hue City

Phone: 090 264 06 86
7. YANA Clinic & Spa
Come to Yana clinic & spa Students will learn in a spacious environment, complete with facilities, and professionally compiled curriculum.
Address: 14A Ngo Gia Tu, Hue City

Phone: 090 647 90 28
8. Coi Spa & Massage
It is impossible not to mention Coi SpaThis is also a prestigious vocational training address with good teaching quality, but the tuition fee is also quite soft. Should be favored by many young people in Hue.
Address: 21 Nguyen Sinh Cung, City. Hue

Hotline: 037 973 9555

To find yourself a prestigious and quality spa vocational address, especially suitable for yourself, easily. Miss Tram will suggest you some of the following notes:
Determine if this career is right for you?

How much are the tuition fees and expenses?

Know the information about the study time.

Information about study locations – exam locations – degree locations.

The value of the degree is awarded after graduation.

Specific curriculum.

Is there any support for students after the course?

A written commitment is required.
For more information on the above notes, you can refer here: 8 Notes on Choosing a Beauty Profession & Experience Choosing a Beauty Training Place – Aesthetic Spa Is Right For You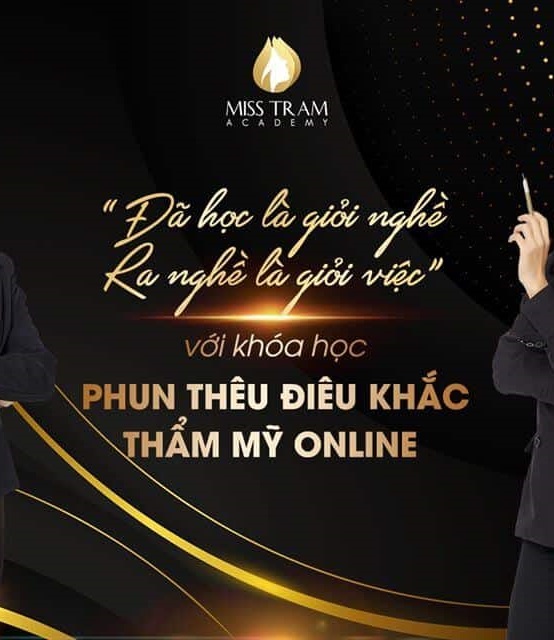 Currently on the market there are many online cosmetology course along with many attractive offers, extremely cheap costs, but in fact they are all "fake" courses. Bringing many consequences for learners such as: wasting time, effort, money, not studying until graduation is also dangerous to customers.
Understand that, Miss Tram VietNam released online course of spray embroidery and aesthetic sculpture helping young people who are passionate about the profession have a reliable place to study. Although it is an online course, the quality is not inferior to that of an offline course, but the cost is much cheaper.
Besides, this course has been researched and designed specifically for offline learning. So you can rest assured when choosing to study.
This course will help students solve problems:
Cost - time - means of transportation.

Disorientation when self-studying at home through groups, youtube, facebook, ... with a lot of mixed information on the internet.

Handling situations arising in the process of working, taking care of customers, building and developing personal brands...

Improve knowledge for Technicians, Consultants, Spa Managers… to apply in practice to each job position.

Stable job, GOOD income…
Moreover, during the learning process, you will also be able to participate in the course, you will be able to join a closed zalo / facebook group, you can easily send questions, share experiences and learn knowledge.
* In particular, you will not have to be "alone with a phone" because you will be directly connected with the Academy Manager to design your own study schedule at home. The staff of teachers/caregivers always accompany throughout the learning process.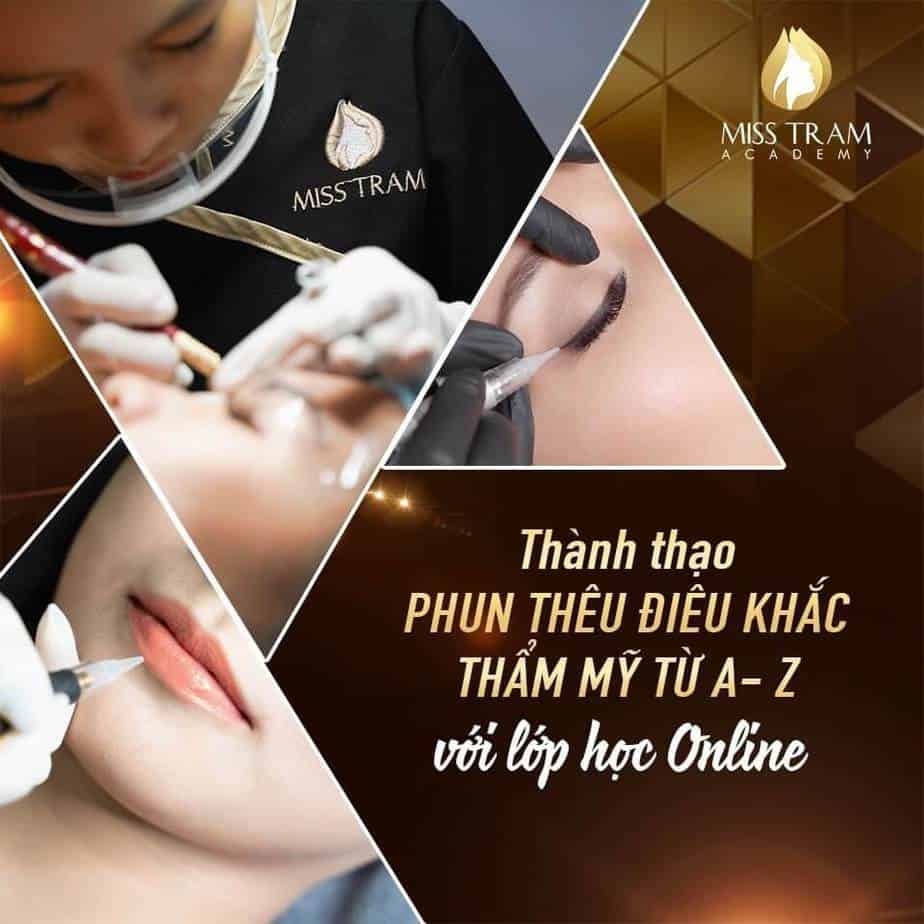 Miss Tram would like to reveal to all of you who have been, are and will be participating in the online course of spray embroidery and sculpting, lip spray technique to help create beautiful colors and standard shapes so that the learning process goes smoothly.
Draw lip lines before tattooing:
Draw a frame according to the scale of 2cmx5cm, outline the lip border

Draw a curved contour around the arc

Draw the corner of the upper - lower lip
Standard lip sprayer assembly:
Carefully reading the user manual that comes with the machine will help you understand how to operate, use and maintain the machine well.

Check that each set of machines really fits together, avoiding the situation of loose needle pins, when sprayed out of the machine.

For the charged ones, it is necessary to ensure that the power source is sufficient for their tattooing process.

Warm up before learning to check if the machine runs smoothly.
Lip spray technique
Shaping lips viền: Identify cases for appropriate treatment (2 wings of uneven lips, thin lips, thick lips, too dark lips.)
Nozzle angle độ: steady holding position, needle tip perpendicular to the skin surface
Impact force of the injector: maintain a steady hand, do not go too fast, it will give pale or no color results
Depth of needle when applying lip contour viền: insert needle 1 deep into the skin about 0.3-0.4mm
Depth of needle when going inside lip: Insert needle 1 into the skin 0.3mm from the center of the lips to the corner of the lips.
Recently, there is information about Miss Tram's online embroidery and sculpture course, if interested readers can learn more about the course here: Aesthetic Sculpture Embroidery Course Online – Why Not?
After reading the above article, surely you can orient yourself to find the most suitable spa training address, right? If you have any questions or concerns, you can contact us Miss Tram VietNam We will try to answer any problems you are having. Good luck with your passion.