Currently, with the rapid development of science and technology, many modern machines and technologies are applied to spa profession also more and more. The search for an apprenticeship institution is not only a good teacher, low cost, but that facility must have a system of modern facilities, full of machinery and equipment, especially to be constantly updated. beauty technologies follow hot trends in the student market.
If you are in Tien Giang and in need spa apprenticeship but have not found a suitable vocational training address, do not miss the article below. Miss Tram VietNam would like to suggest you a list of some teaching spas in Tien Giang for your reference. Read it now.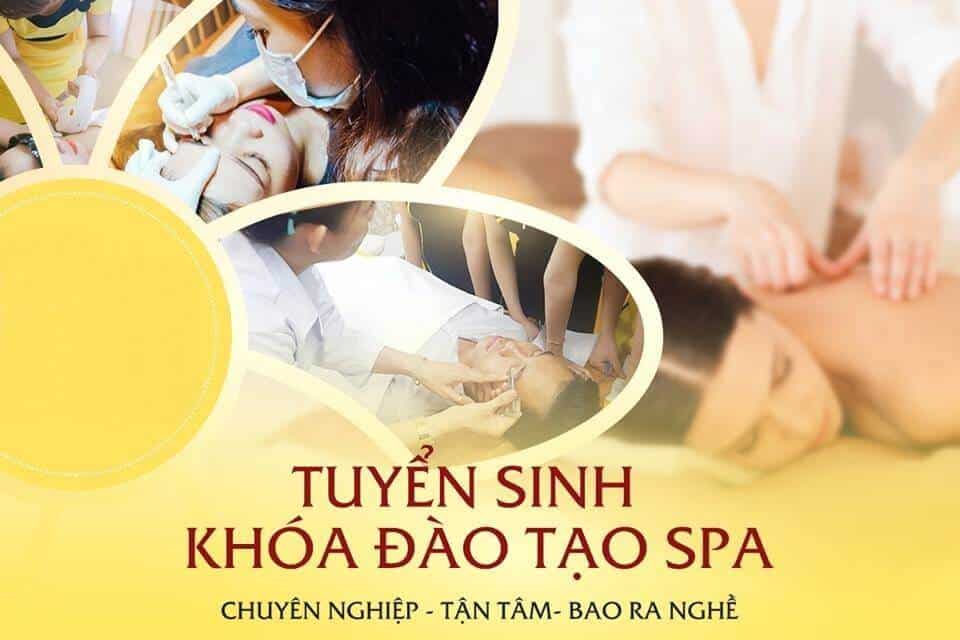 Spa Get Vocational Training on Skin Care, Cosmetic Tattooing In Tien Giang
1. Beauty de Siam
Beauty de Siam is a famous prestigious spa vocational address in Tien Giang for Thai-style skin care and treatments. Along with that is the combination of high-tech aesthetic equipment of "Golden Pagoda".
922E Tran Hung Dao, Ward 5, My Tho City, Tien Giang – 0273. 6255 188 – 0968 081 052

69-71 Nguyen Cong Binh, Trung An Commune, City. My Tho, Tien Giang – 0273.37.99.939 – 0901.288.599
2. DIVA Spa
Famous as a prestigious and quality vocational training address with a system of modern facilities, methodical curriculum, DiVa Spa is always a vocational training address chosen by many people in Tien Giang.
Address: At 213A Ap Bac, Quarter 6, Ward 5, My Tho City, Tien Giang

Phone: 1900 63 34 96
3. Ky Duyen Home Spa
With good quality of vocational training, the criteria of hand-to-hand work, students choose to study at Home Spa You will be guided by the teachers here until you become proficient.
Address: 194A Ap Bac, Ward 5, My Tho City, Tien Giang

Phone: 0909.569.272
4. QUEEN Spa
Queen Spa well-known as a prestigious vocational training address in Tien Giang, with a system of modern facilities, a methodical study schedule that always brings the best results to students.
Address: 95 Nam Ky Khoi Nghia, Ward 4, My Tho City, Tien Giang

Phone: 02736510000
5. Ngoc Huong Beauty Salon
Many students believe in choosing a beauty salon Ngoc Huong to learn the spa profession in Tien Giang because of the good quality of vocational training, friendly learning environment, dedicated and caring teachers.
Address: 548 Ap Bac, Ward 5, My Tho City, Tien Giang

Phone: (0273) 3 989 939
6. SEOULSPA.VN
Seoulspa.vn is the leading professional vocational training address in Tien Giang. Owning a team of experienced teachers, modern facilities, and a well-organized program, this is an address that you should not miss.
Address: 290C Ap Bac, Ward 5, My Tho City, Tien Giang, My Tho

Phone: 093 845 31 23
7. Thanh Hang International Beauty Salon – Tien Giang Branch
International beauty salon Thanh Hằng is a good spa vocational training address in Tien Giang with modern machinery system, always at the forefront of updating the latest beauty technologies and trends on the market to popularize students.
Branch 1: 290B – Bac Hamlet, Ward 5 – My Tho – Tien Giang – SDT: 0984 779 077 – 0984 971 877

Phone number: 0984 779 077

When the number of vocational spas grows too much, choosing a study address is more difficult than ever. Because the quality between these institutions is not uniform, the amount of knowledge, training quality and tuition fees will also be different. For young people who are passionate about the profession to bring beauty to themselves and others. Miss tram would like to suggest: 8 Notes on Choosing a Beauty Profession & Experience Choosing a Beauty Training Place – Aesthetic Spa Is Right For You. Surely, just remembering the above 8 notes, choosing a vocational training place is just a small matter.
Most of the time, when it comes to online spa vocational courses, people often worry about the problem of poor quality, inadequate teaching knowledge, and half-heartedness. Students are concerned that only grasping the basic knowledge, it is difficult to practice on real models.
Grasping the situation, MissTram launched an online aesthetic sculptural spray embroidery course with a learning program designed specifically for online learning. Although it is an online course, students will still be trained professionally, methodically and effectively at home. Help improve knowledge - skills fully and accurately like learning directly in class but the price is extremely economical.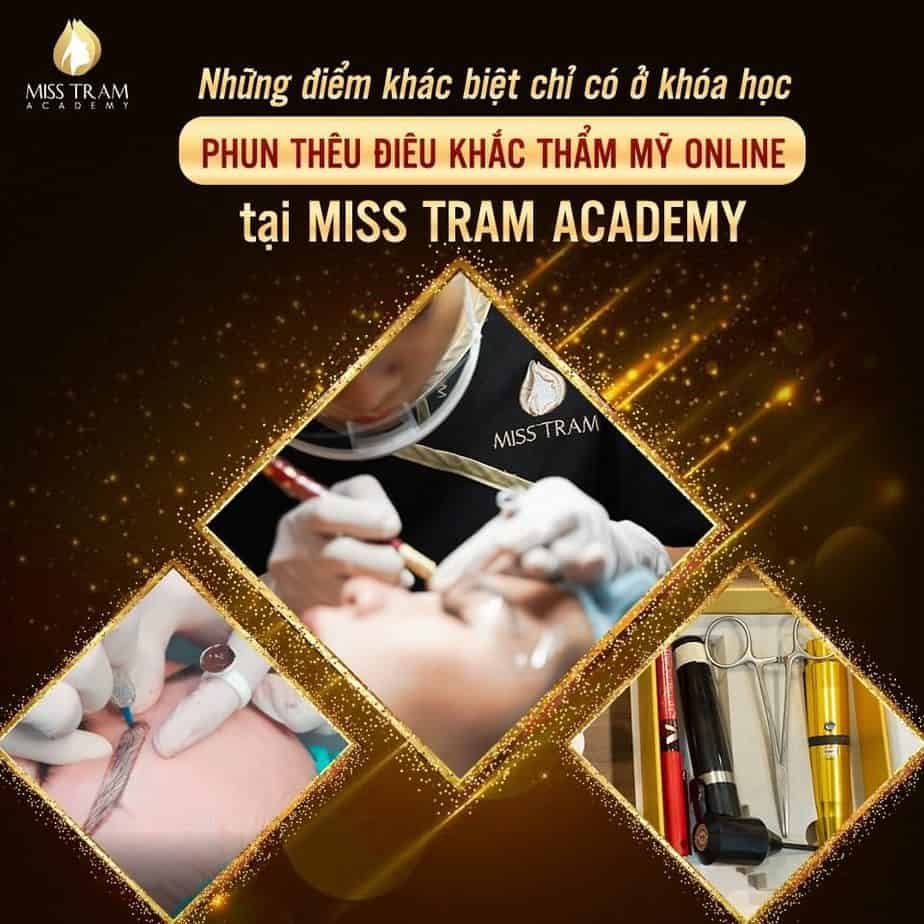 The outstanding advantages of Miss Tram's online cosmetic sculptural embroidery course:
The course is suitable for young people who want to start a business when they only have a few million dong in their pocket.

Spa managers will be supplemented and updated with advanced knowledge about the profession to bring more efficiency in their work.

Flexible time, study ANYWHERE with just an internet-connected device.

Each student actively learns and completes his/her personal schedule with exchange groups/groups to help students easily exchange and support each other in the learning process.

Learn Online but still firmly grasp the knowledge and skills, easy to apply in practice.

The curriculum with more than 17 years of experience is compiled with the whole heart of Miss Tram's team, bringing QUALITY and EASY lessons.

Job opportunities are wide open at Spas, beauty establishments.

Beauty model business Cosmetic tattooing is a breakthrough door in terms of revenue, the cost of opening a shop is more economical than other professions.

The lecturers/customers team always follow up to support, share and motivate you to have more motivation to complete the lesson well.

Each student has time to review directly at the academy from 4 to 10 days, to create an application form prepared by the Center under the 1-on-1 support of a team of teachers.
Besides, Miss Tram also revealed to you the secret to help you master all techniques, how to make your eyebrows up to the standard color, the best shape when studying this online course such as:
Determine and draw a standard eyebrow shape suitable for artificial skin or real model (horizontal, curved, European, lance-shaped, horizontal and slanted eyebrows)

Standard color formula: depending on preferences, skin color, hair color to use reasonable ink colors (black brown, gray brown, western brown, chocolate brown ...)

Incubate eyebrows: use numbing cream to incubate the entire eyebrow and wait for 1-15 minutes to numb the other side (depending on how thin or thick the client's skin is).
Proficient in:
Install the blade at an angle of 25 degrees to the handle, with the tip facing up.

Hold the knife firmly, use 2 fingers to gently stretch the straight skin to make the engraving smooth and even.

Firm hand force, the knife tip is 0.5mm deep into the skin, engraved in the direction of the eyebrow of the pattern (single thread, double thread, staggered thread in a reasonable, orderly manner)
Too surprising and attractive, isn't it? A course that optimizes all benefits and conveniences for students like that is not easy to find. If you are passionate and interested in the beauty profession and especially this online course, you can learn more at Aesthetic Sculpture Embroidery Course Online – Why Not?
Mastering the entire knowledge base from basic to in-depth, solid skills after completing the course is always something that many people are interested in. Please refer to the addresses and information that Miss Tram has shared above to choose for yourself the best and most suitable vocational training address. Hope you find your passion.