While some professions show signs of being saturated and have difficulty finding a job, the beauty industry is popular with many people and offers a lot of potential in the future. Because the beauty profession has a fast learning time, easy to learn if you have passion and high determination. At the same time, the cost is low and getting a degree is not too difficult. And especially the increase of beauty salons, resulting in a shortage of human resources in the centers.
But where is the quality of vocational training to help improve your qualifications and skills? Here is a list of prestigious spa training address in Kon Tum mà Miss Tram VietNam have compiled, readers please refer to have more options best for you.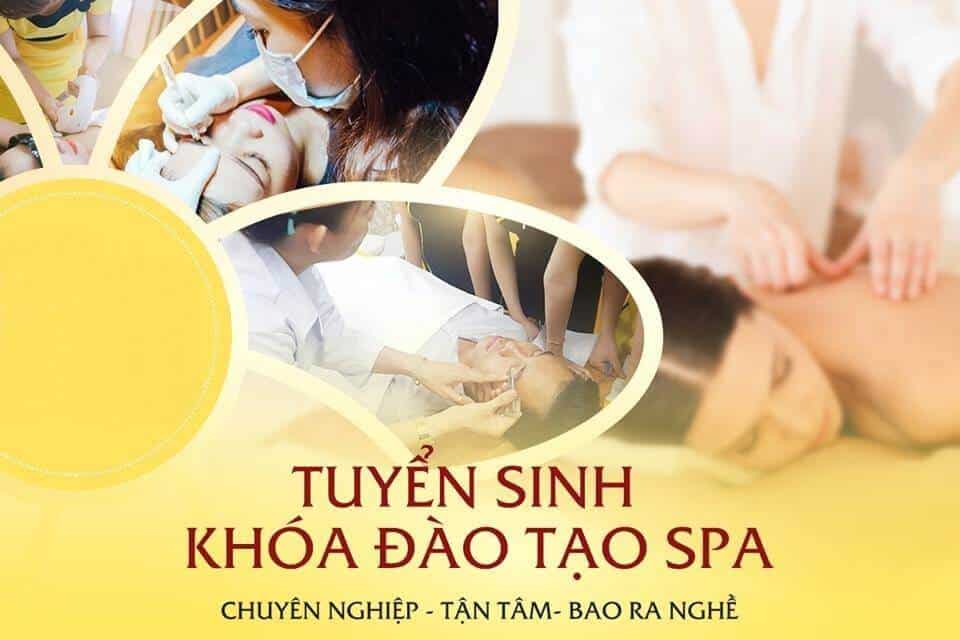 Vocational Spa Skin Care, Cosmetic Tattooing In Kon Tum
1. AN AN Beauty Institute
AN AN Beauty Institute is a spa vocational training address designed and built according to 5-star standards "Luxury - Exquisite - Professional" and invested in the most modern cosmetic surgery equipment today.
Address: 33 Trieu Viet Vuong – Kon Tum City

Phone: 026 0383 8999 - 026 0652 0999
2. La Vie Spa
At present Kon Tum, La Vie Spa is quite famous for acne treatments such as squeezing acne, non-metallic. This is also a popular place to learn vocational training there.
Address: Alley 54 Dao Duy Tu – Opposite Mimosa Wedding Restaurant – Kon Tum

Phone number: 0977554343
3. Wood home spa
With modern equipment system, friendly learning environment home spa is always the choice of many young people who are passionate about beauty in Kon Tum.
Address: 47 Phan Huy Chu, Kon Tum

Phone number: 0935824124
4. Tina Spa Beauty
Famous as a prestigious and quality spa vocational training address, with a methodical learning route, focusing on practical methods is the main thing to bring the best experience to students.
Address: 215 Tran Phu, Kon Tum

Phone number: 0961231261
5. Phuong Lucky
Phuong Lucky is a prestigious vocational training spa in Kon Tum with a friendly learning environment, enthusiastic instructors, just holding hands until proficient.
Address: 41 Nguyen Sinh Sac, City. Kon Tum

Phone number: 0966.211.579
6. Ella Home Spa
Ella Home spa is a prestigious vocational spa in Kon Tum that is highly appreciated by the quality of training and the tuition fee is also very reasonable.
Address: 71 Nguyen Huu Cau, Kon Tum

Phone number: 01689 975 735
7. Ngoc Anh Spa
Besides being one of the leading spas in beauty care for women. Ngoc Anh Spa It is also a professional and prestigious vocational training address in Kon Tum.
Address: 24 Bach Dang, City. Kon Tum

Phone: 0988 944 478.
8. LOUIS SPA – HIGH TECH COSMETIC INSTITUTE
LOUIS spa is one of the first beauty salons in KONTUM owning the current leading technologies transferred directly from Europe, trusted by many students to pursue vocational training.
Address: 577 Nguyen Hue - Kon Tum City

Hotline: 0973734111
9. Thuy Tien Spa
Thuy Tien spa with good training quality, modern facilities is also one of the vocational training addresses that many young people love in Kon Tum.
111B Wuu Street, Ia Kring Ward, Pleiku City, Gia Lai

230 Tran Hung Dao, Kon Tum

04 Tran Quoc Toan – Ayunpa town Gia Lai

Hotline: 0935532768

After choosing a spa vocational training address in Kon Tum, next to determine if this is a reputable and quality unit worth entrusting or not. You should be aware of the following notes:
Ask clearly about the requirements - the required qualities of the profession.

Ask about money (tuition, incidental expenses).

Ideas to know about study time.

About the location (place of study – exam – award).

About the true value of the degree upon graduation.

What is the specific curriculum?

Any support after the course.

Must commit in writing.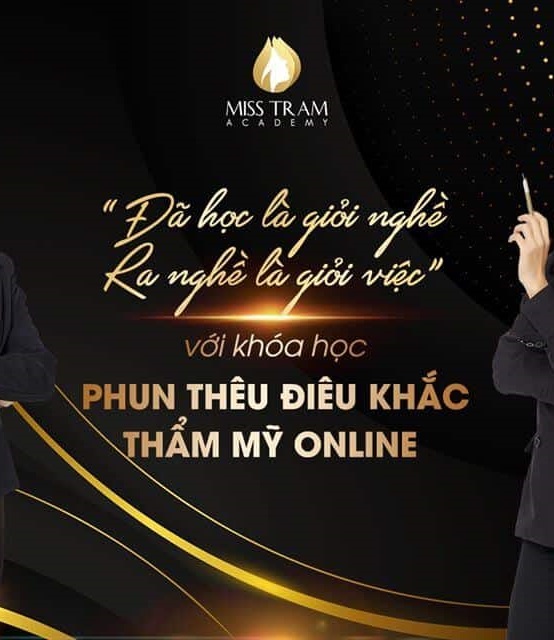 Did you know that Miss Tram's online cosmetic sculpting spray course is extremely hot in the market today? This is considered an effective solution to help solve all the problems of cost, time, training quality, ... that other courses are facing.
The reason why Misstram's aesthetic sculptural spray embroidery course is popular with many students:
The course is suitable for young people who want to start a business when they only have a few million dong in their pocket.

Spa managers will be supplemented and updated with advanced knowledge about the profession to bring more efficiency in their work.

Going from introductory, beginner lessons for those who do not know anything about Cosmetic Embroidery, it may be a bit "boring" but will be a solid foundation of knowledge for you.

Group of lessons on Eyebrow - Eyelid - Lips are clear, going from basic to advanced.

Flexible time, study ANYWHERE with just an internet-connected device.

The curriculum with more than 17 years of experience is compiled with the whole heart of Miss Tram's team, bringing QUALITY and EASY lessons.

Training quality is GUARANTEE, technical - flexible workmanship, proficient operation.

The lecturers/customers team always follow up to support, share and motivate you to have more motivation to complete the lesson well.

Each student has time to review directly at the academy from 4 to 10 days, to create an application form prepared by the Center under the 1-on-1 support of a team of teachers.

Job opportunities are wide open at Spas, beauty establishments.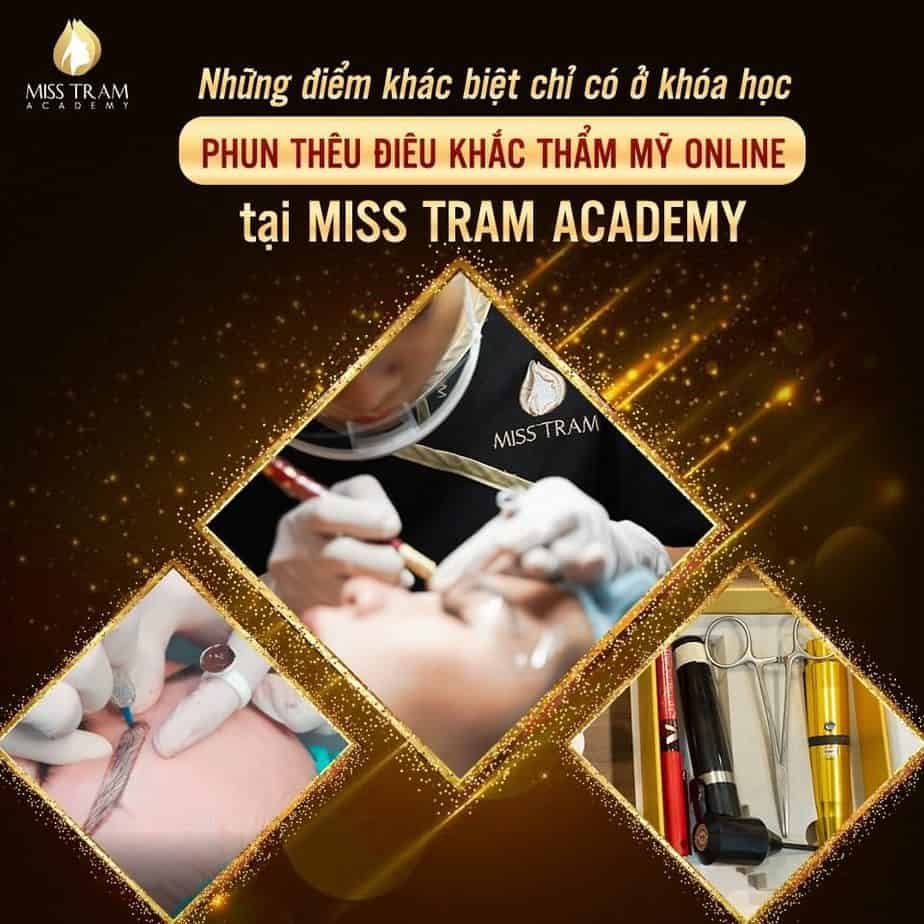 Besides, MissTram also would like to share with readers "SECRETS for skillful and sharp eyebrow sculpting in Online courses
Determine and draw the right eyebrow shape with artificial leather or real model (shape horizontal, arched, European, lance-shaped, curved, and slanted eyebrows)
Standard tinting formula: depending on preferences, skin color, hair color to use reasonable ink colors (black brown, gray brown, western brown, chocolate brown ...)
Anesthetize your eyebrows: Use numbing cream to incubate the entire eyebrow and wait for 1-15 minutes to numb the other side (depending on how thin or thick the client's skin is).
Technique, standard operation: Install the blade at an angle of 25 degrees to the handle, with the tip facing up; Hold the knife firmly, use 2 fingers to gently stretch the straight skin to make the engraving smooth and even; Firm hand force, the knife tip is 0.5mm deep into the skin, engraved in the direction of the eyebrow of the pattern (single thread, double thread, staggered thread in a reasonable, orderly manner)
Miss Tram has a lot of useful and unique knowledge waiting for you. Please contact Miss Tram immediately for more advice on the study path as well as to see if you are suitable for this course.
See details about the course here: Aesthetic Sculpture Embroidery Course Online – Why Not?
Don't wait any longer, "On the road to success there are no footsteps of the lazy" take action to fulfill your dreams and passion to bring beauty to everyone. Hopefully the information that Miss Tram has shared above will be useful to readers. Don't forget to share the post to let everyone know. Wish you early success.