For those who are in the industry Skin Care then Microdermabrasion technology no longer so strange. Because this is considered a super-abrasive method with many positive effects for the skin. And for many Spas, this technology is always one of the top choices in the regeneration, rejuvenation and correction of skin defects for customers.
So, What is Microdermabrasion? and how does it work? And Miss Tram Academy find out.
Microdermabrasion – Highly Effective Exfoliating Technology For Spas
1. What is Microdermabrasion Technology?
Regarding the concept, Microdermabrasion simply a combination of Micro – micro and dermabrasion - physical exfoliator. In other words, Microdermabrasion is physical exfoliation technology professional, aka Super abrasive technology or microdermabrasion.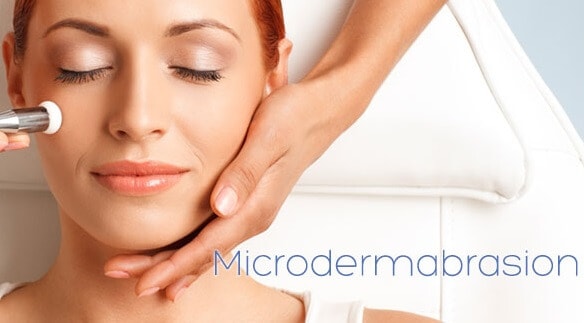 Microdermabrasion - Microdermabrasion
At Spas, Microdermabrasion technology is understood as a method of using specialized machines/tools to remove dead skin cells. This helps in rapid skin regeneration.
2. How does Microdermabrasion work?
According to dermatologists, the mechanism of action of Microdermabrasion is quite simple:
Technicians use specialized machines to remove the entire layer of dead cells above the epidermis.

The Microdermabrasion process creates a mild impact and stimulates the regeneration of all new cells.

Microdermabrasion technique is quite simple and completely mechanical, does not use chemicals as well as methods of anesthesia - anesthesia.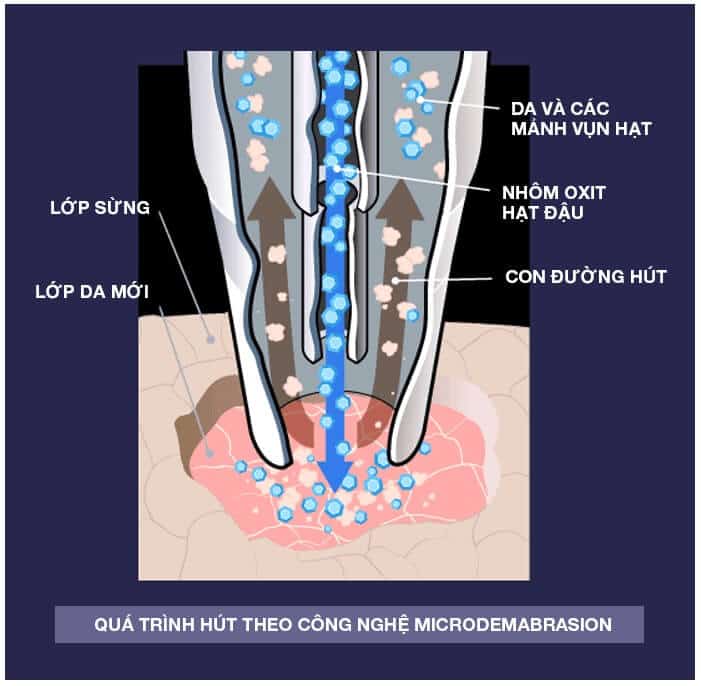 Mechanism of action of Microdermabrasion
3. The benefits of Microdermabrasion
Although the effect on the skin is very small and simple (just a form of kill death celk), but Microdermabrasion brings a lot of positive effects on the skin such as:
Gently removes dead cells, supports the fast - even - optimal skin regeneration process.

Deep clean and effectively prevent clogged pores. From there, it helps to treat mild acne conditions better.

Quickly fades pigmentation on the skin, making the skin even and brighter.

Microdermabrasion can smooth fine lines and wrinkles on the skin.

Stimulate proliferation collagen, supports the regeneration of acne scars, dark spots and helps the skin to be more smooth.

The pores are open so the next skin care steps will be done most effectively.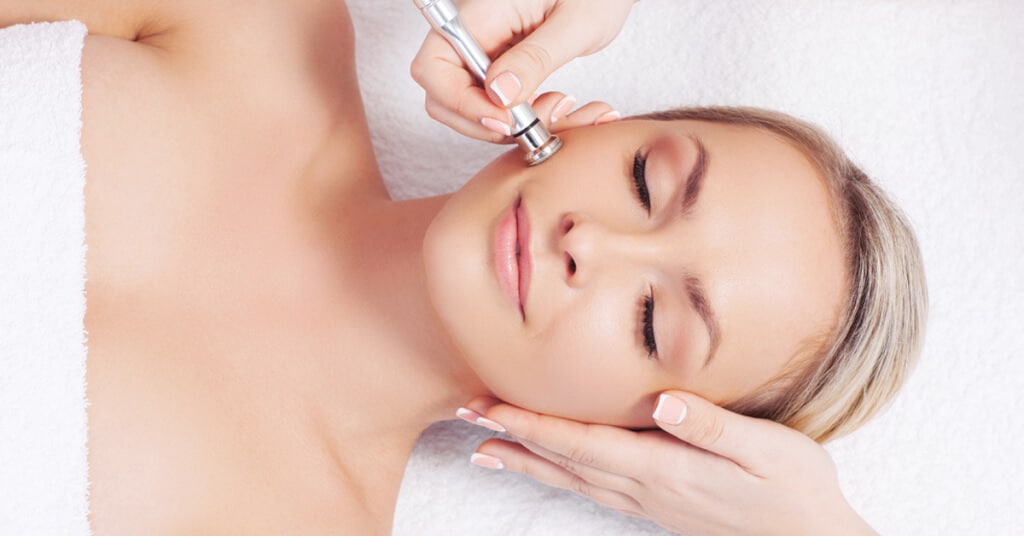 Microdermabrasion helps regenerate new skin
In particular, if done regularly, this micro-abrasion process also stimulates collagen production in the skin extremely effectively. Thereby preventing aging and rejuvenating the skin very well.
4. Side effects when using Microdermabrasion
Although it does not have too much impact on the skin, Microdermabrasion also brings some side effects to customers such as:
You may feel slight pain and slight redness of the face.

There may be bruising, dryness, and peeling of the skin.

Skin is more sensitive to the sun.
However, these side effects usually do not last long and the skin will return to normal in a day or two. Therefore, you need to clearly advise and guide the customer to care - protect the skin carefully after performing microdermabrasion to minimize discomfort and accelerate the process of recovery - skin regeneration.
5. Who is suitable for using Microdermabrasionbra
Microdermabrasion technology will have a direct mechanical impact on the skin, so not all skin conditions are suitable. Technicians need to understand who should and shouldn't apply this technology.
Target customers suitable for Microdermabrasion:
Customers with normal skin.

Customers with aging, dull skin.

Customers with large pores, acne bran, blackheads and mild acne conditions.

Customers have stretch marks, melasma, freckles, uneven skin tone.

Customers have acne scars, acne scars.
Microdermabrasion helps the skin to be plump – brighter and smoother
Customers should not use Microdermabrasion:
The client has severe acne.

Guests suffering from skin diseases such as Rosacea, Eczema, Lupus erythematosus, psoriasis, dermatitis ...
Especially, for customers who have had laser skin treatment, hair removal, needle roller, peeling or whitening before 1-2 weeks or have exfoliated within the previous 3 days, the technician should Thorough skin examination to determine if the skin is healthy enough to apply Microdermabrasion technology.
6. Note skin care after using Microdermabrasion
Like other skin care procedures, in order for the microdermabrasion process to maximize its use, the technician needs to guide the customer to take care of the skin carefully.
Some important notes after microdermabrasion:
Use gentle skincare products, avoid using products with too strong ingredients for the first few days.

Make sure your skin is always well-moisturized.

Do not exfoliate in the first few days, the rest still maintain the process Skincare Normal.

Pay attention to sun protection regularly and carefully every day.
Have a suitable skin care course after using Microdermabrasion
And especially, to achieve long-term results and maintain healthy and beautiful skin, customers should continue to use Microdermabrasion technology at least 1-2 times/month.
The above are the share of Miss Tram Academy about Microdermabrasion technology and what technicians need to know about this technology. Compared to many similar methods, Microdermabrasion is considered by experts to be the most effective. Therefore, if you do not understand this technology well, quickly find out. Good luck!