"Check In" The BASIC Tools & Machines For Skin Care Treatments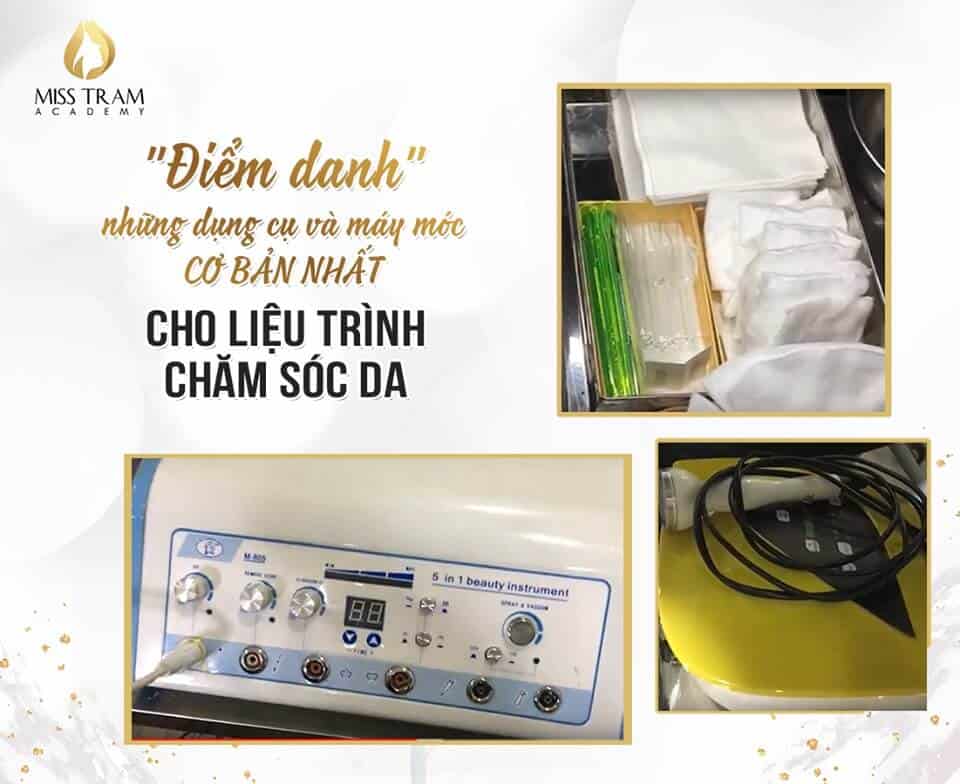 Polluted environment, signs of age cause the skin to appear acne, aging from the age of 20, if you do not know how to take care of it, at the age of 30 will appear wrinkles, age spots, so the Care service Skin care is very popular with customers at Miss Tram Natural Beauty Center
Students who are taking the Skin Care course at Miss Tram Academy must definitely memorize the most basic tools and machines of this course to provide the best quality services!
Miss Tram will be divided into 3 types of Tools/Equipment so that students can easily "pocket" their knowledge.
+ Tools: Acne suction tube (suction oil, sucking acne bran, blackheads), acne tree, acne needle, paper mask ...
+ Necessary products: exfoliating cream, head and neck massage cream, facial cleanser, facial massage products, fresh collagen gold essence, vitamin C (depending on the course, additional products needed) …
+ Types of machinery: Steam machine, lead suction machine, fresh oxygen sprayer, oil suction machine, high acne suction machine, electrophoresis machine...
Depending on each process and method, the types of products and accompanying tools will be different. Hopefully, the students have been able to "take note" for themselves with useful knowledge in the process of learning and learning about the Skin Care Course!
For more information, the popular courses (depending on your interests) to get started with the beauty industry are:
Training Course on Tattooing, Embroidery, Cosmetic Sculpture (Eyebrows - Eyelids - Lips).

Basic Training - Advanced Professional Eyebrow Cosmetologist Training Course.

Beauty Spa Professional Skin Care Course: Specializes in acne, pitted scars and safe skin rejuvenation.

Basic - Advanced Eyelash Extension Vocational Course.

Basic - Professional Skin Care Spa Specialist Training Course.

Professional Course Advanced Teaching Techniques of Tattoo Spraying.
Please contact Miss Tram immediately for more advice on the study path as well as to see if you are suitable for this profession or not!