Korean eyelash extensions are a very popular style of eyelash extensions today. Not only suitable for Vietnamese faces, this type of eyelash extension is also very natural, completely non-irritating to the eyes, so it is very popular with women. Therefore, learning Korean eyelash extensions is being interested by many young people, with the desire to find a long-term job with a stable income for themselves.
Learn Korean Eyelash Extensions at Miss Tram Academy
To put it simply Korean eyelash extensions is a method of joining many false eyelashes on real eyelashes, the base of the eyelashes are gathered together and the tips spread into a V-shaped beam with different short lengths to give the feeling of the thickest and most natural eyelashes.
This method possesses many advantages such as:
Does not affect or cause real eyelashes to fall out

Does not cause inflammation of the eyelids or cause an allergic reaction to the eyelash extension glue that causes eyelash loss

Does not cause swelling, pain, itching after connection

Make it as natural as possible
Currently, in our country, there are very few aesthetic training institutions capable of teaching this method of eyelash extensions. If you want to pursue a career, you should choose reputable teaching institutions such as Miss Tram Academy.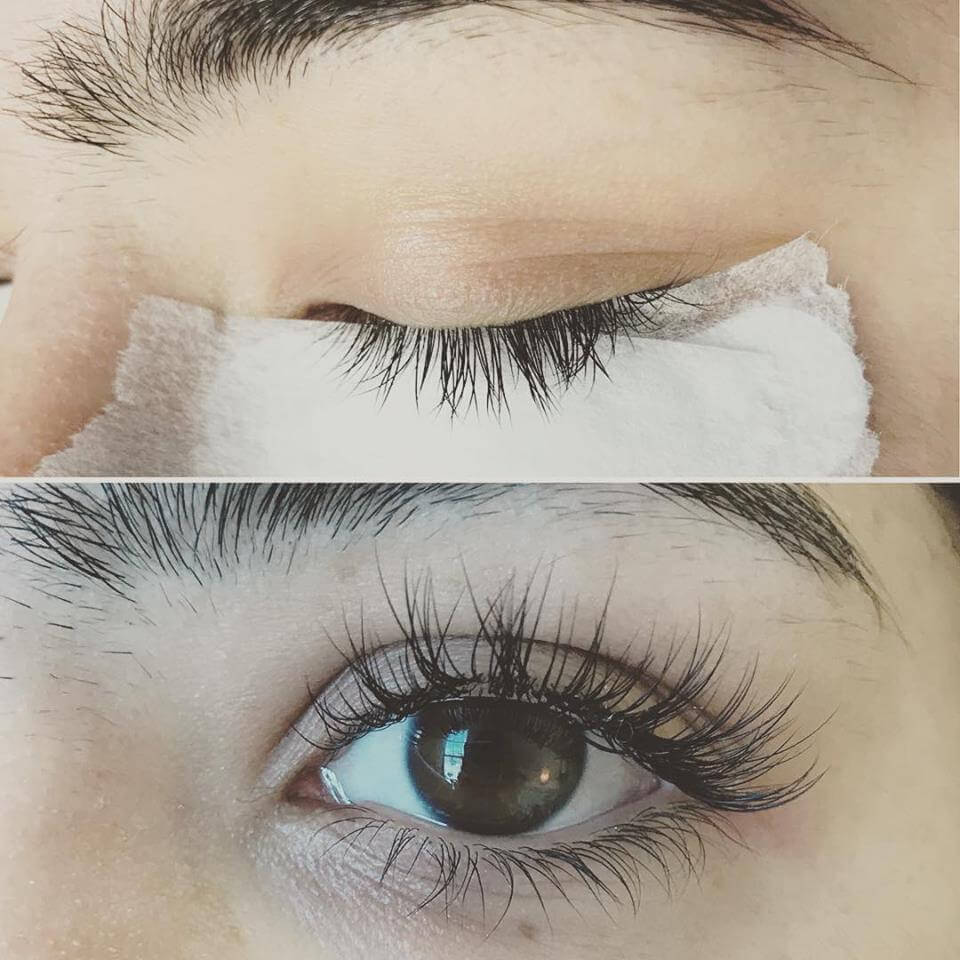 + Note: Eyelash Extension Learning Supplies What Do You Need?
Learn eyelash extensions at Miss Tram Academy
Learning Korean eyelash extensions at Miss Tram, you will be well trained from basic knowledge to advanced knowledge, hand held by experienced professionals in the industry. Miss Tram gives you maximum support in your studies, helps you complete the course well and build a solid foundation for yourself. When studying at Miss Tram, students will:
Fully funded machines and tools, as well as provided models to practice during the course

International standard training curriculum, directly guided by famous experts in the Spa - cosmetology industry

Support for exams to get vocational certificates issued by the Vietnam National General Administration of Vocational Training, valid for life nationwide

Diverse language curriculum, flexible study time, regular class opening, class opening according to students' requirements

Large facilities, modern classrooms, beautiful clean dormitory for distant students
In addition, you also have the opportunity to receive a scholarship of up to 30 million, as well as the opportunity to join the prestigious beauty center system.Miss Tram - Natural Beauty Center.
+ Note: Whether or not to perform Lower Eyelash Extensions
Miss Tram Academy will teach you:
Understand the development principles and characteristics of real eyelashes, as well as receive specialized training in false eyelashes to be able to choose the curvature, thickness, and length of false eyelashes to suit each person.
There are many different eyelash extension techniques such as: Classic, eyelash extension, silk eyelash extension, fiber eyelash extension, one by one eyelash extension, 3D silk eyelash extension (angel), seductive black rose eyelash extension. So you need to know how to choose the right type of connection for each face and advise customers to choose the right eyelash style and color for themselves.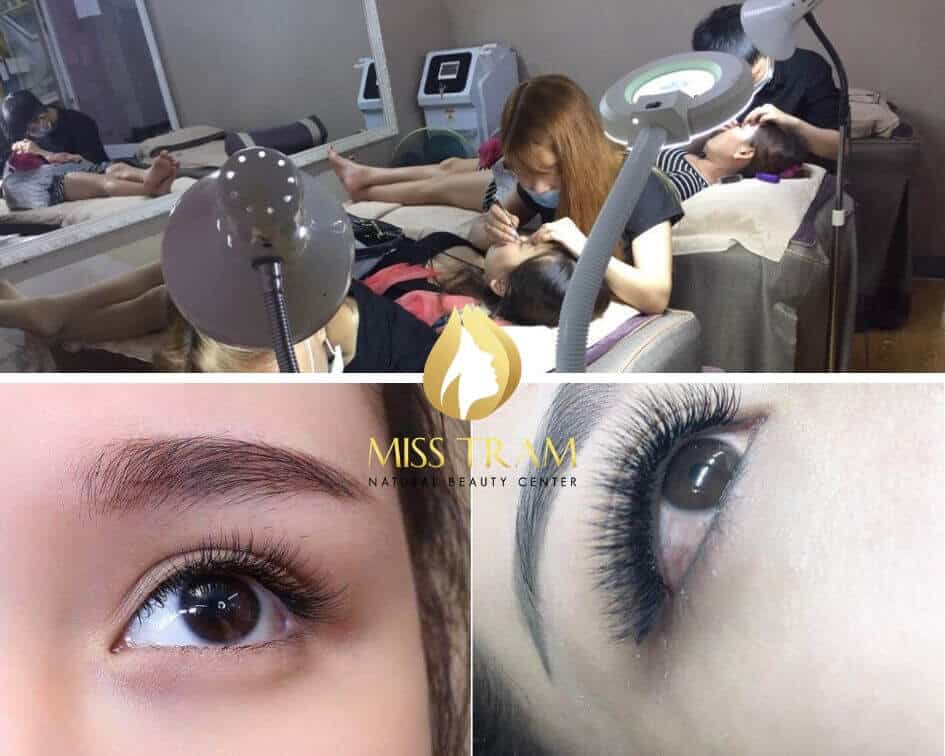 Miss Tram will also train you in all techniques of 2D, 3D, 4D, 5D, 6D eyelash extensions, ... and know how to dye eyelashes, cover eyelashes, curl eyelashes, and stretch them proficiently. Not only that, you are also trained in customer consulting skills, psychological reassurance and helping customers feel most comfortable.
In addition to eyelash extension techniques, you are also guided on error correction techniques, how to remove eyelashes and take care of them appropriately, helping to create the most beautiful and perfect eyelashes possible.
+ Note: How Long Can Eyelash Extensions Be Used?
When studying at Miss Tram Academy, you will learn the most modern eyelash extensions technology, be taught knowledge and valuable experiences to build a solid foundation for yourself. Not only that, experts in the industry will also fuel your passion, inspire you, help you love your job and be determined to stick with it.
No job is all roses, so is eyelash extensions. You can only become a good eyelash extension artist when you have passion and dedication to the profession. Besides being Miss Tram Academy To build a solid foundation, you need to work hard to train yourself, to be able to create perfect eyelash extensions, and join hands to bring beauty to the community.