|Share| Learn How To Spray Lips Quickly With The Best Color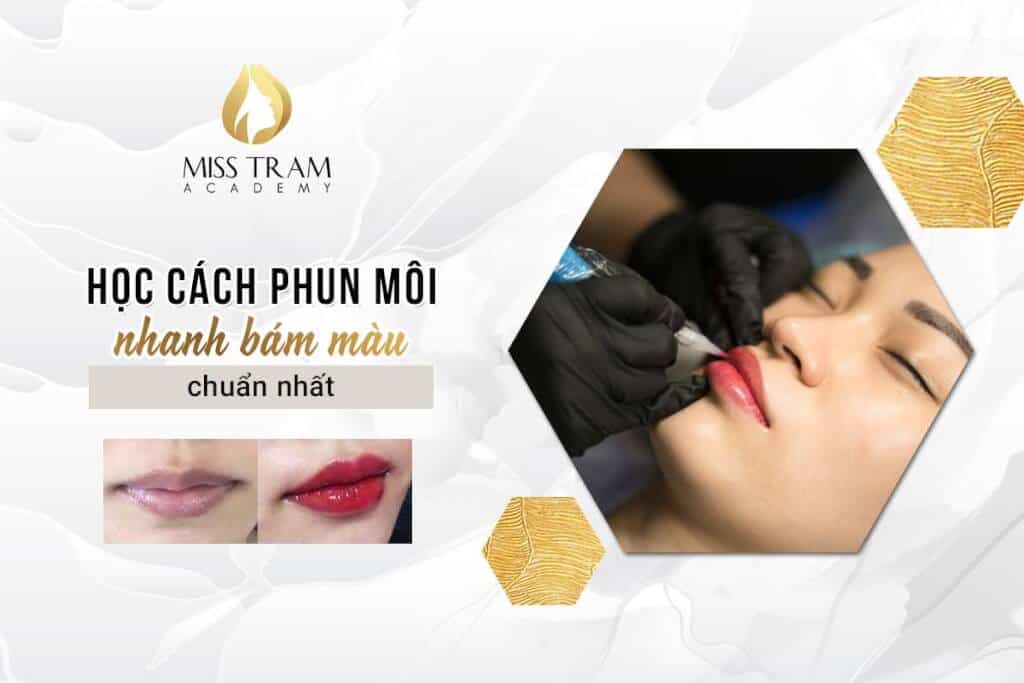 A standard sprayed lip color is harmonious, smooth, quickly adheres to the color and peels off in the specified time (2-3 days after spraying). In order to achieve these standards, in the implementation process, you must ensure technical manipulations, standard needles, and correct color mixing. Some of the shares below of Miss Tram Academy will help students gain more experience in the field of lip tattoo spray.
In the process of spraying lips, if you want your lips to quickly adhere to the color, the color will be the most standard, please note some of the following points:
How to mix ink color
Consulting the ink color suitable for the customer as well as the current lip condition will help the final result to be more perfect. Moreover, pay attention to the customer's skin color and hair color to choose the most suitable color.
When mixing ink color, you must also base on the condition of the client's lips to choose a reasonable ratio. Customers who undergo dark treatment, dry lips, pale lips or difficult to eat colors all have different color mixing ratios. According to the experience of Miss Tram Academy, young people should mix colors in favor of orange, pink or orange tones. As for middle-aged people, the ratio of red-orange and scarlet red should be increased.
Must be dealt with thoroughly
If the customer has dark lips (congenital location, cosmetic influence, old tattoo ink, ...) then it must be handled carefully before ink spraying. If you skip this step, when putting ink into the skin will lead to 2 cases: poor lip color, non-standard ink color looks very unsightly.
Lip hygiene
Before spraying, we need to clean the customer's lips. This is one of the steps that must be taken to ensure the fast spraying process on the color, minimizing the risk of infection during implementation.
Needle technique
When spraying lips, if the factors of needle travel force, needle depth, walking speed, etc. are met, the results will be better. During spraying, you must align so that the needle goes only about 0,3mm deep into the skin, spiral spray clockwise. The needle speed is moderate, one side glides about 3 times, the lips must be evenly colored.
Some of the above shares of Miss Tram Academy Hope to have helped you have more useful experience. Wish you quickly master the craft, create the most perfect beautiful lips!
Get more information about:
Please contact Miss Tram immediately for more advice on the study path as well as to see if you are suitable for this profession or not!