Attending Spa Apprenticeship Training and Employment in Ho Chi Minh City?
[Q&A]
Hello Miss Tram! I'm Vy, 20 years old this year. After graduating from high school, I struggled to go to school. I have studied cooking and bartending before, but I feel that these professions are not suitable for me. Accidentally met a sister in the Spa industry. I was inspired by the profession and knew Miss Tram. But I don't know if the center has both training and employment?
Because I'm far away. I only went to Ho Chi Minh City to learn Spa profession, so I guess I have a lot of free time. I want to study and work at the same time to improve my skills. Miss Tram please advise me!
[Reply]
Hi Vy! Thank you for your interest and questions to Miss Tram Academy. Miss Tram also received many similar questions from many students who wanted to study Spa. So, to help you better understand this beauty profession as well as answer the above questions, Miss Tram Academy would like to share some vocational training perspectives as follows:
1. Should I learn a professional Spa profession?
With the development of the economy, people's living standards and beauty needs are increasing day by day. Following that is the development opportunity of the beauty industry in general and the spa profession in particular.
Spa profession is an easy job to learn, easy to do and has an attractive salary, so it is becoming a "hot" profession for young people. However, to become a professional Spa staff, you need to choose to study at a reputable vocational training center to fully learn the knowledge of the Spa profession as well as ensure the quality of training. Only then will you confidently graduate and have the opportunity to work with an attractive salary.
Why choose to study at Miss Tram Academy?
Miss Tram Academy owns a team of experienced instructors and a well-trained curriculum, helping students to learn both theory and practice at the same time, so they make clear progress through each day of study. The training program of Miss Tram Academy includes:
Knowledge and usage of all beauty tools and equipment.

Techniques to get acne kernels properly, avoid scarring.

Skin care techniques.

Research on skin condition such as all kinds of acne, melasma, freckles, aging skin.

Recipes for whitening, beauty.

The most modern skin care and beauty treatments available today.
Miss Tram Academy's training program is always aimed at optimal practice on real people, ensuring that students are trained in practice and improve their skills.
In particular, Miss Tram is also a prestigious beauty salon facility, with nearly 20 years of experience in the beauty industry, having taken care of thousands of customers and trained thousands of students. Therefore, experienced professionals will share with you professional secrets, as well as provide you with the most necessary skills in the spa profession.
In addition, Miss Tram Academy's vocational certificate is also granted by the Vietnam National General Administration of Vocational Training - therefore, valid for life throughout the country. Miss Tram also cooperates with foreign training centers to grant International Vocational Certificates to students in need, creating conditions for them to have the opportunity to work abroad.
2. Apprenticeship Spa: Should you study and work at the same time?
Currently, there are many centers that offer learning-by-doing courses – and this method attracts a lot of students. However, from Miss Tram Academy's point of view, the most important thing in the Spa apprenticeship process is to have a solid knowledge base and be trained in both theory and practice.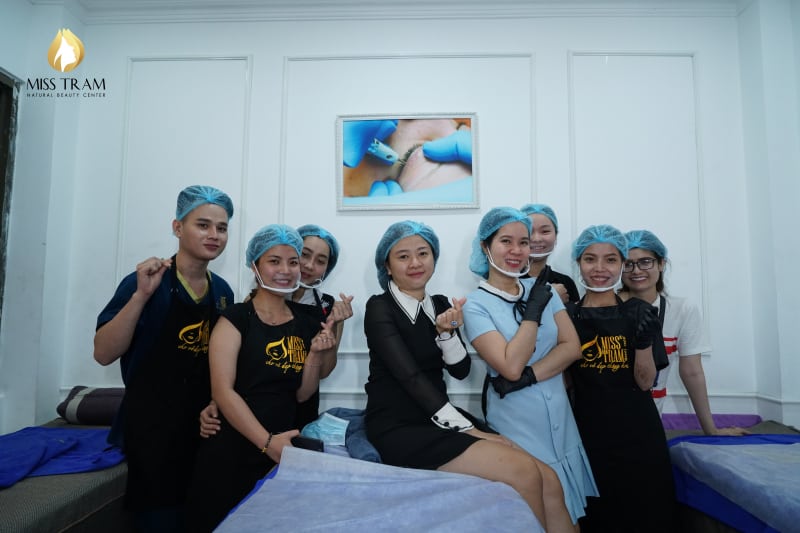 In order to practice well and become skilled, the first condition is that you need to have solid knowledge. With the forms of learning and doing, Miss Tram Academy understands in two directions as follows:
Practiced on clients:

When students have not been properly trained, their skills have not been tested, but they have worked for customers is considered one of the serious violations of professional ethics. Not only can it cause harm to the health of customers, but also form bad professional habits when you do not understand the standard knowledge and techniques.
Doing small things:

This is considered another normal part-time job, if it does not affect the learning process, you can do it. However, Miss Tram Academy recommends that you focus on training your skills so that after the course, you will be most confident and proficient.
Another important factor that Miss Tram wants to direct to you is to be diligent, eager to learn, have the will to strive and love the profession. Thus, you will pursue this spa career in the most "happy" way.
3. What does Miss Tram support students?
Coming to Miss Tram Academy, in addition to being trained in a professional environment, ensuring quality and always being accompanied by practice, students also receive incentives:
Miss Tram has accommodation support (luxury, clean and convenient dormitory) for distant students like Vy.

Donate relevant vocational training tools.

Get hands-on training on real people (funding free practice models) while ensuring a solid foundation of knowledge and proficient practice.

Have the opportunity to receive scholarships up to 30 million and high-paying jobs at Miss Tram.

Miss Tram is committed to output, 100% of students are skilled.
With the above shares of Miss Tram Academy, hope you Vy will have a better understanding of the spa profession. Spa training time is very short, within a few months, so it is best to focus on studying to prepare yourself a solid knowledge base as well as practice skills in the most proficient and standard way. This also determines your future job opportunities. So make the best decisions. Good luck!
See More Articles About News – Share Other Miss Tram Academy: