The demand for beauty is increasing - the beauty market is constantly growing, and tattooing is also chosen by many people because there is a lot of potential for development.
However, is everyone suitable for the cosmetic tattoo industry? If you want learn tattoo spray What do you need to prepare? How to be successful with tattooing? All these questions will be answered Miss Tram Academy Answer through the following article. Don't miss it.
What to prepare when learning cosmetic tattoo spray?
Understanding the profession
If you want to get into the profession of cosmetic tattooing, you first need to find answers to the following questions in turn:
What is tattoo spraying?

Who is the target customer?

What are the job requirements?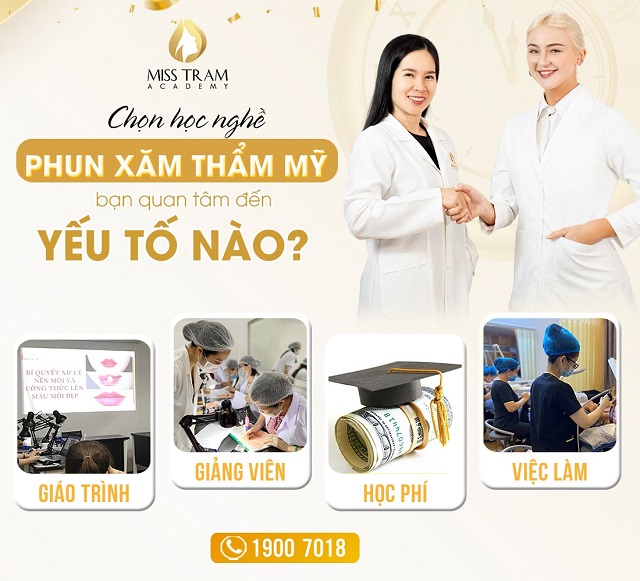 Understanding thoroughly will help you know what you will do, with whom to work and what qualities are needed to make the job most convenient. From there determine if you are suitable for this profession or not, to have specific orientations and plans in the future.
Mental preparation
As with any job, if you want to be successful, you need to have a stable, consistent and passionate mentality. Some experiences you should pay attention to when deciding to follow the cosmetic tattoo industry:
Practice non-stop: The tattooing course is usually not long, only 4-6 months, so the learning intensity is quite high. You will have to practice non-stop on paper, on fake leather before you can do it on the real model. The process of practice needs to be continuous to master the skill, giving you the most confidence when leaving the profession.

Hard to observe: Cosmetic tattooing has quite a few important steps including eyebrow shaping, mixing, numbing, needles, etc. meticulous. You should carefully observe the tattooing process of teachers and good technicians to self-study and improve working skills.

High sense of responsibility: The sense of responsibility here is that in addition to ensuring the correct tattoo spray technique, you also have to enthusiastically advise customers on eyebrow/eyelid/lip shape, spray color, post-spray care as well as properly anesthetized so that the client feels secure during the procedure. Being responsible for your work and your customers will help you gradually improve and improve your professional capacity.

Confidence in yourself: A lot of people who practice on models very well but make the mistake of doing it on real people – due to lack of confidence. This greatly affects the psychology of working later. Therefore, constant effort and self-belief is a necessity when learning the art of tattooing.

Update knowledge continuously: The methods and techniques of tattooing are more and more advanced and innovative. Inkjet ink color each year also has its own trends. If you do not have a progressive spirit and constantly update your knowledge, it will be difficult for you to go far with the profession.
Choose a reputable, dedicated study address
A prestigious vocational training center will have a methodical curriculum, in-depth training from basic to advanced and close to practice; thereby helping you perfect the knowledge and skills in cosmetic tattooing.
In addition, some centers also train soft skills such as communication, marketing, handling situations, etc. to help you have the capacity to work right out of the profession. Therefore, the step of finding out about vocational training centers is extremely important.
Invest in a standard vocational training kit
Whether you are a new student or a professional, you should still own a standard tattoo sprayer. Because they will accompany you throughout your career, helping you to get sharper needles, better color standards and bring the best tattoo works.
Basic vocational training kit includes tattoo sprayer, injector, tattoo ink, photo paper, shaping pencil, anesthetic and other supporting tools.
Miss Tram Academy – Professional Cosmetic Tattooing Training Center
Learning cosmetic tattooing, anyone wants to be properly trained, receive careful practice, and receive continuous feedback. And with many years of experience in the industry, Miss Tram Academy not only meets the above requirements but also commits to:
Teachers follow the schedule closely, helping to quickly learn the profession.

All in one tattoo training kit Professional, free practice samples.

Distilled curriculum, full of theory and practice (20:80).

There are training programs on soft skills, experience in spa opening, working style, crisis handling...

Accompany, share, and develop appropriate orientation for each student.

Organizing exams and granting diplomas according to the standards of the Ministry of Labor, War Invalids and Social Affairs.
In particular, students can flexibly study hours and lessons according to their personal timetable without fear of not keeping up with the class because Miss Tram follows each person's learning schedule.
More than 18 years of operation, more than 1 thousand students graduated, Miss Tram Academy Confidence is a stepping stone to help you solidify your knowledge - master your skills - master your skills, and confidently work/start a business right after completing the course.
Hope the above information will be useful. Good luck with your chosen path soon!
+ Proposal: