Results of Students Confidently Modeling Beautiful Natural Scabbard Sculptures at Prestigious Academy
Perform standard eyebrow sculpting GOLDEN RATE – HARMONY – NATURAL is the result of student T after a very thorough theoretical study at Miss Tram Academy that's it!
When completing the "work", student T himself was surprised because he had made such a beautiful model. It's admirable, isn't it?
Seeing the progress and mastery skills, certainly in each spray line, the engravings of the students as the teaching staff feel very satisfied and happy. Wish you always keep your passion and persistently pursue your dreams, the sweet fruit will always be at the end of the road.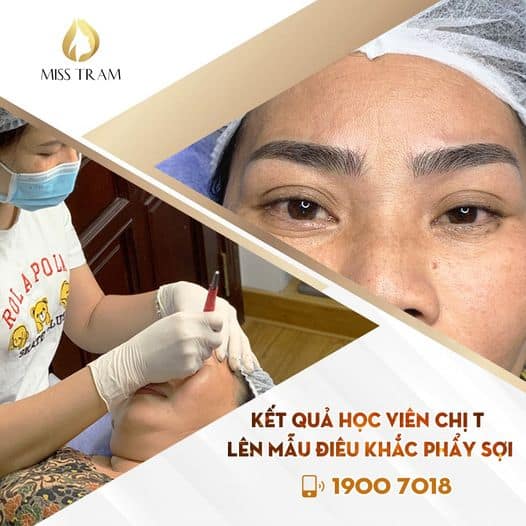 For more information, the popular courses (depending on your interests) to get started with the beauty industry are:
Training Course on Tattooing, Embroidery, Aesthetic Sculpture (Eyebrows – Eyelids – Lips)

Basic Training - Advanced Professional Eyebrow Cosmetologist Training Course.

Beauty Spa Professional Skin Care Course: Specializes in acne, pitted scars and safe skin rejuvenation.

Professional Course Advanced Teaching Techniques of Tattoo Spraying
Please contact us immediately Miss Tram VietNam for more advice on the study path as well as to see if you are suitable for this profession or not!
See more of the other good posts Miss Tram VietNam at the forum Blog Share.