|Question – Answer| Ombre Micro-Touch Eyebrow Spray What to pay attention to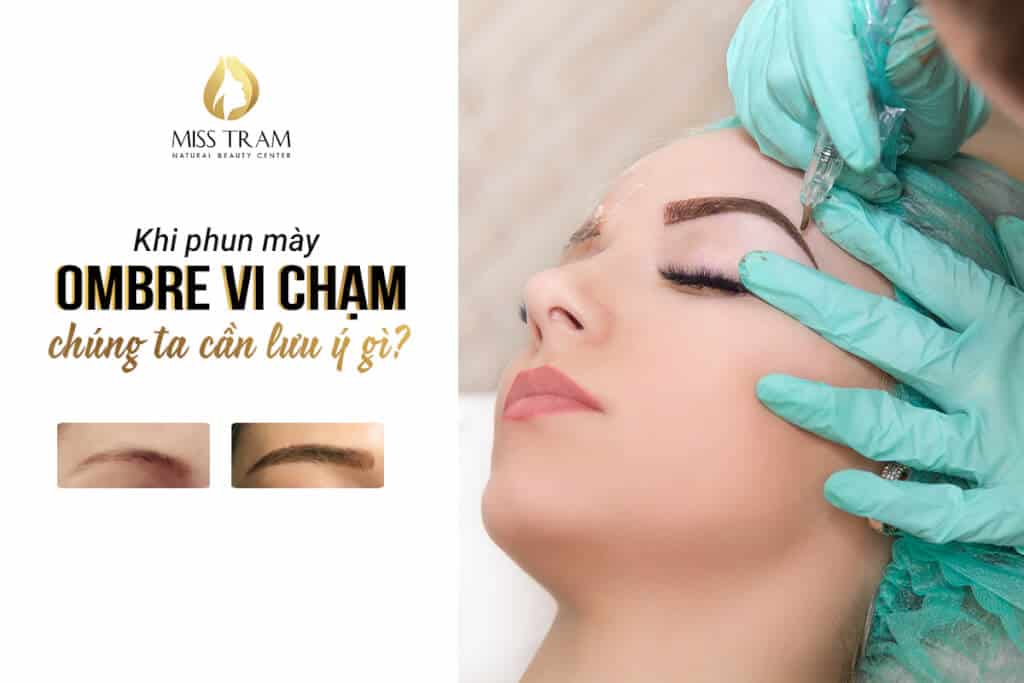 Ombre eyebrow spray technique with micro-touch particles It is one of the modern beauty trends that many women love. Spraying Ombre eyebrows will ensure to give customers eyebrows with slender but harmonious and natural lines.
So what should be kept in mind when implementing to get the best results? Let's find out with Miss Tram Academy!
Spraying micro-touch ombre eyebrows using a specialized embroidery machine, applying ink according to Ombre technique on the eyebrow body, and contouring the eyebrow frame and eyebrow in a micro-touch way (1 point), so you want to achieve results For best results, auditors should pay special attention to the following points:
- Evaluation of the customer's eyebrows and face ratio:
+ Eyebrows decide 80% of the facial contours, so just "one inch wrong" can lead to "walking a mile".
+ Therefore, if you receive a request to spray eyebrows from a customer, first of all, sit down, analyze the contours of the customer's face and advise them on the most suitable eyebrow shape.
– Advice on suitable ink color:
+ Depending on the age, skin color, hair color of each person, we will choose appropriately.
+ DON'T let customers follow the trend and decide the ink color is not suitable for them. Instead, give dedicated advice, helping customers know the color tone for them.
- Anesthesia treatment before spraying
You need to master the technique of anesthesia to make the client more comfortable during the procedure.
- Eyebrow spray technique
+ Like other eyebrow spraying techniques, Micro-touch Ombre eyebrow spray requires meticulousness, firmness and reasonable alignment at KTV.
+ You are not allowed to go beyond the defined eyebrow area, and at the same time we will apply a straight spray, spray in the direction of the eyebrows, spray in a spiral according to the technical steps.
Above are some basic notes when performing the micro-touch Ombre eyebrow spray technique. In the process of studying at Miss Tram Academy, experts will carefully guide the operation steps, as well as share experiences to limit errors and overcome the situations you encounter.
For more information, the popular courses (depending on your interests) to get started with the beauty industry are:
- Course in Tattoo, Embroidery, Aesthetic Sculpture (eyebrows - eyelids - lips)
- Skin Care and Treatment Specialist Training Course
- Professional Eyelash Extensions - Professional Eyelash Curling Course
Please contact Miss Tram immediately for more advice on the study path as well as to see if you are suitable for this profession or not!