Toner It is one of the essential skin care steps that you should not skip skin care routine mine. In particular, those who own dry skin especially need a toner for themselves. It is for this reason that Miss Tram Academy want to guide you How to make your own toner for dry skin from nature with ingredients that are easy to find as well as easy to make in the article below. Invite you to consult.
Tutorial How To Make Toner For Dry Skin From Nature
What are toners?
Toner commonly known as toner (not a distilled toner) is a liquid skin care product. Because of the liquid texture, the toner easily penetrates into each cell on the skin, deep into each pore to help clean the remaining dirt and excess oil, thereby helping to tighten pores It also needs to balance the pH of the skin. Help the next skin care steps to promote the best effect.
+ Experience Spray Lips Faster Color
How to make your own toner for dry skin from nature
1. Rose Toner
Surely you already know the wonderful uses of roses for our skin. Rose water has so many uses that you can use for your skin, from cleansing, anti-aging to moisturizing. So, what are you waiting for, do not immediately start making yourself a bottle of this wonderful rose toner.
Doing: We will use a water bath to distill pure rose water.
You take from 10 to 20 roses. Gently remove each petal and soak in salt water for 10-15 minutes and rinse to remove dirt and chemicals.

You put the washed rose petals in a pot of water. Then place a small bowl in the center of that pot of water.

Turn the lid upside down so that the concave part is directly above the small bowl (Make sure the pot lid is clean.)

Turn on the fire and wait for the water to boil, then pour ice on the lid so that condensation can occur, after the water boils, turn down the heat (Note only a little ice on the lid to prevent water from dripping into the bowl of distilled water. pink).

After the water in the pot is almost empty, turn off the stove, the amount of water you get in the bowl is pure rose water. (Be careful not to let the water in the pot run out.)
You put the obtained rose water in a bottle and store it in the refrigerator. So you have made yourself a bottle of rose toner with many uses.
+ Specific Instructions For Sculpting Eyebrows
2. Cucumber Toner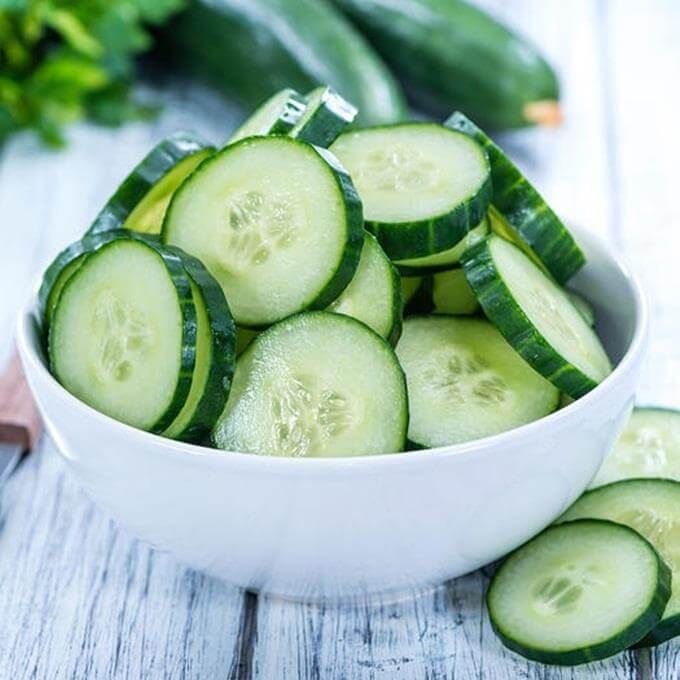 Cucumber is known for its ability to provide moisture, tighten pores, prevent aging and effectively whiten. When combined with rose and fresh lemon will create a toner bottle for dry skin Safe and effective.
Doing:
Use 1 cucumber washed then cut into circles.

You take 5-10 roses then separate each petal. Soak roses in salt water for about 15 minutes and rinse. Then soak rose petals in warm water for 2-3 minutes and then take them out.

Blend the cucumber and rose petals. Use a clean mesh cloth to filter the mixture to get water.

Half a lemon you squeeze to extract the juice. Use a mesh strainer to remove the seeds and cloves of the lemon.

Stir together the lemon juice and the mixture of cucumber juice and rose water obtained above.
You put the mixture you have just obtained into a plastic bottle and store it in the refrigerator. So you have a bottle of cucumber toner with very simple steps.
+ Technical Guide to Correction of Lips – Lip Contours
3. Coconut water toner
Did you know the amazing uses of coconut water? Coconut water is a natural moisturizer for the skin, it also works in the prevention and treatment of acne, anti-aging and is a very good sunburn remedy. Having a bottle of coconut water toner on hand will be much more beneficial than you think.
Doing:
You just need to mix coconut milk and lemon juice in a ratio of 10:1. So you already have a coconut water toner.
Put the toner in a bottle and store it in the refrigerator. Very simple but very effective.
Notice:
With homemade toners, you should test on a small area of ​​skin first to avoid skin irritation.

Use the toner regularly twice a day, morning and evening, after washing your face, you will see the effect that these toners bring.

Take an appropriate amount of toner on a cotton pad and gently wipe your face. This way will help you clean the skin, remove all the dirt, makeup remaining on the skin in the best way.

Because these toners contain no preservatives, you should only use a small amount that will last for 10-12 days. When it runs out, you can renew it to continue using it, to keep the benefits of the toner.
+ Discover the Beauty Uses of Saffron
With simple ways to do it at home, those with dry skin can make their own a bottle of natural toner that is both safe and benign. The above shares of Miss Tram Academy For reference only, so if you've done it and how do you feel, don't hesitate to share it with Miss Tram.
See more beauty experience other:
Which Makeup Trend Is Rising For The Year End
Top 8 Skin Care Secrets From Korean Girls