|Classroom Report|
Guide Students to Shaping Eyebrows According to the Golden Ratio
Invite you and Miss Tram to break into the classroom at Miss Tram Academy to see what you guys are learning today?
The image of students focusing on observing the technician's operation on how to shape eyebrows according to the golden ratio of the face.
Coming to the class at Miss Tram, you will not only learn theory but also practice on real people, so everyone is attentive and excited to practice time to try.
===========
|Maybe you don't know|
WHY HAVE THOUSANDS OF STUDENTS CONFIDENTIAL TO CHOOSE THE ACADEMY OF ACADEMY MISSTRAM – ISSTRAM ACADEMY?
Participating in training classes at Miss Tram, students will receive many attractive opportunities:
+ Very preferential tuition fees.
+ Full set of machines and tools during the course.
+ Be guided to practice on real people (support free practice models).
+ Exam for vocational certificates issued by the Vietnam National Administration of Vocational Training is valid throughout the country.
+ Associate & support certification with Legal Training Centers in the US, Australia.
+ Teaching with textbooks in 3 languages ​​(at the request of students): Vietnamese, English, Chinese.
+ There are classes on demand: for students preparing to leave the country, needing to open a shop urgently, overseas Vietnamese returning home, group study, tutoring, online learning, studying for degrees - certificates, etc.
+ Give away many attractive free classes for students when registering for the full course of eyebrow and lip aesthetics.
+ There is a dormitory (luxury, clean, convenient) for students living far away.
Special:
+ Miss Tram is committed to the output, 100% of students are solid.
+ Opportunity to receive scholarships up to 30 million and high-paying jobs at Miss Tram.
After graduating from beauty courses at Miss Tram ACADEMY, you can apply to major beauty salons and spas nationwide, even build your own establishment with the most confidence and confidence. .
"If you love cosmetology but don't know where to start and where to study, don't hesitate to contact Miss Tram. Experts will listen to your aspirations, give you dedicated advice to promote your passion and conquer your career dreams."
✳️ Good luck with your studies!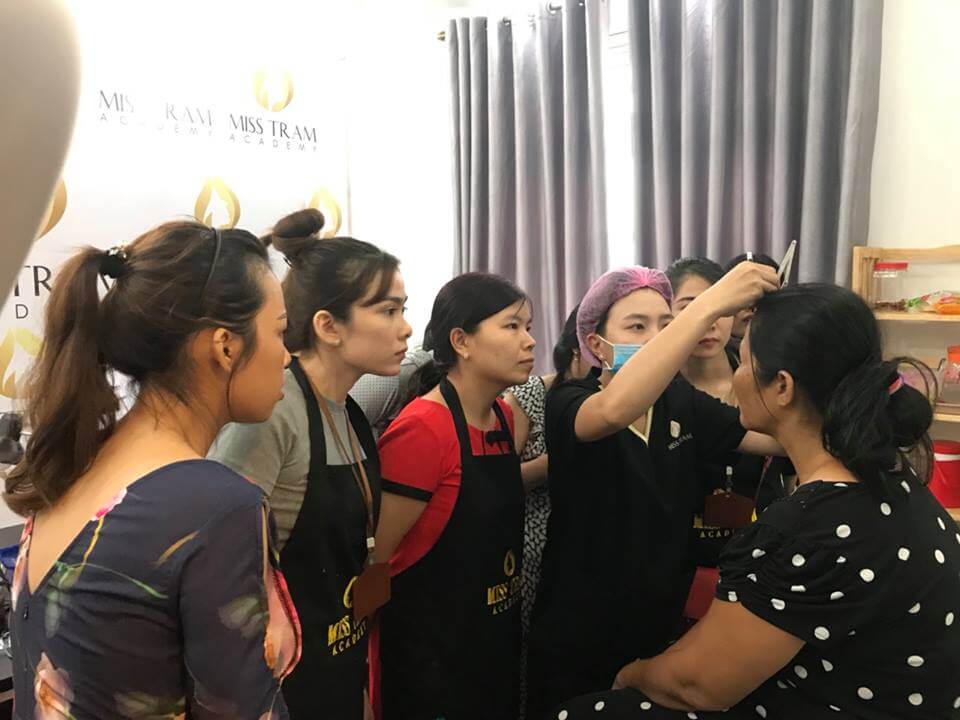 ---
✨Get more information about:
– Program to recruit students to transfer the profession of Spray Embroidery Sculpture Aesthetic at: https://bit.ly/2JA5bSa
– Details of courses at Miss Tram Academy at: https://bit.ly/2L99UzV
➡️ Please contact Miss Tram immediately for more advice on the study path as well as to see if you are suitable for this profession or not!
---
---------
✨ MISS TRAM ACADEMY
🏣 126/6 Phan Xich Long, Ward 3, Binh Thanh District, City. Ho Chi Minh City
📱 Phone: 0909 783 289 – 093 718 6060
☎ Hotline: 1900 7018
⏱ Working time: 9:00 - 18:00
✨ Miss Tram Academy website: https://misstram.edu.vn/
✨ Miss Tram Natural Beauty Center Website: http://thammymisstram.vn/