Guide to Overcome Pain, Itching, and Stiffness After Eyelash Extensions
"KTV brothers and sisters! After applying eyelash extensions at another facility, my eyes had symptoms such as red, thick, uncomfortable, itchy eyes, etc., which made me very worried and confused. So how do I fix it to get better quickly?"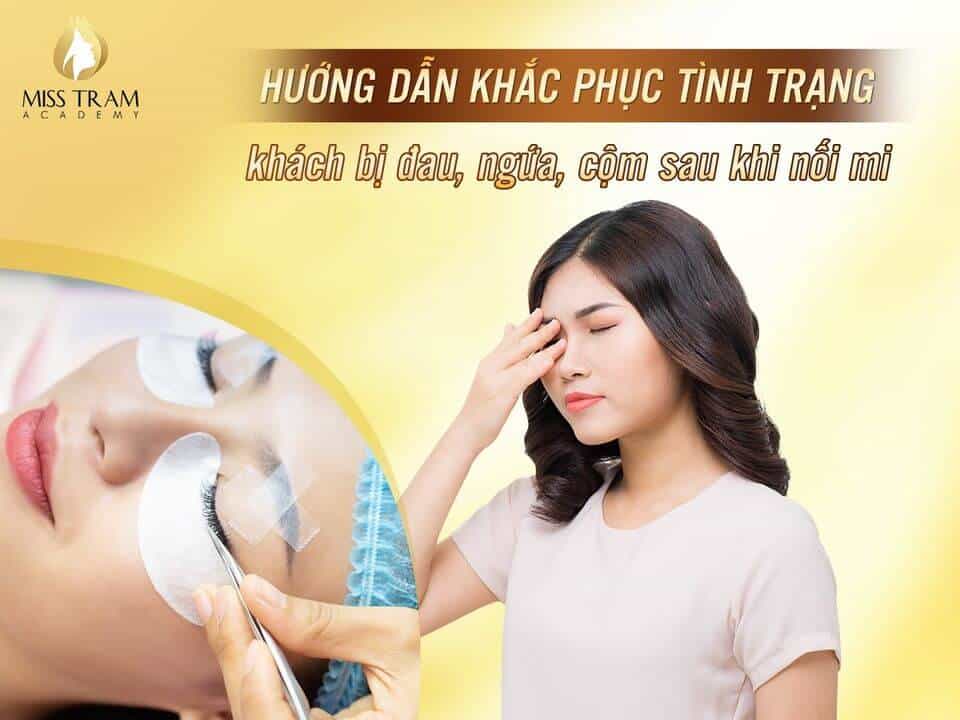 + In case of receiving such a question from a customer, the auditors should be well aware of the above situation as well as give dedicated and detailed advice and answers to the customer to overcome this "crisis". Please!
First of all, the KTV should explain to the customer the causes of the above phenomenon due to:
KTV's skills are poor, not meticulous and careful.

The quality of the glue does not guarantee the origin, the glue has too many harmful chemical components.

Due to the body of each person (thin skin, easily irritated, ...).
If after you apply false eyelashes and encounter the above phenomenon, pay attention:
Do not wash the water on the eyes, the water will make the glue lose its adhesion, the eyelashes falling into the eyes are very dangerous.

Drop physiological saline into the eyes to reduce the effect of glue caused

for eyes.

If your eyes have the above phenomenon, absolutely say no to mascara so as not to touch your eyelashes.

Should wear glasses when going out to limit dust and eyes more comfortable when exposed to the sun.

Absolutely do not rub your eyes, rubbing your eyes because of itching will cause the glue glue to spread into the eyes, making the eyes itch more. Moreover, rubbing your eyes will break your eyelashes, misalign your lashes, and fall into your eyes.

In case the eye is not only painful, red but also itchy, the customer should not remove the eyelashes by hand, but go to a reputable eyelash extension facility to remove the false eyelashes. At the same time, use eye drops to quickly restore the eyes.
Choosing a quality eyelash extension site is very important, so customers should learn carefully about that facility, ensuring the following criteria: long operating time, skilled KTV, tools - page equipment to ensure safety and hygiene, receive many customer feedback on channels…
Eyelash extensions at Miss Tram are committed to not feeling sticky, itchy or sore eyes. You will feel very comfortable and light as if there was no impact on your eyes. Miss Tram has long become the ideal place to stop to be able to own beautiful eyelashes that attract the eyes of many people and are especially easy to make an impression through the first meeting.
For more information, the popular courses (depending on your interests) to get started with the beauty industry are:
Please contact Miss Tram immediately for more advice on the study path as well as to see if you are suitable for this profession or not!
See more articles in this category Question and Answer of Miss Tram VietNam!