(Learning to treat Corticosteroids) – What are corticosteroids? Why is the skin infected with corticosteroids? And why need to treat the skin when infected with corticosteroids?
Corticosteroid Skin Care & Treatment Course
(The curriculum is designed according to the needs of the students.)
How to distinguish corticosteroid skin from allergies, irritation or other skin conditions?

Causes, consequences and methods of care - how to treat skin with corticosteroids?

Why is corticosteroid toxicity still becoming common?
These are frequently asked questions by many students and skin care professionals when they are new to the profession. If you want to specialize in learn skin care and treatment Corticosteroid infection, courses at the request of Miss Tram Academy is a good suggestion.
Let's find out Corticosteroid Skin Care & Treatment Course through the next post.
Time – Format – Tuition
Desire to provide practical courses - quality - meet the needs of students, Miss Tram Academy regularly open courses according to the required topics. With Corticosteroid Skin Care & Treatment Course, students will get:
Exchange and develop appropriate curriculum.

Flexible scheduling of study time.

Enjoy the full benefits (learning environment and practice) like other package courses.

Tuition fees depend on the content of the lessons and the duration of the study.

The results are assessed based on the final exam of the course.
Students
Course Corticosteroid Skin Care & Treatment Consistent with many objects:
Students who are taking a skin care course and want to learn more about skin with corticosteroids.

Skin care specialist, want to update technology, treatment course of corticosteroid skin.

Spa managers, spa owners, cosmetic shop owners, want to understand well about corticosteroid-infected skin and effective care and treatment.

Customers, want to learn more about corticosteroid-infected skin for the best skin care.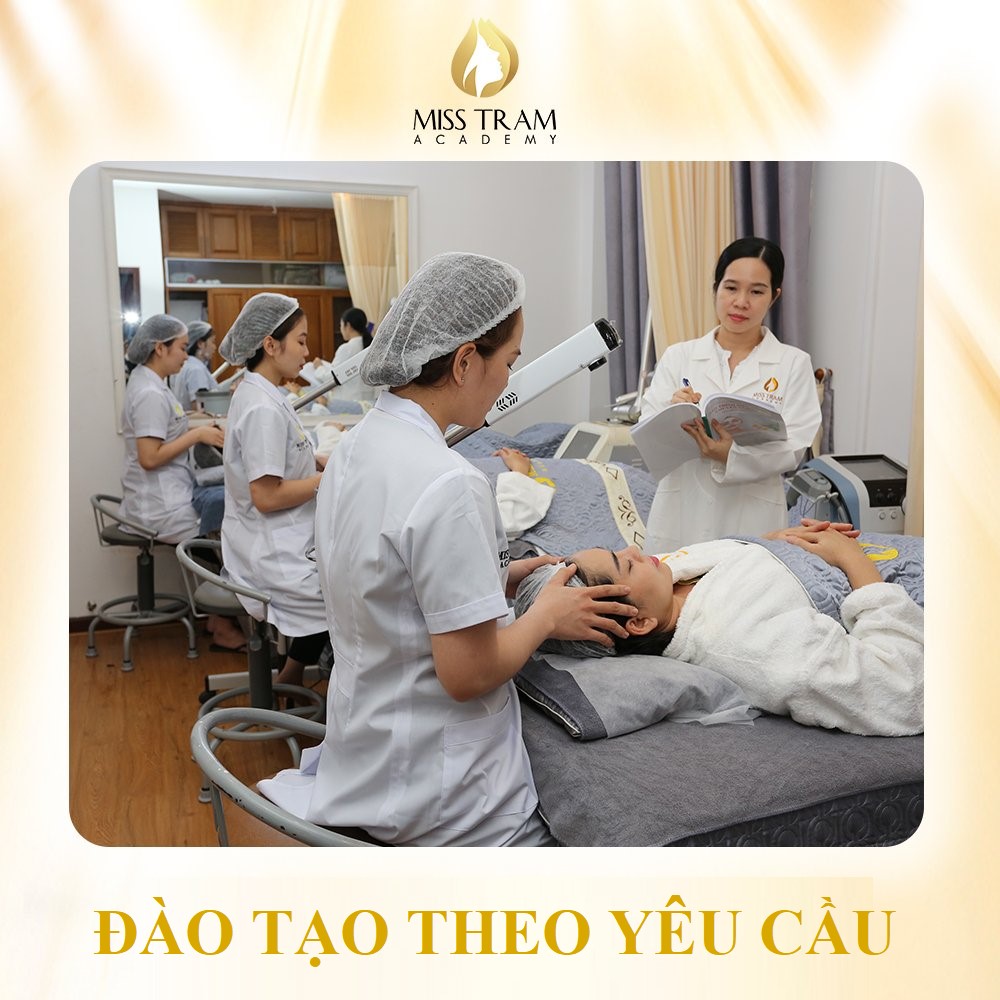 The Content Students Can Choose In The Course
1. In-depth knowledge of corticosteroid skin care
In theory, students will be thoroughly trained in the following contents:
Structure and function of the skin.

Classification, characteristics of skin types and effective care (dry skin, normal skin, oily skin, combination skin).

Basic cleaning and skin care procedures in Spa.

Rules for using cosmetics, ingredients that are harmful to the skin.

Know about skin condition with corticosteroids:

Reason.

Signal.

Level.

Consequences and sequelae.

The procedure to soothe and "detox" corticosteroids for the skin.

Method of detoxifying the skin contaminated with corticosteroids from the inside.

The line of detoxifying masks for skin with corticosteroids is effective.
2. Methods of care – treatment of skin with corticosteroids
Corticosteroid-infected skin has many levels and accompanying sequelae, the skin recovery process is also relatively long and undergoes many courses. Therefore, there will be many different methods - treatment regimens.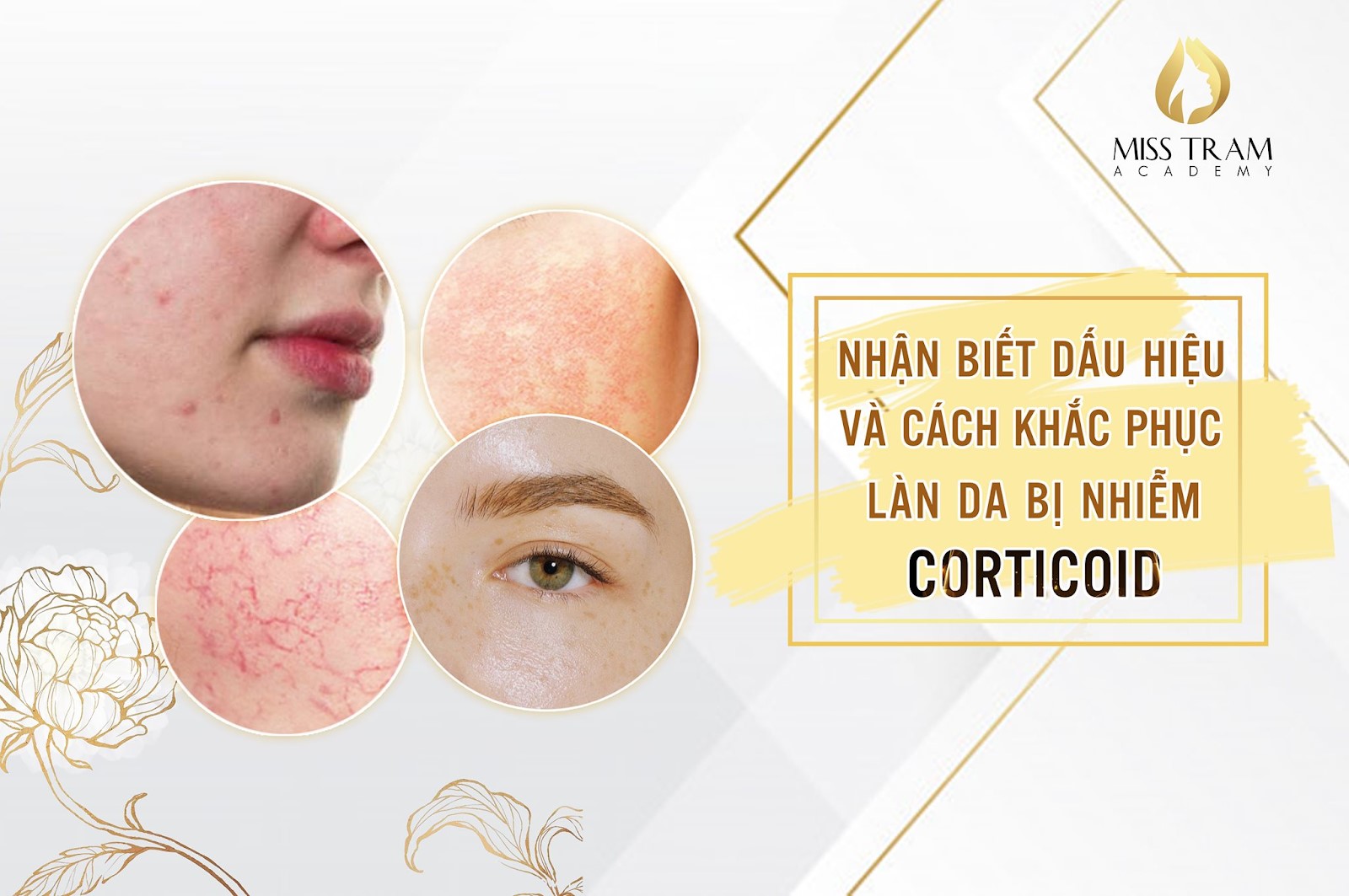 Contents on recovery - treatment of skin with corticosteroids included in the course:
How to look at the skin, determine the level of corticosteroid infection by modern analyzers.

How to examine, consult and find out the cause of the client's corticosteroid infection.

How to make the right treatment regimen for each skin level.

Techniques when cleaning, caring for skin contaminated with corticosteroids.

How to choose products to support recovery - effective treatment of skin with corticosteroids.

Methods of care and treatment of skin with corticosteroids according to the following steps:
Corticosteroid skin care and treatment
training content
Step 1: Recovery – Detoxify the skin.

Vitamin B5 Therapy.

CO2 Mask Treatment.

- Introduction to each course:

Uses.

Mechanism of action and effectiveness.

Pros/cons.

Suitable skin condition.

How to choose and use tools/products/machines.

Implementation process.

Pay attention to skin care after the procedure.

– Practice on models and real samples.

Step 2: Treatment (depending on the skin problem).

Fractional CO2 Laser Treatment.

YAG Laser Therapy.

Nonmetallic Stem Cell Therapy.

Green Laser/Blue Light Biological Light Therapy.

Skin Peel Treatment.

Step 3: Rebuild.

Salmon DNA electrophoresis.

The process of transplanting Bat Bach Tien.

EGF Stem Cell Frosting Treatment.

Carbon Laser Therapy.

Transplantation of Red Ginseng.

The process of running the nutrients of the Rose's Nest.

...
Why Choose Miss Tram Academy?
Continuously researching and optimizing skin treatments for more than 18 years, Miss Tram Academy confidently solves skin problems such as: acne, scars, melasma, freckles, aging, corticoid poisoning, dry, degraded,… With Corticosteroid Skin Care & Treatment Course on request:
Miss Tram commits:
The curriculum is compiled selectively, practically, fully according to learning needs.

A team of highly qualified, experienced teachers who are close and ready to support students.

Intuitive teaching method, lots of practice hours.

The learning environment is comfortable and full of tools, models, and practice samples.

Dedicated training, not hiding the job, not prolonging the learning time.

With clear output standards, students can register for the exam to receive a Vocational Certificate according to the standards of the Ministry of Labour, Invalids and Social Affairs.

Soft skills training, job support and experience in opening Spa if students need.
In particular, the tuition fee depends on the content of the lessons and the duration of the study - no fees, no extra fees. What do you want to learn – The course teaches that, both saving time and optimizing costs when studying.
Above is the information about Corticosteroid Skin Care & Treatment Course on request at Miss Tram Academy. Any questions you can contact Miss Tram directly for the best advice!