(Massage course) – When the quality of life is improved – body relaxation services such as massage are interested by many people, chosen for the purpose of beauty, relaxation, stress relief and life pressure.
Accordingly, many customers look to spas and beauty salons to use services, requiring high-quality human resources in the profession. Realizing that the massage profession has good potential for development, many students have a need to find quality massage courses to study.
If this is also an issue that interests you, please take a moment to learn about Face - Head - Shoulder - Neck - Body Spa Massage Course by Miss Tram Academy.
Who Should Take the Face - Head - Shoulder - Neck - Body Massage Course
The profession of cosmetic massage does not discriminate between subjects, as long as you want to try and stick with this profession. Normally, cosmetic massage courses are often interested in the following groups of subjects:
Beauty lover
Aesthetic massage is concerned with the human appearance – making the client's body slimmer and more attractive. Being knowledgeable and passionate about beauty is a great advantage to be a motivation and a premise to learn massage.
People who want to open a beauty spa
The course of aesthetic massage is an important foundation for those who want to open a spa salon that provides this service. Usually, the development route will go from apprenticeship, practice, and then opening a spa.
People who plan to work at a massage establishment
Students who plan to work at massage establishments need to attend a professional course to ensure solid knowledge and good workmanship.
Face - Head - Shoulder - Neck - Body Massage Training Course in Ho Chi Minh City
Understanding the needs of students with the massage profession, Miss Tram Academy deploys a spa-standard facial - head - shoulder - neck - body massage training course with a professional program, flexible training time and affordable cost.
1. Course content
Overview of massage profession: meaning of work and professional ethics.

Benefits of massage for health and beauty.

Classification of massage and contraindications to note.

The knowledge of meridians and acupuncture points according to traditional oriental medicine.

Knowledge of musculoskeletal and physiology.

Prepare to perform massage services: massage oil, prepare sheets, arrange towels, clean rooms...

Professional body cleaning techniques.

Theory and practice of face-head-shoulder-neck-body massage techniques.

Full body essential oil massage, herbal massage, hot stone massage, synthetic massage…

How to combine massage with acupressure therapy.

Common mistakes in the process of performing massage and corresponding remedies.

Full body skin care.

Exfoliation technique.

How to prepare a body bath recipe.

The content to discuss with the client before, during and after starting the course.
The above is a reference training program, if there is a need to study any other topic, students can completely propose to the center to deploy the most suitable training route.
2. Estimated training time
Miss Tram Academy creates conditions to Students can create their own schedule and suitable training time with individual needs; During the learning process, students can reserve their results if there is a good reason.
3. Course cost
Face - head - shoulder - neck - body massage course at Miss Tram Academy there is level Tuition fee depends on study program and duration take part in the course. To create the best conditions for students, Miss Tram VietNam will offer the most appropriate tuition rates, and also have many attractive tuition discounts/gifts on promotional occasions.
Reasons to Learn Face - Head - Shoulder - Neck - Body Massage at Miss Tram Academy
With more than 20 professions as spa and beauty trainers, Miss Tram Academy promises to bring qualified human resources from face - head - shoulder - neck - body massage training course spa standard.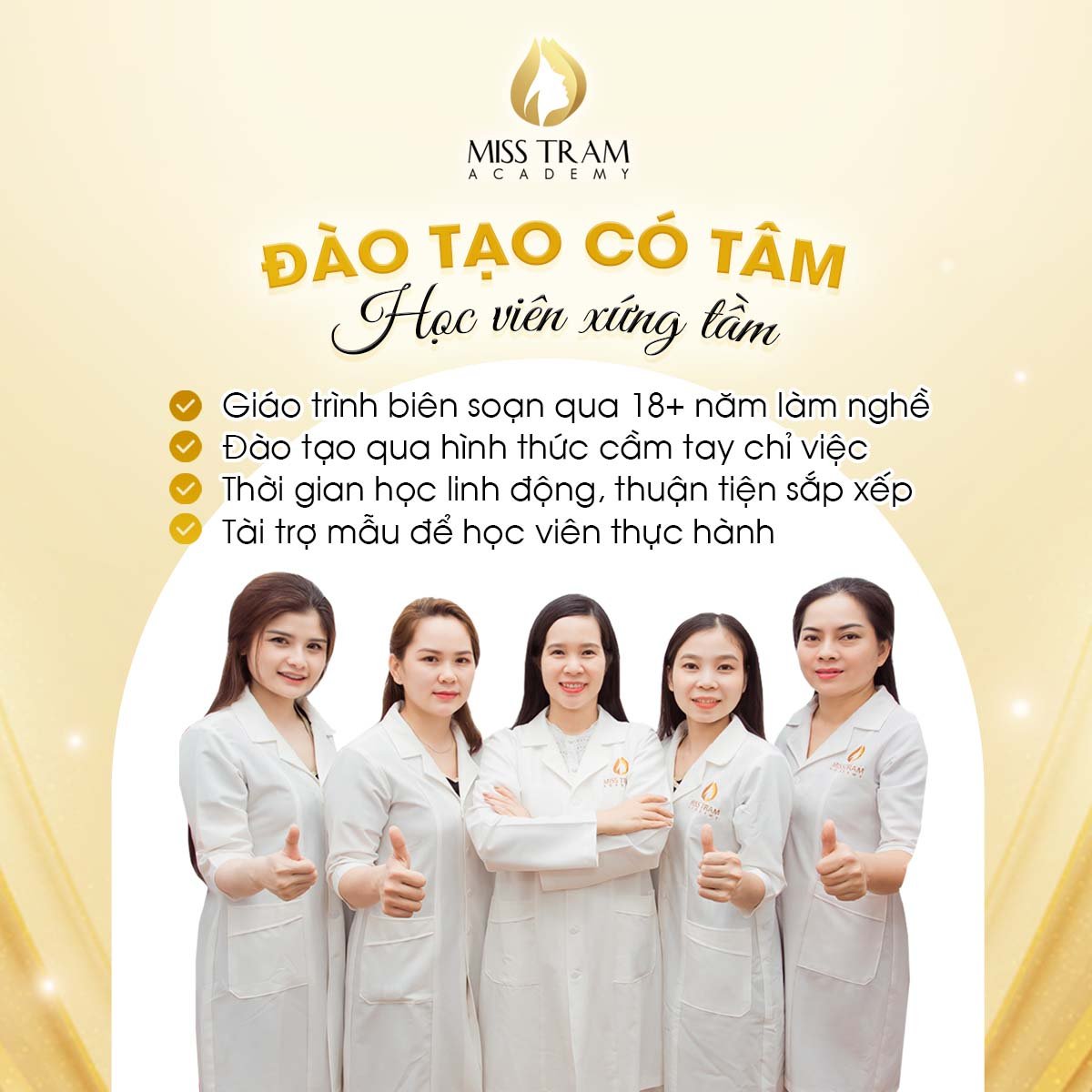 Benefits of students who register for face - head - shoulder - neck - body massage at Miss Tram Academy:
Learn in a modern environment with a team of experienced, dedicated, "hands-on" instructors.

Awarded a nationally recognized graduation certificate.

Students can work immediately after graduation – commitment to output quality.

Accommodation is available for students living far away.

Professional massage training curriculum, suitable for students, updated regularly.

Practical training after completing each theory lesson, practice time 80% of the course.

Provide real samples for students to practice, the practice room is fully equipped with equipment and machinery.

Vocational training registration procedures are simple, flexible, and do not require input.

Share job experiences, introduce jobs after the course.
With the advantage of experience, expertise, enthusiasm - Miss Tram Academy committed to satisfying students with a spa-standard massage course, meeting the needs of good human resources for the market.
Hope the above information will help you better understand Apprenticeship massage face - head - shoulders - neck - body. Hope you find the right course and find many good opportunities after you graduate.