(Learning to examine the skin) - You should remember that before starting with any course, any skin care method, it is necessary to examine the skin. So what is a skin exam to do? What is the effect of skin examination? And why should you learn to look at the skin, then follow the following article.
Course: Medical Examination & Skin Consultation
(Courses are compiled according to learning needs.)
Are you a student, skin care specialist or Spa owner, not confident about medical examination and skin consultation skills?

Are you a cosmetic shop owner, want to learn more about skin examination and consultation to upgrade your sales skills?
The initial skin examination step is extremely important, helping you make the right analysis - make the right regimen - bring the fastest skin care / treatment effect for customers. If you don't read the results well, analyze your skin carefully, or your communication skills are still weak, it will be difficult to convince and "close" the course.
Understand that, Miss Tram Academy open Medical Examination & Skin Consultation Course, helping to perfect the capacity of professional skin diagnosis and consultation.
Time – Format – Tuition
Medical Examination & Skin Consultation Course is available upon request. Students will discuss their strengths-weaknesses and learning needs. From there, the Miss Tram Academy team will create a suitable curriculum, helping to improve and perfect medical examination and skin consultation skills for students.
Time: students can flexibly arrange according to their personal timetable.

Format: study directly at Miss Tram Academy, 1-on-1 teacher.

Tuition fee: depends on the content of the lessons and the duration of the study.
Training Content Students Can Choose In The Course
1. Basic knowledge – in-depth about skin
Medical standard skin examination and consultation is a skin examination procedure that requires a lot of knowledge and skills. Therefore, the course at Miss Tram Academy will provide thorough training on:
Structure and function of the skin.

Know about skin types (dry skin, oily skin, normal skin, combination skin).

Learn about common skin conditions (acne, melasma, freckles, age spots, aging, scars, thin, sensitive,…):

Cause of formation.

Levels.

Appropriate care and treatment.

Rules of care - treatment.

Basic skin care and cleansing process in Spa (makeup removal, face wash, dead cells, sauna, face mask...).

Rules for using cosmetics and masks suitable for each skin condition.

How to use common skin analyzers on the market.

Instructions to read the results of skin analysis and determine the exact skin condition - grade.

How to examine and consult to determine the cause of the client's skin conditions.

Learn about Medical Standards in the beauty industry and specific evaluation criteria.
2. Specific case studies
Building specific case studies of each skin condition, level and type will help students have a more intuitive view. From there, giving skin advice and accurate treatment regimens for each case.
The course content of Miss Tram Academy includes:
Dive into each skin case:
Case study
training content

Dry, aging, degraded skin

- Signs to recognize when looking at the skin.

How to determine skin level.

- Specialized treatments and products.

- How to make the right treatment plan.

- Practice directly on the dermatoscope.

Oily skin, large pores

Dull, uneven skin tone

Acne skin of all kinds

Skin pitted scars, dark scars, acne scars

Melasma skin, freckles, age spots, brown spots

Thin, weak, damaged skin

Toxic skin (corticoids, lead, toxin, ...)
Training in communication, consulting and persuasion skills.
Benefits Of The Course
After the Standard Medical Skin Examination & Consultation Course, students will:
Understand the process of using a dermatoscope.

Proficient in skin "scenarios" and provide medical-standard protocols and treatment plans.

Skilled in consulting and persuading customers to "close" the course.

Theory 20%, Practice 80%, ensure students master knowledge, techniques and soft skills.

Job introduction, experience in Spa opening and maximum support after the course.
Reasons to study at Miss Tram Academy
With more than 18 years in the beauty industry, specializing in researching and providing optimal skin treatment solutions, Miss Tram Academy is confident to provide quality courses - the most practical to students.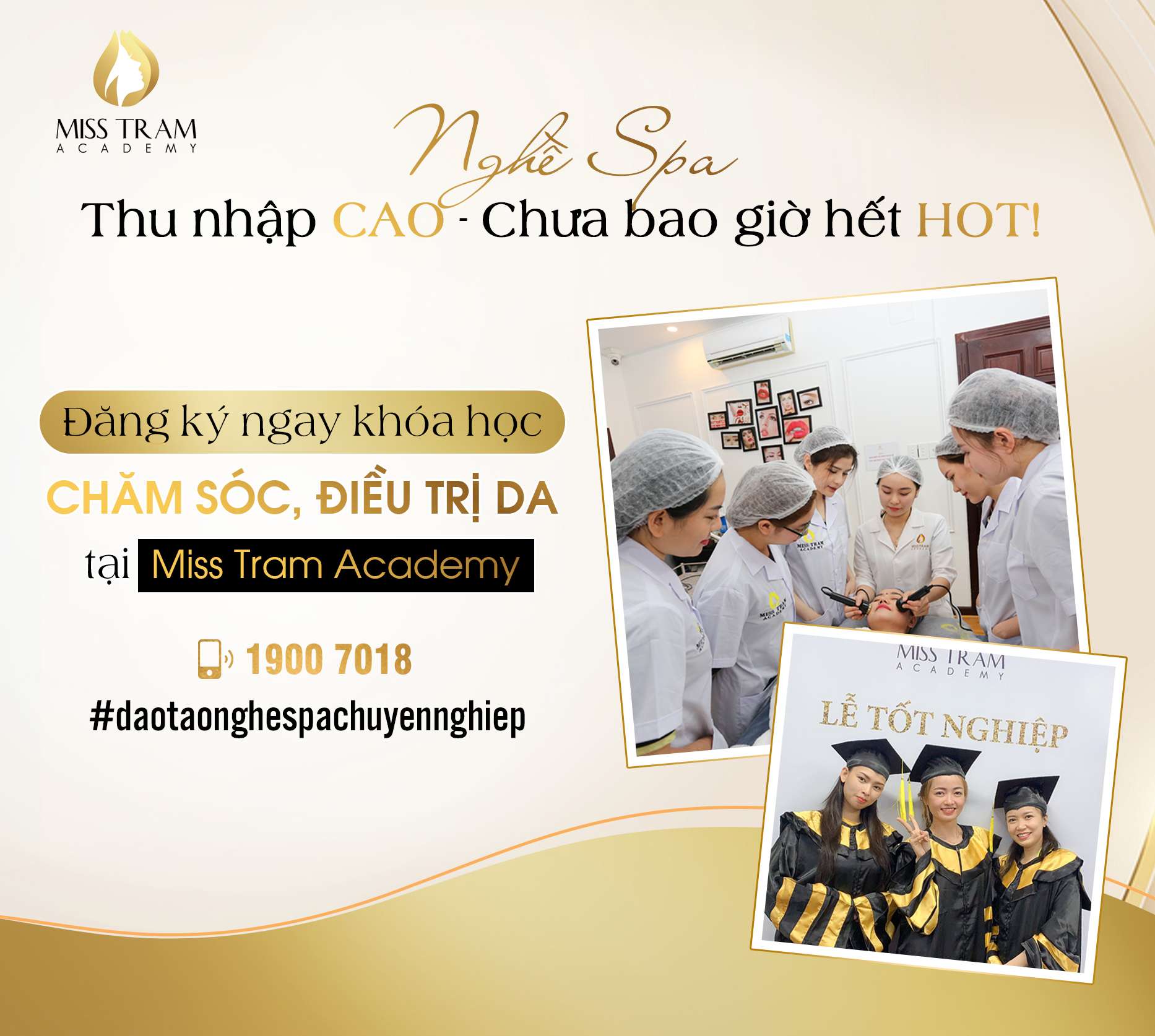 Why should you follow the Medical Examination & Skin Consultation Course at Miss Tram Academy?
Competent teachers, specializing in many skin conditions, ensuring a full transmission of knowledge and skills.

The curriculum is designed according to the needs, so it should be the most selective and realistic.

Fully equipped, modern dermatoscope, meeting the criteria of medical standards.

With a lot of practice time, students are closely monitored and guided carefully when using the dermatoscope.

The output standard is clear, students can register for the exam to receive a Vocational Certificate according to the standards of the Ministry of Labour, War Invalids and Social Affairs.
In particular, the learning environment at Miss Tram Academy very friendly, creating the best conditions for students to interact and practice. Thereby ensuring the knowledge and skills needed when leaving the profession.
Above is the information about Medical Examination & Skin Consultation Course in Miss Tram Academy. If you have any questions about the course, you can contact us directly for the fastest advice. Good luck!