(Learning hair removal) – You are starting a business on the path of spa – beauty. Realizing the need to use hair removal service At increasingly crowded spas and beauty salons, do you plan to learn permanent hair removal to expand knowledge and skills.
If you need to find Prestigious hair removal training address in Ho Chi Minh – output quality assurance, please refer hair removal training course by Miss Tram Academy.
Miss Tram Academy Ho Chi Minh City Root Hair Removal Training
Long-term spa and beauty training in Ho Chi Minh City, Miss Tram Academy promises to be a prestigious and reliable vocational training place for students. With the root hair removal training course, Miss Tram Academy provides students with the latest knowledge, skills and technology to make a solid luggage after graduation.
Contents of the root hair removal lock
Skin basics:

General knowledge of skin.

General knowledge about hair follicles.

Technique of cleaning hair follicles.

Understand the mechanism of hair growth and hair loss.

Understand the cause of ingrown hairs, folliculitis.

Analyze the reasons to choose the root hair removal technology.

Hair removal technologies: Diode Laser, IPL, OPT, E-Light...

Technology introduction.

Principle of operation.

Hair removal process.

Instructions for use and operation of equipment, hair removal machine.

How to handle common situations during hair removal.

Practice hair removal in all areas: facial hair, lip hair, arm hair, leg hair, chest hair, belly hair, armpit hair, private area hair.

High-tech hair removal service:

Technical advice, contraindications for permanent hair removal, safety standards for customers.

Clean the area to be waxed.

Apply a cold gel to ensure light transmission and protect the skin.

Choose the right permanent hair removal technology.

Shoot the machine on the skin to be removed until the required parameters are reached.

Clean the skin that has just been waxed.

Counseling for home care.

Skin care after hair removal.

The reason hair removal is not effective.
***The above is just a reference hair removal training program frame, the actual learning path will be designed based on the student's proposal.
How long does it take to learn hair removal at the root?
The time for the permanent hair removal course is arranged by Miss Tram Academy according to the specific study program and the needs of the students. In particular, if students have to take a break from school or have paid tuition but have not learned (with good reason), Miss Tram creates conditions for students to reserve their results.
The cost of the hair removal course at the root
The study program and study time are the factors for Miss Tram to propose the tuition fee for the radical hair removal course. Miss Tram ensures to offer reasonable, competitive rates and comes with many incentives when registering on promotional occasions (promotions are updated on the center's fanpage and website).
Reasons to Learn Root Hair Removal at Miss Tram Academy
In Ho Chi Minh City, Miss Tram Academy has more than 20 years of providing spa services and training - beauty. Practical experience and professional expertise have helped Miss Tram create professional spa training courses, meeting the human needs of the market.
Through the hair removal course, Miss Tram Academy provide students with the necessary knowledge and skills to build and develop effective hair removal services at the spa.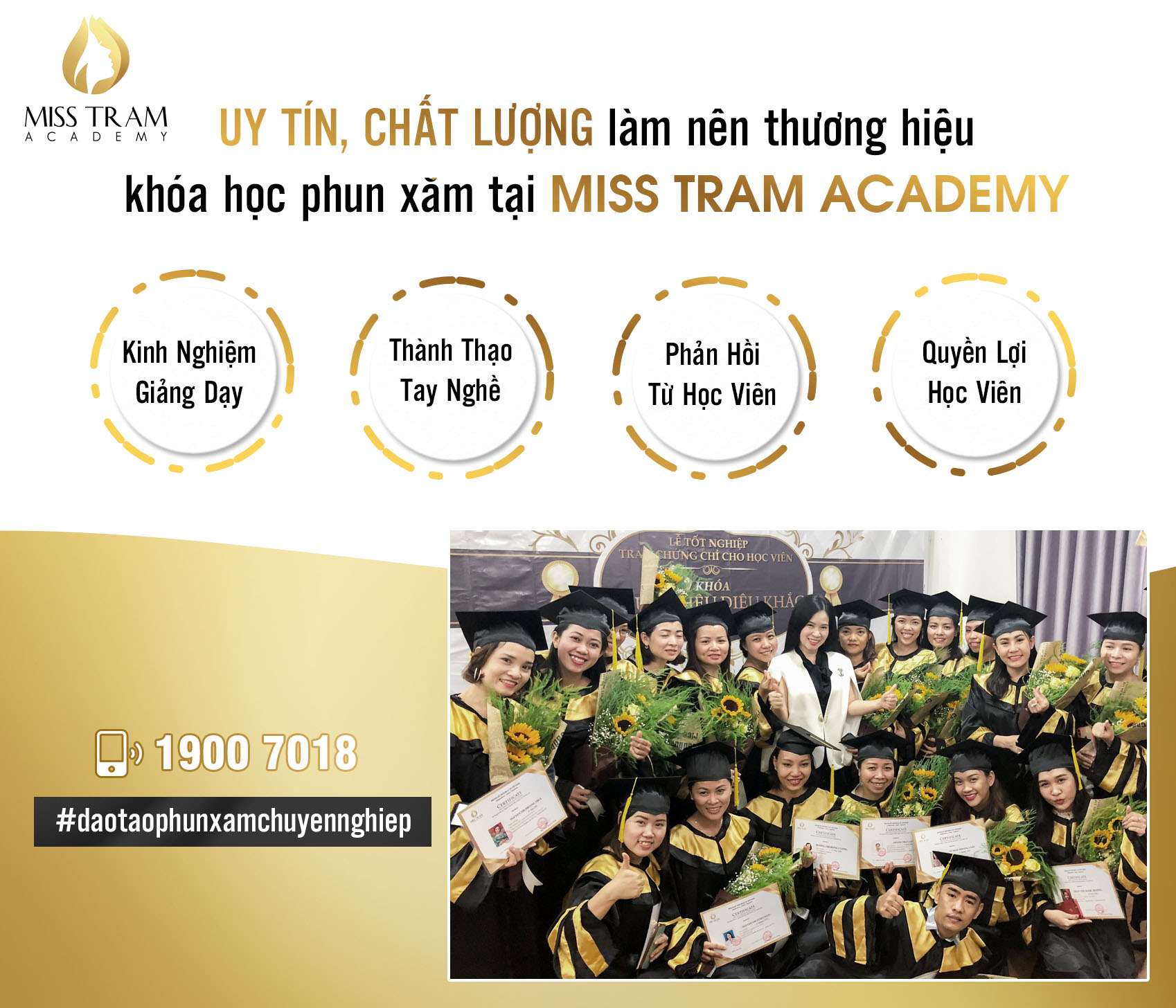 Choosing to study hair removal at Miss Tram, students get a lot of benefits:
The team of experienced and highly qualified instructors is enthusiastic "hands-on".

Trained according to modern curriculum, international standards, updated according to market trends.

Learning theory and practice, the course focuses on training 80% of the time, practice until students are invited to move to another lesson.

Students are provided with real samples to practice, the practice room is fully equipped with necessary machinery and equipment.

Share experiences and soft skills when working: customer consulting, advertising, crisis resolution...

Guaranteed output quality – students get jobs right after graduation.

Students living far away will be arranged accommodation.

The course registration process is simple, fast, no entrance exam.

Support, introduce the place to provide equipment, tools, good quality cosmetic machines, reasonable prices for graduates.

Graduates of the course can confidently train students or work in a beauty salon with an attractive salary.
For the above reasons, Miss Tram Academy is committed to bringing satisfaction to students who register for a permanent hair removal course, helping students to have a solid career.
The above article has specifically informed you about hair removal course at the root of Miss Tram Academy. Quickly contact Miss Tram Academy to listen to your aspirations and advise on a suitable apprenticeship route; to learn and improve knowledge with a team of good, enthusiastic and enthusiastic teachers.