In a technician's essential kit eyelash extensions, eyelash extension tweezers It is a very important tool to help you manipulate accurately and quickly. It is considered as an effective assistant that accompanies you over the years in your practice. So how to find a suitable tweezers?
Please refer to the article how to choose eyelash extension tweezers Simple but effective below Miss Tram Academy ok
Experience Choosing Simple But Effective Eyelash Tweezers
For those who are just starting to learn the craft, choosing a suitable set of tweezers is really a very difficult thing. If you do not understand the basic principles of tweezers selection, you will most likely end up buying inappropriate tweezers that do not meet the requirements of the profession and thereby, wasting as well as costly when not using used and very high. With experience in the profession, Miss Tram Academy will tell you how to choose the right tweezers and will accompany you through the years of practice.
Make sure you follow the tips below, and you will find the right tweezers for you:
1. Material of tweezers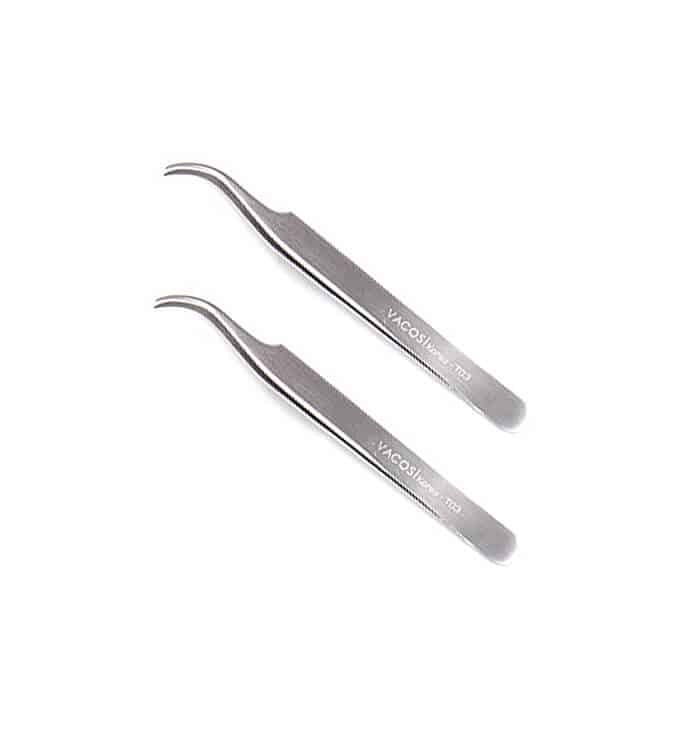 The material of the tweezers is very important, to ensure it can be used for a long time, the tweezers must be made of stainless steel, can withstand the impact of eyelash extensions glue, cleaning solution, …
In addition, there must be no magnetism or static electricity. Because if these phenomena appear, it will make eyelash extensions more difficult, harder to shape the eyelash shape. And of course, creating a beautiful eyelash is very difficult.
2. Shape, weight of tweezers
In eyelash extensions, there are many different types of tweezers depending on their own purposes. You need to choose the tweezers with the right shape for each purpose you want to use. Only in this way will your eyelash extension process be easier.
The tweezers must have a sturdy but soft shape with a lightness suitable for hand strength. With heavy-duty tweezers, you will have to use a great deal of force during the process of taking eyelashes and connecting them, which will make your hands very tired if you have to work all day. Over time, the carpal nerve system will be affected and carpal tunnel syndrome may appear.
+ Note: Distinguishing Types of Eyelash Extensions That Are Popular Today
3. Choose the right tweezers for your eyelash extension style
In eyelash extensions, there are many different styles such as volume eyelash extensions, classic eyelash extensions, etc. For each style, you should choose the right tweezers for that style. That way your eyelash extension process will take place more smoothly and quickly.
For example, the volume eyelash extension style will take 2, 3, 4, … fibers at the same time false eyelashes with the characteristic that the eyelashes are gathered together and the tops spread in the shape of a propeller, at this time, the tweezers that serve this style often have an L-shaped nose tip; different from the classic style tweezers with a slightly curved tip.
4. Make sure the tip of the tweezers are snug, no gaps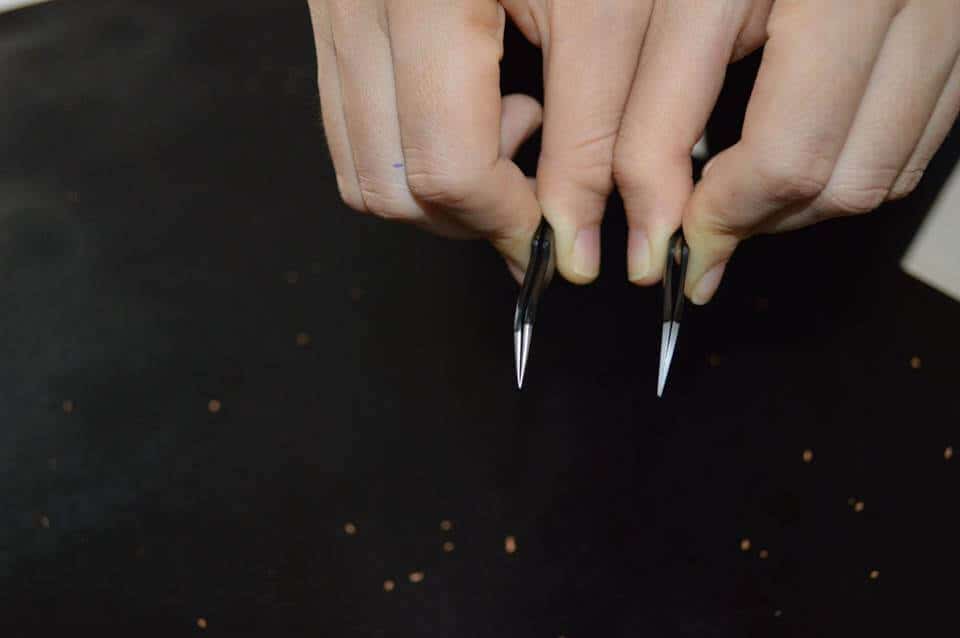 The tip of the tweezers is an important part to help separate, hold and extend eyelashes. Therefore, it is necessary to ensure that the tip of the tweezers must fit evenly and there is no gap at the end to be a quality tweezer. Otherwise, it will be very difficult for you to get the eyelashes as well as get many lashes at the same time. And often with these types of tweezers that do not fit evenly, it will not be possible to use the eyelash extension process.
Currently, tweezers usually have 2 common types: tweezers with rough and smooth inner surfaces. An experience that Miss Tram Academy wants to share is that if you are a newbie and start to practice, you should choose a tweezer with a smooth inner surface, because at this time, the force of your hand using your tweezers is not uniform. Using tweezers with a rough surface will cause the tweezers to quickly damage the tweezers. Although with the rough surface, it will increase the grip with the eyelashes much more.
+ Note: Choosing Eyelash Extensions That Suit Each Eye Shape
5. Must try tweezers before deciding to buy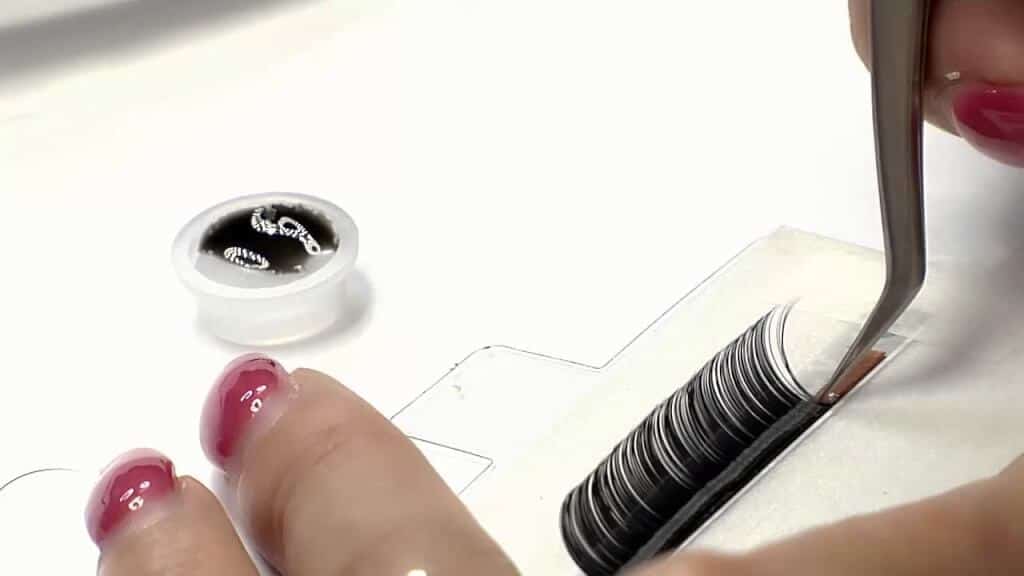 This is something you must definitely remember. Because each different tweezers will give you a different grip. You must choose a tweezer that gives you a smooth hand feeling, easy to hold as well as does not cause fatigue during use.
In addition, testing the tweezers will help you check whether the tweezers can get the maximum number of false eyelashes, sure or not. Avoid buying that can't be used because it doesn't meet your needs.
And so, the selection and purchase of tweezers should be purchased directly at the store, avoiding online purchases because you cannot control the quality and suitability for you. If in case you are unable to come in person, you need to make sure to choose a sales address for return and exchange after purchase, to help you find the most suitable tweezers.
+ Note: How Much Time Does Eyelash Extensions Take
Although choosing the right tweezers is very important, but with small tips that Miss Tram Academy share above, do you find it a lot easier. Be very careful in choosing to have tweezers to help you maximize your skills.