07 Spa-standard facial massage techniques not everyone understands.
KTV's skillful movements, soft fingers when massaging the face not only improve and care for the skin, but also relieve muscle tension, soothe pain and help facial skin increase firmness and ease. Absorb nutrients to the skin.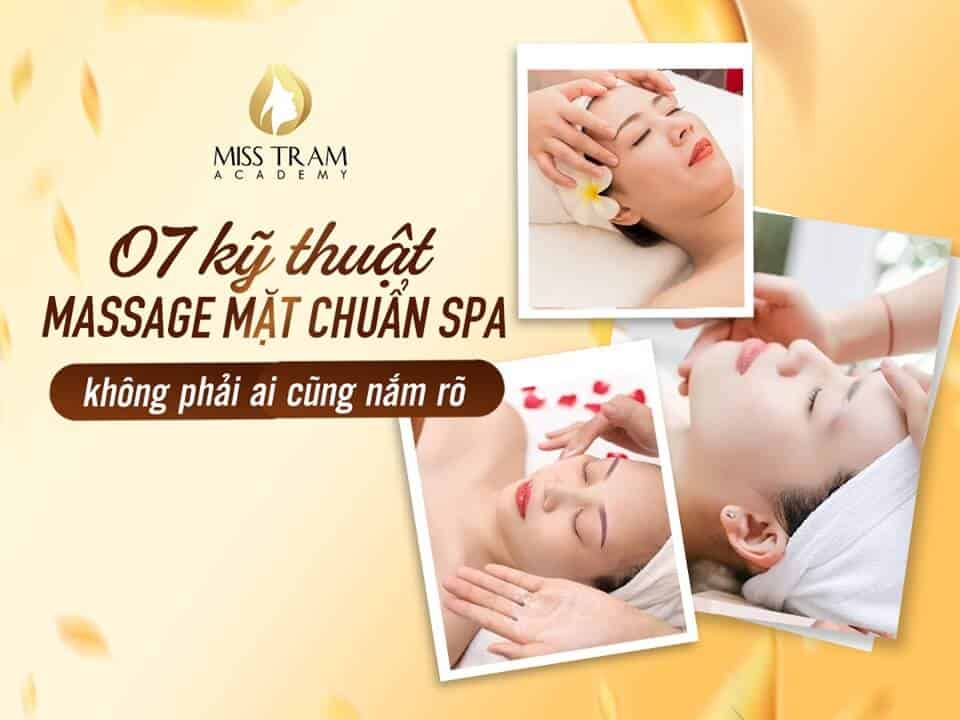 As a beginner, you must still be surprised with facial massage methods, let Miss Tram Academy help you supplement your knowledge of the following Spa standard massage techniques:
Light massage technique: gently massage on the skin surface, help relax nerves, stimulate lymphatic blood circulation, this method is usually at the beginning, when changing positions or massage manipulation and at the end of the massage session.
Strong massage technique: Strong massage, deeper stimulation under the skin affects the cells inside the skin structure and both blood vessels and lymph to help them circulate better, the skin receives more nutrients and eliminates the toxins. dead cells.
Twisting and twisting techniques: This technique penetrates deeper into the skin, stimulating blood vessels and lymphatic circulation strongly, increasing metabolism. Twisting, twisting also helps the muscles in the face to be firmer, making the face more youthful.
Technique of hitting and flapping: is a technique of hitting, patting with fingertips on the surface of the skin to create light vibration stimulation to help increase muscle elasticity, in addition, this manipulation also helps promote blood and lymph circulation.
Vibration technique: vibration in the hand of the operator and transmitted through the client's skin, stimulates blood vessels, lymphatics and peripheral nerves to increase their activity, creating a relaxing effect on nerves.
Skin pressing technique: is a technique of pressing the skin with the hands for a while and releasing the hands at the right time, this helps to push blood and lymph more strongly.
Technique of pressing 13 acupressure points: in the face helps to circulate air and blood, helps to improve wrinkles and dark circles in the eyes, wrinkles in the lips and mouth area to make the face fresh and younger
Refer: Things to Note When Facial Massage Massage
You are viewing the article Spa Facial Massage Techniques in the category Blog Share at the website Miss Tram Academy. Any comments - reviews please send directly to Email: teamcrmmisstram@gmail.com or comment right below the article. Don't forget to follow us for more good articles in the same category and share it with everyone you know!