Acne is always a problem that not only women and men also have a headache when encountering. There are many different ways to treat acne with natural products and ingredients that are commonly encountered on a daily basis. And today, Miss Tram Academy would like to introduce to you a treatment with an ingredient that is also very familiar and easy to find but has a particularly magical effect. That is Mint.
Uses Of Mint Leaves For Skin
Mint leaf is an herb that is also a very familiar spice in today's dishes and drinks. The addition of mint leaves will help add a very attractive cool flavor. In addition to helping to increase the taste of food, mint is also a very good herb for the digestive system, treating intestinal diseases, fever, stress relief, insomnia, it is also very good for teeth, helps save Blood circulation, immune system booster, pain relief, etc.
Because mint leaves are rich in salicylic acid - which is an effective acne treatment ingredient, using mint as an acne treatment ingredient will help speed up the process of acne treatment, which is very safe and benign for the skin.
+ Skin Care Process After Squeezing Acne
Quick acne treatment tips with mint
1. Mix with rose water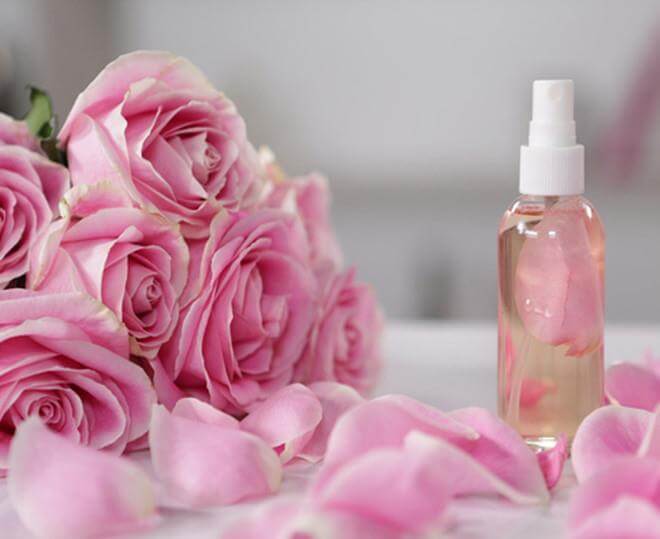 Rose water is known to be one of the ingredients to help moisturize and clean the skin, besides having the ability to kill bacteria, prevent the formation of dark spots and acne. When combined with mint leaves, it will help treat acne effectively, giving you a smooth, healthy glow.
The method is very simple, you just need to puree 1 handful of mint leaves and mix it with 20ml of rose water. Apply this mixture on your face for 15 minutes and then wash it off with water. Persistence in doing it 2-3 times per week, you will see surprising acne treatment results.
+ Address Good Dermatology Acne Treatment In Ho Chi Minh City
2. Combine with flour and yogurt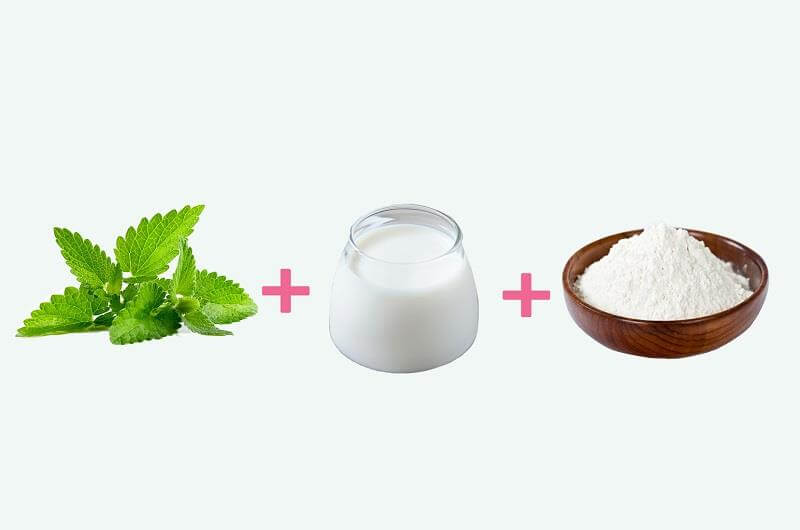 Wheat flour is one of the ingredients that are rich in skin lightening nutrients. Yogurt helps moisturize, regenerate new skin, prevent the formation of dark spots. When combining the above ingredients with mint, it will create a mask that works to treat acne, heal lesions without leaving scars as well as effectively whiten skin.
Puree mint leaves, then mix well with 1 cup of flour and 100ml of unsweetened yogurt. Apply the mask mixture just obtained on the skin for about 15 minutes, then rinse with water. Do it 1-2 times a week to get rid of acne as well as dark spots.
+ Natural Oil-Reducing White Mask How to Prepare
3. Combine with turmeric powder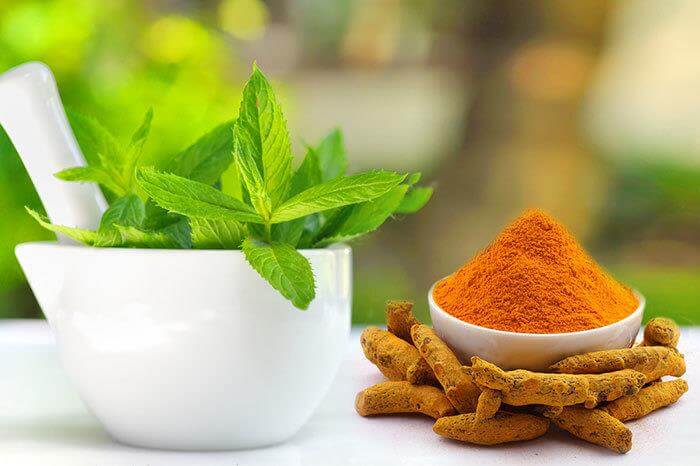 Surely you are no stranger to the ability to treat acne as well as bruises of turmeric. So when turmeric powder combined with mint will help you get rid of acne as well as bruises very well.
Mix turmeric powder with a little warm water. Mint leaves are pureed then mixed with the turmeric starch mixture above. Apply this mixture on your face for 15-10 minutes and then wash it off with warm water. If you have a lot of acne, you can leave this mask on overnight. Do it 1-2 times per week, you will completely remove the pesky bran acne from your skin.
+ Prepare Collagen Mask From Natural Ingredients
4. Combine with cucumber, green clay powder
If cucumber contains many vitamins and minerals that help retain moisture, tighten pores to bring a smooth and youthful skin. Then green clay has the ability to gently cleanse, exfoliate the skin, absorb excess oil and acne treatment effective. So this is a great combination for those who have acne-prone skin.
Blend the peeled cucumbers with the mint. Then squeeze out the water, mix green clay powder to form a paste. Apply this mixture on the face and neck area, wait for about 15 minutes, then wash your face with water. Using this mask 3 times a week, the most annoying acne spots on your face are also eliminated.
+ The Nutrients Needed Supplement During Acne Treatment
5. Use pure mint water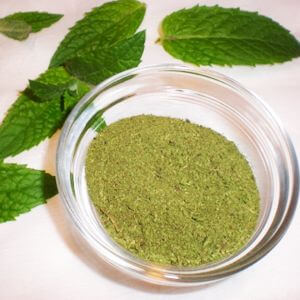 As mentioned above, mint contains a lot of salicylic acid, so just using each mint leaf can help you treat acne effectively without having to combine with any other ingredients.
You just need to grind mint leaves and squeeze out the juice. Then use a cotton ball soaked in pure peppermint water solution and apply it on the acne-affected skin. Leave it on for about 45 minutes and then wash it off with water. Acne-prone skin will quickly disappear, returning you smooth skin.
Note:
The number of times to apply the mask depends on each type of material, do not do too much will cause bad results for the skin.

Ensure materials used as well as implements must be clean.

Apply moisturizer suitable for each skin type after applying the mask. Combine with the application of sunscreen during the day because the skin is very susceptible to the effects of the sun as well as help promote the best effect.
Acne treatment requires great patience and perseverance, so you should not be too hasty. Besides, in addition to using acne treatment ingredients, you need to have a proper skin care process combined with a diet and scientific activities for acne treatment to be successful.
With the above sharing of Miss Tram Academy, Hope you get rid of those pesky pimples quickly with mint. Wish you success and own smooth, youthful skin.
See more articles beauty news other:
Discover 9 Standout Eye Makeup Styles
Learn Skin Care Secrets Like Thai Women