Big pores This is a problem that many people have. Although it is not dangerous, it greatly affects facial aesthetics; Hence the need to find solutions tighten pores is at a high level. To meet this need, along with temporary, slow-acting methods such as clay masks, facial steaming, applying medicine..., high-tech treatment at spas is a trend because of its fast and long-lasting effectiveness. long.
As someone working in the spa field, updating and applying the... treatment for large pores The best will help you improve your qualifications and reputation. So to shrink pores, what are the methods that are highly appreciated? Miss Tram Academy help you answer through the following article.
Safe and Effective Pore Tightening Treatment
1. Needling to treat large pores
Needle roller is one of the modern and effective pore reduction treatments, so it is widely used in many skin care and treatment facilities. This method uses rollers with many tiny needles attached to cause beneficial fake damage on the surface of the skin. This process helps stimulate regeneration and collagen production for the skin.
Highlights:
Feel your pores visibly shrink after each treatment.

In addition to treating large pores, the microneedling method also helps improve many other skin problems such as acne, melasma, freckles, wrinkle reduction, and skin rejuvenation.
+ Recommended: Tutorial How to effectively treat facial skin with large pores
2. Fractional CO2 laser treats large pores
Fractional CO2 Laser Laser It is also a solution for treating large pores that is highly appreciated for its effectiveness and safety. This method uses 2nm wavelength CO10.600 Laser rays to penetrate deeply into the dermis without invading surrounding skin areas. The result helps stimulate collagen production, visibly shrinking pores.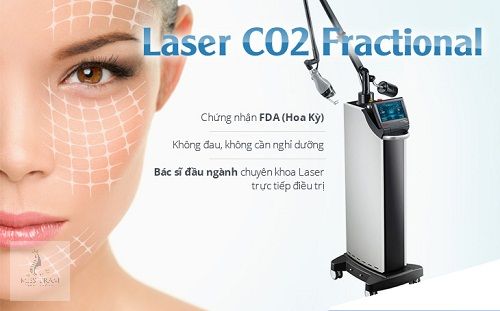 Advantage:
Effective quickly, good bodies will see positive changes after the first treatment.

Does not cause pain or damage.

Short treatment and recovery time.
3. Ultra-microscopic RF treats large pores
Ultra-microscopic RF treatment for large pores is being widely applied in many dermatology clinics, spas, and beauty salons; This is a combination of microneedling and RF electromagnetic waves. The treatment is most suitable for customers with large pores that persist and turn into sharp bottom scars.
With this method, RF waves affect the dermis layer of the skin combined with the impact on the surface of the needle to stimulate the skin's self-healing mechanism, increasing collagen production. From there, it effectively improves skin structure and shrinks pores.
+ See more: Effects Of Collagen For The Skin
This treatment has advantages:
Comprehensive treatment effect, the needle rolls evenly on all positions on the face.

Save time with a short treatment schedule.

No need to abstain or rest after treatment.

In addition to treating large pores, the treatment also helps reduce dark spots, fade scars, and reduce wrinkles and grooves on the skin.
4. Treat large pores with microneedling combined with PRP platelet-rich plasma
Large pore tightening treatment with microneedling combined with PRP platelet-rich plasma Also use the roller head to cause damage to certain skin areas. A special feature is the combination of PRP (Platelet Rich Plasma) platelet-rich plasma injection/application to stimulate collagen and elastin synthesis, wound recovery to effectively reduce pores.
Highlights of the treatment:
Can improve up to 90% of large pores, depending on each person's constitution and condition.

Short vacation time.

Few side effects.
5. Shrink pores with biological skin peeling
Biological skin peeling treatment Helps tighten pores effectively thanks to an intensive exfoliating mechanism - using chemical agents with certain concentrations to promote keratin cells to peel and stimulate skin regeneration.
Shrinking pores with biological skin peeling can be divided into 3 levels: light, medium and deep. Depending on each pore condition, doctors and dermatologists will advise on appropriate skin peeling methods.
Advantages of the treatment:
Does not cause pain, only mild stinging depending on the sensitivity of the skin.

Does not take much time for treatment.

Long lasting effect.
6. Mesotherapy injections tighten pores
Mesotherapy Use microscopic needles to deliver nutrients (vitamins, enzymes, hormones, plant extracts...) into the skin, improving the condition of large pores. Active ingredients penetrate deep into the dermis to stimulate the body to regenerate new cells, promote collagen and hyaluronic acid growth, effectively tightening pores.
Advantages of Mesotherapy:
Minimally invasive method, painless, leaving no scars.

Improves many skin problems: shrinks pores, reduces oiliness, makes skin shiny, deeply moisturizes...
7. Inject mesobotox to tighten pores
Mesobotox treatment Use a micro-needle to inject a small amount of Botox (botulinum toxin) evenly on the face, usually in the T-zone. The injection site of mesobotox is in the subcutaneous layer, thereby helping the facial skin instantly smooth and tighten pores. less.
Mesobotox to shrink pores is widely used by:
Quick effect.

High safety.

The results last for quite a long time: 6 - 8 months, sometimes up to 12 months.

No downtime.
Just now are the treatment for large pores It is widely used today because of its good effectiveness and high safety. If interested in these skin care and treatment course in Miss Tram Academy, let's contact Come to us for advice and support.