Back acne This is a fairly common problem and causes discomfort for sufferers. However, the good news is that there are now many specialized treatments back acne treatment Modern and effective products are being applied in the beauty field.
As a spa professional, it's important to know everything Special treatment for back acne will help you gain more knowledge and skills to take better care of customers. This paragraph, Miss Tram Academy introduce to you information TOP Effective Back Acne Treatment Best Now.
Safe and Effective Back Acne Treatment
1. Treat back acne with Omega Light biological light
Omega Light biological light therapy Has the ability to destroy stubborn acne, kill acne-causing bacteria, and dry acne wounds to return acne-free, bright and healthy skin. Thanks to the use of gentle and appropriate wavelengths, this treatment also helps avoid skin darkening after treatment.
Other advantages:
Short treatment time.

Prevent back acne from recurring.

Suitable for all skin types, including severe acne.
2. Treat back acne with needle/non-needle rolling
Needle rolling treatment is widely used to "erase" acne and the traces they cause on the back skin. The method uses a small needle to create shallow wounds on the skin surface; According to the body's self-recovery mechanism, these wounds, when healed, will lead to the healing of previous acne and scars.
Highlights of the treatment:
"Remove" all types of back acne: acne, cystic acne, pustules, follicular acne...

Contributes to the treatment of other skin problems such as pitted scars, dark spots, melasma, freckles...

Stimulates the production of Hyaluronic Acid and Collagen to moisturize and increase skin elasticity; helps skin smooth and rejuvenate.

Supports cleaning and tightening pores.
3. Back acne treatment using Fractional CO2 Laser technology
Method Treat back acne with Fractional CO2 Laser technology Highly appreciated for its safety and effectiveness in removing acne - bringing soft, smooth skin to customers. The treatment uses 2 nm wavelength CO10.600 Laser to penetrate deep into the dermis to treat back acne and regenerate skin. Shrink pores and rejuvenate the skin.
Advantages of the treatment:
Treatment of back acne is up to 99% effective, preventing acne recurrence.

Certified by the FDA as safe even for sensitive skin.

Does not leave dark scars after treatment.

Treatment time is quick, no downtime required.
4. Treat back acne with biological skin replacement technology
Biological skin replacement technology (skin peel) Using active ingredients that are naturally derived acids with the effect of promoting the natural biological skin turnover process, increasing new cell proliferation, and effectively eliminating back acne.

Advantages of skin peels in treating back acne:
Safe, painless and non-invasive to the skin.

Doesn't take much treatment time, no need to rest.

The effect is noticeable after 1 treatment and is maintained for a long time.
5. Treat back acne with PDT method
PDT method Use a light-sensitive substance to apply to the acne-affected back skin. This substance is incubated for a certain time on the skin to penetrate into the sebaceous gland follicle unit. Technicians then use light to activate this light-sensitive substance, helping to destroy sebaceous glands and kill P. acnes bacteria that cause acne.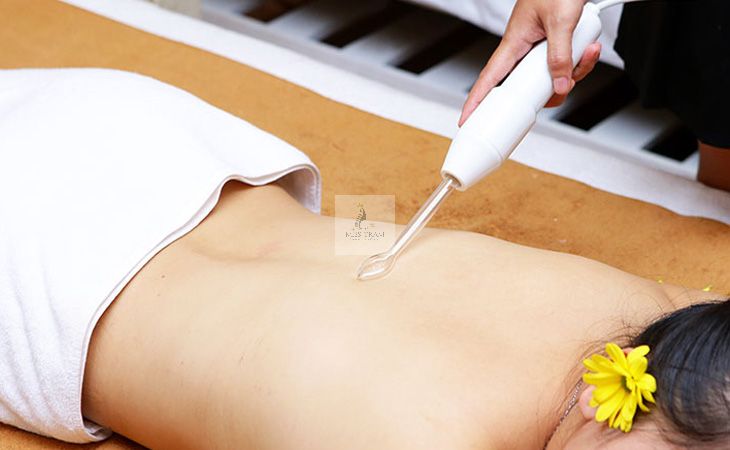 Effectiveness brings:
Treats acne, blackheads, pustules, bran acne, hidden acne... on the back.

Blurs scars and dark spots left by acne.

Shrink pores.
6. Treat back acne with Nano Skin treatment
Nano Skin treatment Can effectively treat back acne conditions such as tiny acne, acne, blackheads, acne... Using Nano light with pulse capacity of 20ms long, wavelength 1,320nm; The treatment helps quickly improve acne, control the amount of oil secreted - indirectly preventing acne from recurring.
Other advantages:
Helps the back skin surface to be clear, easily absorb skin care nutrients as well as quickly restore damage caused by acne.

No invasive intervention, no pain or discomfort when performed.
7. Back acne treatment with IPL technology
IPL (Intense Pulsed Light) Use light pulses with appropriate wavelengths to treat back acne. Back acne treatment with IPL technology applies to a variety of conditions inflammatory acne, hidden acne, acne related to hormones... with an effectiveness of up to 85%.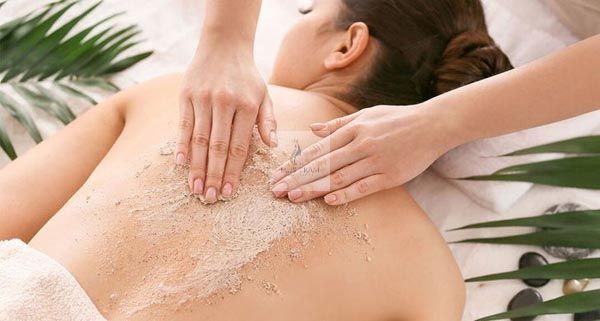 The treatment is also highly appreciated by:
Does not cause pain - damage.

Does not leave scars or dark spots.

Short treatment time.
+ Proposal: Instructions on How to Take Acne Correctly Đúng
Above are the Back acne treatment is effective and highly safe is being widely applied. If you have a need to improve your qualifications and skills, please contact us back acne treatment course in Miss Tram Academy, please contact Contact us to receive advice. With more than 18 years in the beauty industry, we are confident in providing the most practical and quality courses, ready to accompany students throughout their cosmetology career!