Opportunity to develop as well as increase income for Cosmetic tattooing profession is very large. And if you have enough experience, specialized knowledge and a certain amount of capital, the Open a tattoo parlor is recommended. However, to open a tattoo parlor you need to meet a lot of factors. In particular, the first factor you need to pay attention to is compliance with the law. So What does the law need to open a cosmetic tattoo shop?? Please refer to the following article of Miss Tram Academy ok
Law on Opening Aesthetic Tattoo Salon
With today's modern development, the need to beautify, take care of and perfect the defects on the body is great. One of the services that many people choose today is Spray cosmetic tattooing. That's the way to help people get a sharp eyebrow, rosy, fresh lips, big round, attractive eyes.
With a non-invasive method that is not too deep into the skin, only the ink is inserted into the outer epidermis, so there is almost no impact on health after implementation. Therefore, more and more people are choosing and looking to these beauty methods, so cosmetic tattooing has become one of the hottest professions today.
Note: Transmission of Tattooing, Embroidery, Aesthetic Sculpture
If you also have a passion for the profession, want to open your own business, this is a great opportunity for you. However, you need to know the law in order to have the advantage in the business process as well as not be hindered later.
Some things you need to keep in mind, the necessary procedures when opening a cosmetic tattoo parlor such as:
1. Business License Registration (Practicing License)
A business license (Practice License) is a necessary and sufficient condition for an individual/organization operating in the cosmetic tattoo industry with certain conditions to be allowed to operate a legal business. A business license is a certification issued by a competent state agency for that business establishment and is the basis for state management agencies to manage social order and business conditions more easily.
Dossier of application for a license to operate a cosmetic tattoo spray business includes:
An application for an operation license according to the prescribed form

Certified copy of the official Certificate of Cosmetology Embroidery, issued by the Ministry of Labour, Invalids and Social Affairs of all practitioners and the list of registered practitioners.

The declaration of physical facilities, medical equipment, of the business establishment.

Documents proving that the establishment that registers for cosmetic tattoo spray business meets the conditions on facilities, equipment, organization and personnel in accordance with regulations.
After you have a license to practice, you can open a business. And provide the right service Aesthetic Embroidery Spraying industry that I signed up for.
2. Qualifications for employees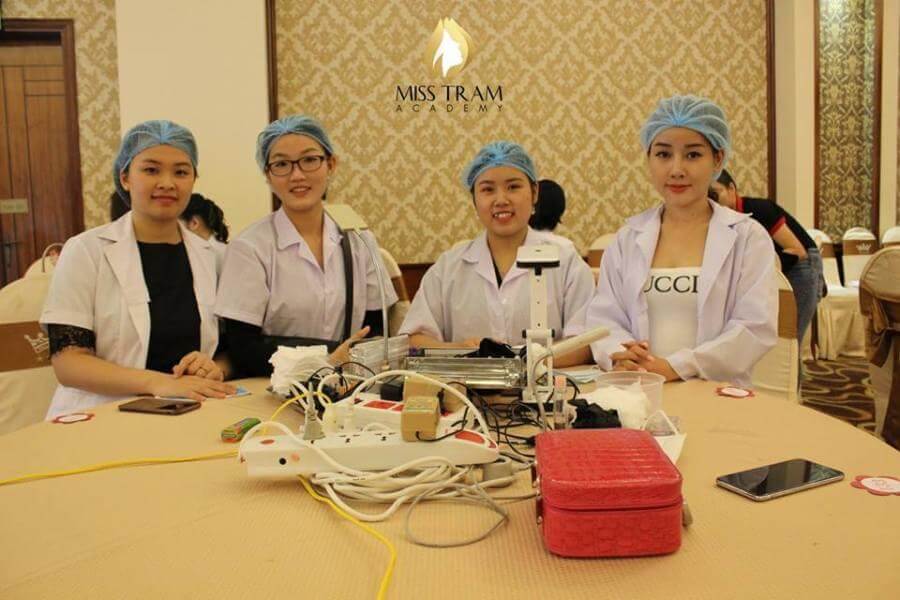 Note: Skin Care and Treatment Specialist Training
If you open a small-scale tattoo parlor without any employees, it's okay. If your salon has a large scale and hires employees to work, it is required that all technicians of the center must have a formal aesthetic injection certificate issued by the Ministry of Labor, Invalids and Social Affairs.
In addition to the formal degree of Cosmetic Embroidery, technicians need to graduate and be granted a certificate of prevention of infection with biological blood fluids issued by a competent health facility.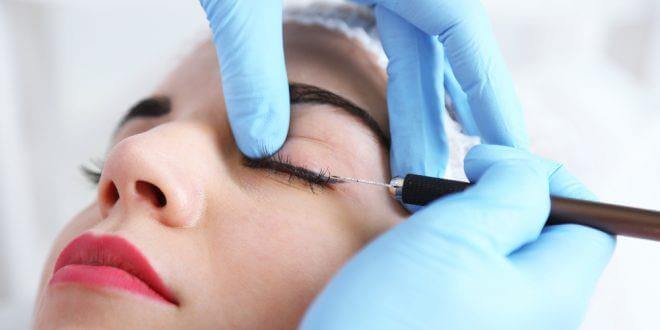 Above are some necessary procedures when you want to open a cosmetic tattoo shop that you need to prepare to ensure compliance with the laws of the State.
In addition to the above procedures, in order for your establishment to go into operation and run smoothly, first of all, you need to be a person with high professional knowledge, solid skills, and confidence to perform on guests. Besides, you need to have knowledge, management skills as well as the ability to handle situations that arise during operation.
Because the causes of situations arise are many and you cannot prevent them in advance. It is how you handle the situation that will help you improve your brand, reputation or worse, leave customers disappointed, not satisfied. This will lead to loss of trust in customers, leading to unsuccessful business.
Note: Sharing Experiences To Open A Successful Cosmetic Tattooing Facility
You can sign up for management classes if you feel you don't have enough confidence and experience in this field. Currently, there are many training centers in Ho Chi Minh City that provide reputable and quality management courses that you can refer to. There, not only will you learn management theories, but you will also be able to share the actual working experiences of the lecturers, helping you to have a realistic view. From there, draw your own secret for your own business.
Some information that Miss Tram Academy We hope to help you better understand the legal issues related to opening a cosmetic tattoo parlor. Entrepreneurship is a very long process. Good luck in opening your shop and be successful.
See More The Will Helpful Other Miss Tram Academy:
Does Tattooing Have Chemical Exposure?
Mistakes When Styling Eyebrows