Nowadays, not only women but also men choose skin care treatments at spas and beauty salons to get smooth, youthful skin. And this is also an opportunity for thousands of spas and beauty salons to offer a variety of skin care packages every day for guests to choose from.
If you are the manager of a spa, beauty salon, then you are quick and experienced in providing good products and services that receive the most support from customers, which is quite easy. But if you have no experience because you are new to the profession, please refer to this article of Miss Tram VietNam Please. Here is an article about requests to help you Manage skin care services for customers safely and effectively.
Notes In Managing Facial Services For Customers In Spas, Beauty Salons
1. Requirements for technicians
Technicians are the ones who directly perform skin care procedures for customers, so they need to meet the basic requirements of both knowledge and skills. How to both provide quality services and bring satisfaction to customers.
Execution skill is the first important thing that every technician should have. Because in skin care procedures, technicians must use their hands skillfully to perform stages from facial hygiene, exfoliating to massage with nutrients, ... A good technician while performing the correct technique at each stage, it brings comfort and relaxation to customers while providing effective skin care.
Footnotes: Should You Study While Working in Spa Industry?
Requirement of professional knowledge
In addition to skill requirements, specialized knowledge is also essential. Maybe for a technician, in-depth knowledge of skin, how to treat skin diseases is not necessary. However, the technician also needs to know the basics of skin care, how to distinguish symptoms on the skin, etc. to be able to listen and answer the customer's questions and give them answers. Useful tips for customers.
Requirements for safety and hygiene
Hygiene is a special thing that needs attention of each technician and spa. Just one of the steps in skin care is not guaranteed can cause serious problems, affecting the skin of guests and the reputation of the spa.
Therefore, it is necessary to ensure the hygiene of tools, utensils and utensils used for customers. Each technician also needs to keep clean, in addition to uniforms, neat hair and ears, before and after each skin care procedure for customers, they need to wash their hands with antibacterial soap.
Footnotes: Law on Opening Aesthetic Tattoo Salon
2. Proper skin care process
In addition to the spa technician requirements, the facility needs to make sure to follow it skin care routine for each customer. This will help bring the best effect, so that customers own beautiful, smooth skin after each procedure. Thereby improving the reputation, attracting a large number of guests to the spa facility.
Visit and check the customer's skin
The step of skin examination and examination is the first and especially important step that spas often overlook for customers who come and choose facial care services. With this step, you can inquire about the customer's skin condition, daily care, are there any ingredients that need attention or are allergic?
From there, give specific advice to customers as well as use appropriate skin care products. With just short exchanges, you can gain the trust and sympathy of customers for you, and help the skin care step to be more effective.
Offer a specific skin care routine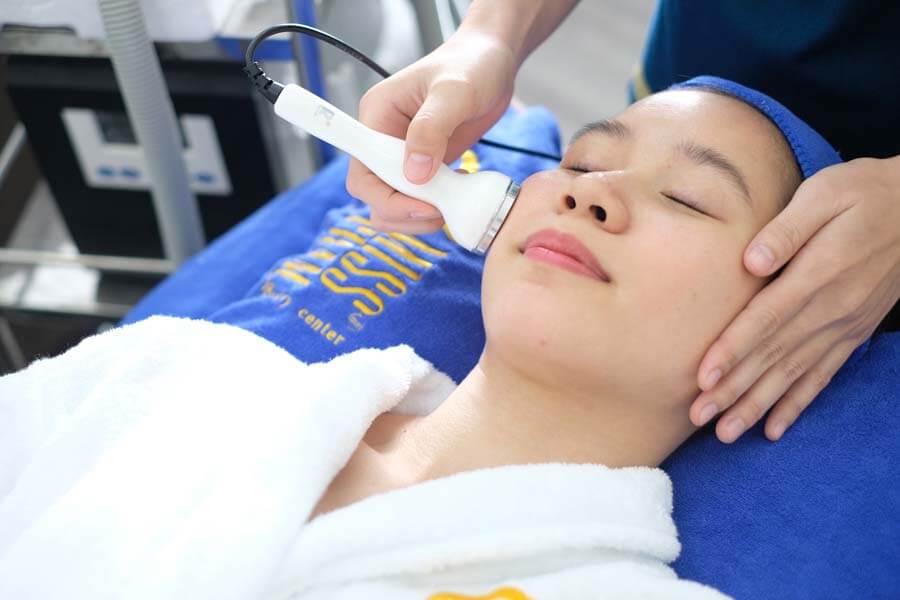 Although customers choose skin care services, but after going through the skin examination and examination, can you know if the customer's skin is having any problems? From there, give a specific skin care routine and advise customers to follow that process.
Follow safe and effective skin care steps
After the consultation step, invite the customer to bed for the technician to perform facial care steps, and at the same time inform the responsible technician what to note as well as the customer's skin characteristics to choose. suitable product.
During the implementation, it is necessary to ensure safety and hygiene as well as perform the right techniques suitable for the skin. For example, with acne-prone skin: massage should not be performed, which can cause acne to spread and become more serious, at this time the technician should only gently clean the face and apply a suitable mask. well suited.
Footnotes: New Trends Skin Care
Ask customers' opinions and feelings
After completing the skin care steps, the staff can ask for customers' opinions and feelings after using the service to help the spa become more and more perfect. At the same time, advise customers on how to take care of their skin in accordance with the current skin condition, what to pay attention to for beautiful, smooth skin.
So Miss Tram Academy shared with you how to take care of your customers' facial skin safely and effectively. Hopefully this article will help you find the right facial skin care process for your business situation, thereby receiving high reviews from customers.
See More About News – Sharing Experiences Other Miss Tram Academy:
Skin Health Is Affected By What Factors
How to Take Care of Hands for Spa Technicians