You know fresh milk is a beauty ingredient, capable of whitening and brightening skin, but you don't know which recipe is the best? If you are wondering, please refer to the following article of Miss Tram Academy .
What is good and safe milk whitening mask with fresh milk
Fresh milk có rất nhiều tác dụng hữu ích với làn da, bao gồm làm mềm lớp da thô ráp, làm sạch sâu pores, kiểm soát dầu nhờn, diệt vi khuẩn, dưỡng ẩm và nuôi dưỡng làn da sáng mịn. Ngay từ xa xưa, sữa tươi đã xuất hiện trong các phương pháp làm đẹp của phái nữ, điển hình nhất là nữ hoàng Cleopatra với phương pháp ngâm mình trong sữa tươi giúp làn da mịn màng hoàn hảo.
Over time, raw milk has been intensively researched (both for its health and beauty effects) to find nutrients that have the potential to have a positive impact. And these are the amazing ingredients found in raw milk.
Lactic acid: this is an alpha hydroxy acid that helps break down dead cells, allowing the skin to regenerate quickly.

Calcium: has the ability to strengthen the skin layer, heal dry manifestations on the skin.

Potassium: helps to increase moisture, deeply nourishes skin cells.

Vitamin B12: Brightens and smoothes skin, evens skin tone.

Protein: strengthens the skin structure, helps skin smooth, limit signs of aging.

Vitamin D: kích thích da sản sinh collagen, làm chậm quá trình hình thành nếp nhăn.

In addition, fresh milk also contains a lot of Vitamin B6, Vitamin A is essential for the formation of new skin cells, enhancing skin vitality.
+ Note: Preparation of Skin Whitening Mask for Pregnant Women
How do we prepare skin whitening mask from fresh milk?
In order for fresh milk to promote its great use, when preparing the mask, you should combine it with other natural ingredients. The suitable mask recipes for skin care at Spa suggested include:
1./ Butter and fresh milk
Butter and fresh milk are two ingredients that are especially effective for skin that has problems with moisture loss and uneven tone. Avocado will help hydrate skin, reduce oiliness while fresh milk deeply works to soften rough skin.
The reason why avocados combine harmoniously with fresh milk is because this fruit contains a large amount of Vitamin E, healthy fats and natural oils that bring moisture, deep clean pores as well as heal inflammation on the skin.
To prepare the mask you need to prepare:
1 tablespoon fresh milk

1/4 ripe avocado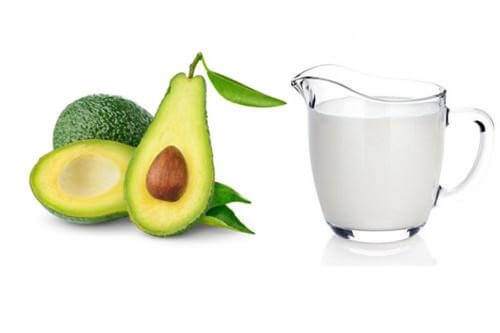 Perform:
You mash the butter and add fresh milk and mix well. When forming a smooth paste, apply on the client's face. Note that we will apply the mask in a circular motion, let the guest lie down for 10 to 15 minutes. At this point, the mask will dry, use a towel dipped in warm water or use your hands to remove the mask pieces. Then rinse off with cool water.
When applying the mask, if the ingredients are still available, apply it to the neck area to keep the skin nourished and beautiful.
+ Note: How to Whiten Face Tighten Pores
2./ Fresh milk + oatmeal + honey
Honey is inherently antibacterial, antiseptic, and anti-inflammatory. When used in beauty, this ingredient will help improve acne, brighten skin, fade dark spots and especially fight bad free radicals.
Oatmeal contains ingredients that are able to absorb sebum and excess oil on the skin naturally, bringing ventilation to the pores, pushing dirt and bacteria out. Not only that, oatmeal also has a special texture, creating a gentle abrasion to remove all old dead cells.
Mask ingredients:
1 tablespoon fresh milk

1 teaspoons honey

1 teaspoon of oatmeal
Perform:
You mix all these ingredients in a clean bowl, then use a brush to apply to your face in gentle circular motions. Let the skin rest completely for 10 minutes. This mask needs to use warm water to wash off.
3./ Fresh milk + turmeric + lemon
Turmeric is appreciated for its ability to heal wounds and scars. Not only that, antioxidant compounds and large amounts of Vitamin B, Vitamin C will promote collagen production, maintain elasticity and even skin tone. What about fresh lemon? The natural acid of lemon is especially effective for dark areas because it can improve pigmentation and stimulate new skin to produce.
Mask ingredients:
1 teaspoon turmeric powder

1 tablespoon fresh milk

1/4 teaspoon lemon juice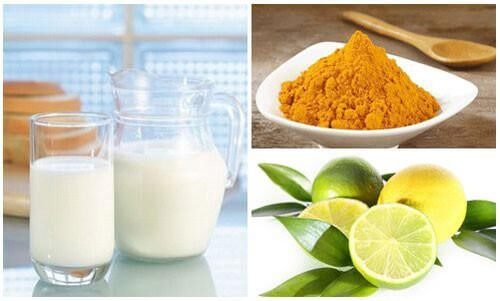 Perform:
These ingredients just need to be put in a bowl and mix well. The mask is evenly applied to the face and kept on the skin for about 15 minutes, then rinsed.
+ Note: How to Whiten Face Without Cosmetics
Note when preparing skin whitening mask with fresh milk:
Choose only unsweetened fresh milk to avoid clogging pores or other irritations

Combined ingredients such as honey or turmeric powder must be pure, not mixed with preservatives

After the mask is prepared, it must be applied immediately, because preservation may cause nutrients to be lost or negatively changed

It is necessary to remind guests to take protective measures to protect their skin from the sun when going out.
The above are the share of Miss Tram Academy. Hope you always have a bright, smooth skin like you want!