With its anti-inflammatory and antibacterial properties, Vera It is a very popular ingredient in beauty and especially in the treatment of acne. With the article below, Miss Tram Academy I will introduce to you the simplest mask from aloe vera that works very well for the skin sensitive acne skin. Let's follow it!
Aloe Vera Mask For Sensitive Acne Skin
Aloe vera has both anti-inflammatory and anti-acne properties, helps with skin irritation, and brings a smooth, healthy skin
Ages ago long ago, Vera has been a popular ingredient used in the beauty of women. In aloe vera contains Glycoprotein active ingredients that help inhibit the process of skin irritation for Histamine reactions (an amino acid in the body). In addition, aloe vera is also rich in Vitamins B1, B2, B6, and Cinnamic Acids that have the effect of regenerating new skin cells.
Therefore, in addition to the anti-inflammatory and antibacterial effects that help regenerate irritated skin cells, aloe vera also works very well in moisturizing, softening, and whitening the skin.
Lane sensitive skin When applying an aloe vera mask, it will help soothe red acne spots, heal quickly the damage caused by acne, prevent acne from returning as well as help the skin be healthier, against irritation from the lips. school, cosmetics.
+ Note: Instructions on how to take care of lips after peeling safely
Some masks from aloe vera for sensitive acne skin
1. Simple aloe vera mask
No need to combine sophisticatedly different ingredients, you just need to use the clear gel of aloe vera to have an acne mask, preventing irritation for sensitive acne skin.
Doing:
Remove the green outer shell with the yellow plastic layer and wash it.

Take that transparent gel and apply it on your face and gently massage in a circular motion from inside to outside, from bottom to top to help absorb nutrients as well as make skin firmer.

Wait for about 25-30 minutes and then wash your face with cool water.
+ Note: How Beautiful Eyebrow Shaping Process
2. Aloe Vera Honey Mask
Honey It is one of the ingredients with antibacterial properties besides the ability to provide moisture to the skin. When aloe vera is combined with honey, it will help clean the skin, quickly remove the obnoxious acne spots and regenerate the smooth skin.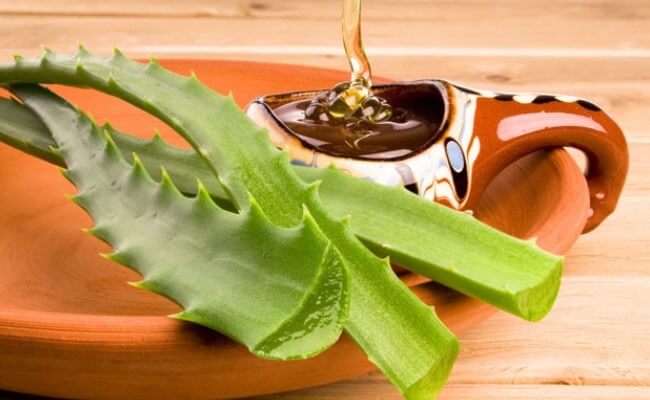 Doing:
You take the gel in aloe vera after you have removed the outer green skin and washed it. Puree and mix with honey.

Apply the mask mixture on the acne area and wait for 15-20 minutes. Then rinse off with water.
Do it 2-3 times a week, the skin will become smooth and clear of acne.
+ Note: 3 Ways To Whiten Face For Sensitive Skin Safe and Effective
3. Yogurt aloe vera mask
Lactic acid in yogurt is one of the ingredients that help increase skin resistance, besides, yogurt also nourishes and prevents darkening. When combining aloe vera with yogurt, it will produce a mixture that not only effectively prevents and treats acne, but also obnoxious bruises do not have the opportunity to appear on your skin.
Doing:
After removing the green skin and washing the aloe vera flesh, combine with unsweetened yogurt and puree.

Apply this mixture on the skin for about 20 minutes, then rinse with warm water. Then rinse with cool water to close pores.
For best results, you should use this mask 1-2 times per week.
Because acne skin will be very sensitive and even though the ingredients introduced above are completely natural, there will still be irritation if not suitable. So, test the ingredients and make sure they are suitable for your skin before applying to a larger area.
Wish you soon find your smooth skin again with the above sharing of Miss Tram Academy!
Above has introduced to you about the use of aloe vera, how it works in beautifying the skin and instructions on the top 03 recipes specializing in making aloe vera masks for sensitive skin. So what are you waiting for, if you don't apply it at home with the above three recipes. But before doing it, it is important to note what your skin type is, to make sure because there are some skin types that will be allergic to using aloe vera.
In addition, for more specific knowledge, you can refer to the textbook In-depth skin care material Advanced level of Miss Tram beauty academy or consult and register for a course consultation learn basic skin care leading reputation in Ho Chi Minh City.
Note: Especially when you become a member of Miss Tram Academy, you will have a VIP account to refer to our internal courses and documents here: https://misstram.edu.vn/tong-hop-cac-tai-lieu-dao-tao-noi-bo-tai-hoc-vien-miss-tram/