With the development of cosmetic services today, the spa industry is favored by many young people. Because not only is it easy to learn, easy to do, and has a stable salary, but this beauty profession is gradually becoming a professional profession with many development opportunities in the future. However, to be fully equipped with spa knowledge and skills, you need to study at a reputable vocational training center, have a methodical curriculum and be accompanied by regular practice.
Miss Tram Academy is a professional spa training center with courses from basic to advanced. In nearly 20 years of experience in the beauty industry, Miss Tram has brought satisfaction to thousands of customers, trained thousands of students to create jobs. Therefore, Miss Tram is always confident and committed to the quality of her training. So what does the Spa course at Miss Tram include? Does Miss Tram Academy allow you to learn Spa in installments? Please refer to the following article to better understand the courses at Miss Tram.
Miss Tram Academy Has Spa Apprenticeship Installment Installment
1. What does the spa course at Miss Tram have?
Spa is an industry with many different areas of knowledge and skills. However, to become a professional spa specialist, you need to fully learn those skills. For beginners, Miss Tram is always aiming for a full spa course to make sure to learn all the necessary skills.
The package course on intensive skin care for spa at Miss Tram Academy includes:
Knowledge and usage of all beauty tools and equipment.

Research on skin condition such as all kinds of acne, melasma, freckles, aging skin.

Recipes for whitening, beauty.

Skin care techniques.

Techniques to get acne kernels properly, avoid scarring.

The most modern skin care and beauty treatments available today.

Facial, head - shoulder - neck massage techniques.
The content of this course has met all the job needs after graduation. Therefore, after completing the course, students can completely practice or open their own beauty salon.
Notes: What's required for a Spa Practitioner's Certificate?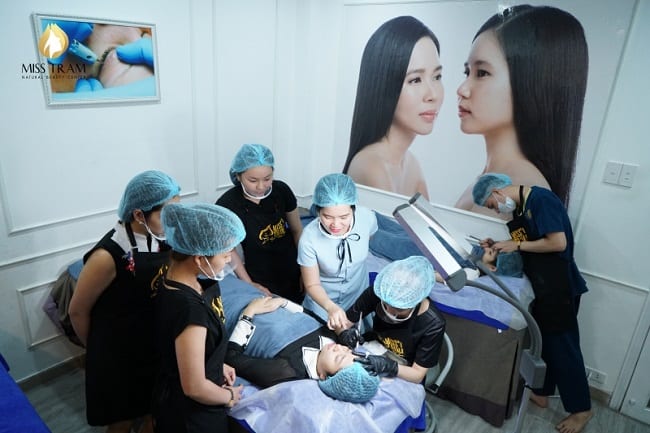 For students who want to become a professional skin care and treatment specialist, you can learn more about Spa - Advanced Skin Care and Treatment.
Professional skin care and treatment courses at Miss Tram Academy include:
Treatment of acne - pitting - skin restoration by methods: Oriental medicine, Fractional CO2 Laser, Non-metallic stem cells.

Solutions to prevent acne recurrence after the treatment.

Solutions to treat oily skin, restore damaged skin.

The secret to treating melasma, freckles, age spots, brown spots by Laser.

Guidelines for analyzing and giving treatment protocols for each skin case.

Techniques for skin rejuvenation, pore tightening, eyelash/eyebrow growth.

Laser tattoo removal and hair removal techniques.
The professional course is suitable for those who want to go far and want to stick with the Spa - Skin Care profession for a long time. At the same time, create a springboard to help you become a Spa Manager or Trainer of skin technicians later. Therefore, depending on your vocational training needs, choose for yourself the most suitable direction.
Notes: How long does it take to learn the beauty spa profession?
2. What made you choose to study Spa at Miss Tram Academy?
Miss Tram Academy owns a team of experienced instructors and a well-trained curriculum, helping students to learn both theory and practice at the same time, so they make clear progress through each day of study. Besides, the Spa - Skin Care courses at Miss Tram also have outstanding advantages:
Trained in spa skills from basic to advanced according to the process of "Handheld work - practical application".

The ability of each student is closely monitored and the study time is not limited if the student has not achieved the skill.

Practice and apply the knowledge on real people.

The curriculum is methodical, practical and theoretical in parallel with practice with >80% of practice time.

Trained in the skills of Counseling - Monitoring the process - Giving a treatment plan - Solving crises with customers.

Have the opportunity to receive scholarships up to 30 million and high-paying jobs at Miss Tram.

Take the exam to get the official practicing certificate and commit to 100% professional skills as well as get a job at prestigious spas. Or open your own spa right away.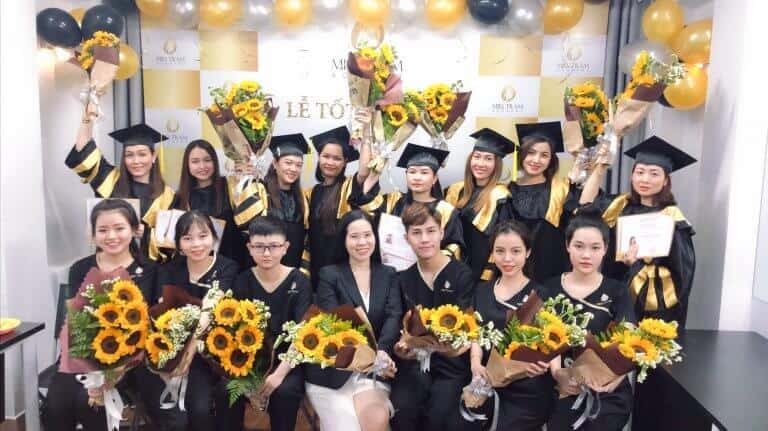 So, does Miss Tram Academy have a form of installment learning?
Although Spa - Skincare courses usually only last from 2-3 months, Miss Tram always creates maximum conditions for students such as:
Very affordable tuition.

Free equipment and tools during the course.

Support clean and comfortable accommodation for students who are far away.

Award scholarships to students who are passionate about the profession.
In particular, with professional Spa courses, students can pay tuition fees in advance of each stage: Basic Course and Advanced Course. Thus, students with difficult circumstances can be more secure and motivated to pursue their careers.
Notes: Learn The Development Path Of The Spa Profession
Owning a team of professional instructors, always dedicated to the profession, with practical training curriculum and advanced Spa - Skin Care techniques. Miss Tram Academy confidently bring the best quality teaching to each student. In addition, Miss Tram always supports the needs and difficulties of each student in the vocational training process. So, as long as you want to pursue the Spa industry, please contact Miss Tram Academy for the most specific advice.
Hope this article will be useful to you. Good luck on your chosen path!
See More About News – Share Other Miss Tram Academy:
Does Miss Tram Academy Offer Installment Cosmetology Tattoo Lessons
What is required for Eyelash Extension Practice Certificate?