In recent years, eyelash extension job is one of the beauty professions chosen by many young people, surpassing professions such as nail art, hairdressing, and traditional makeup. Not only is it an accompanying service, but now eyelash extensions are considered a main service at Spas - Beauty salons. Therefore, the need to learn professional eyelash extensions is increasing to meet the rigorous human requirements of large cosmetology facilities.
Miss Tram Academy is a prestigious vocational training center with nearly 20 years of experience in the beauty industry, bringing satisfaction to thousands of customers and creating jobs for thousands of students. Therefore, eyelash extension courses at Miss Tram are always favored by many young people. So, what are the outstanding courses at Miss Tram Academy? Does Miss Tram have an installment plan to learn eyelash extensions? Let's find out through the following article.
Does Miss Tram Academy Offer Installment Eyelash Extensions?
1. What are the eyelash extension courses at Miss Tram Academy?
Unlike traditional eyelash extensions, to become a professional eyelash extensionist with opportunities for future career development, you need to learn the most methodical and complete eyelash extension techniques. In particular, always update the latest eyelash extension techniques and trends to meet the strict beauty needs of customers. Therefore, the eyelash extension course at prestigious Vocational Training Centers like Miss Tram Academy is the right choice for you.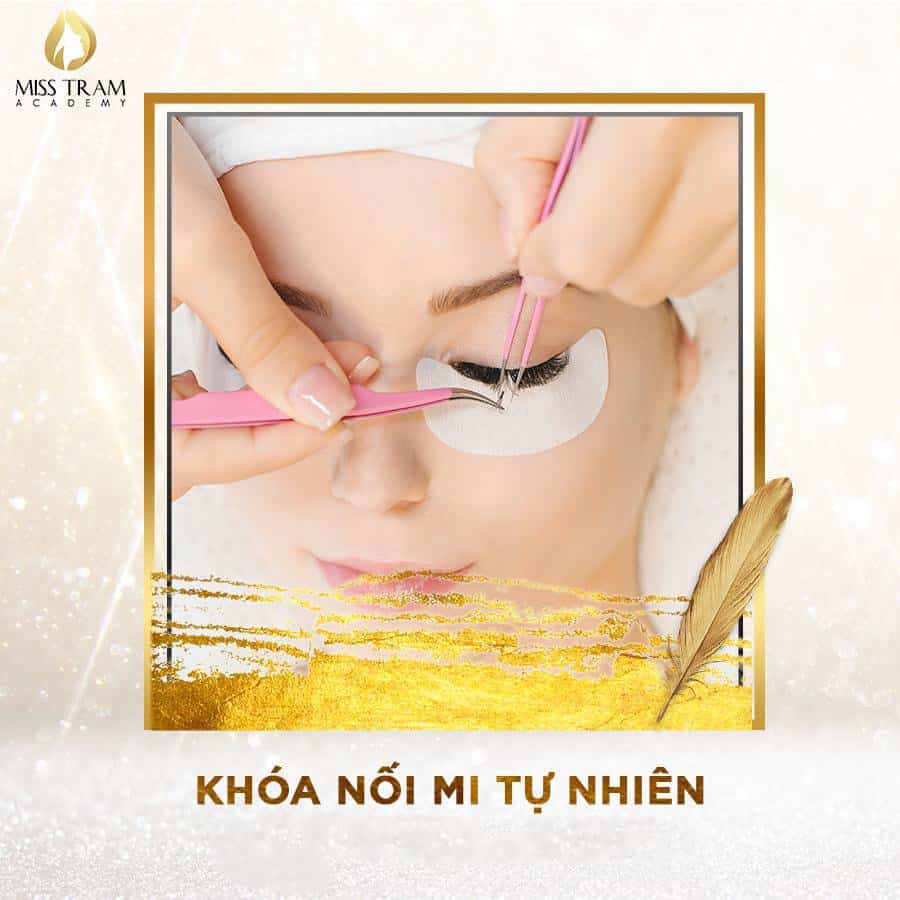 Eyelash extensions courses at Miss Tram include:
Basic Eyelash Extension Course.

Advanced Eyelash Extension Course.

Professional Eyelash Extension Course.
Come to the eyelash extension course at Miss TramStudents will understand the principles of the development of real eyelashes as well as the characteristics of false eyelashes, how to analyze and shape eyelashes suitable for each person's face. In addition, Miss Tram Academy will train modern eyelash extensions techniques; the most accurate techniques of dyeing eyelashes, covering eyelashes, bending eyelashes, removing eyelashes.
In particular, the skills of using and preserving eyelash extensions materials, consulting and problem-solving skills are also focused and included in the curriculum by Miss Tram. In order to prepare enough luggage for each student, make sure that after the course, all students have enough skills and knowledge to practice.
Footnotes: Is it difficult to learn eyelash extensions?
2. What makes you choose eyelash extensions courses at Miss Tram Academy?
Coming to the courses at Miss Tram, not only are they fully trained in skills and knowledge about eyelash extensions, students are guaranteed the quality of teaching:
A team of professional teachers, International standard curriculum and regularly updated with the latest eyelash extensions techniques.

The study time is flexible, students can arrange themselves according to their timetable and personal capacity.

Trained in the form of "hands-on work" from basic to advanced professional and regular practice with real samples.

Trained in skills to handle situations and incidents that occur during practice.

Professional learning environment, modern equipment and facilities are among the top eyelash extensions training institutions in Ho Chi Minh City.

After the course, all students are given a formal vocational certificate from the Ministry of Labour, Invalids and Social Affairs - valid nationwide and for life.
In particular, Miss Tram Academy is always famous for its friendly and comfortable learning environment among students as well as teachers. Students will have valuable experiences shared by industry experts, inspire and fuel their passion, to help motivate you to go far with this eyelash extension profession.
Footnotes: Eyelash Extension School Supplies What You Need
3. Does Miss Tram Academy allow you to pay for eyelash extensions?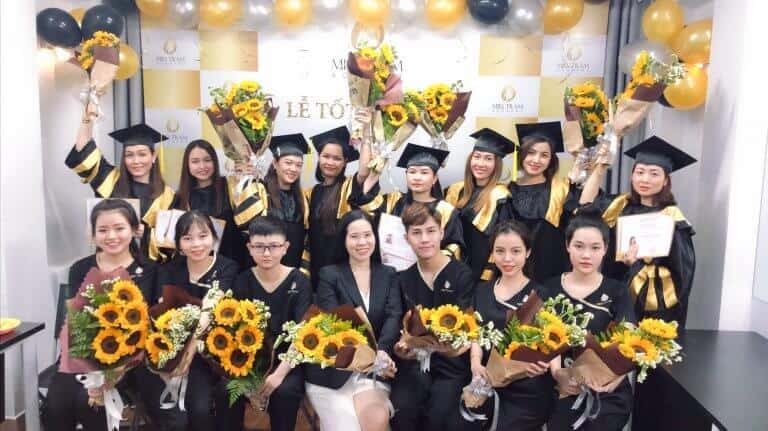 Courses at Miss Tram Academy usually only last 1-2 months at most (depending on capacity and study time), accelerated courses only take place in 7 days. The tuition fee of eyelash extensions is not high, but Miss Tram Academy always creates maximum conditions for students such as:
Give away a full set of professional eyelash extensions from all kinds of eyelashes, glue, wax, tweezers, ... used to learn and later work for customers.

Prepare a free practice sample for each student.

Reduced tuition fees when students register for the Professional Eyelash Extension Course from Basic to Advanced.

Miss Tram Academy also supports accommodation (clean and comfortable dormitory) for students who live far away to study.
Especially, confident with good quality training. Miss Tram Academy is committed to 100% of students after the course are proficient in their skills. At the same time, it is easy to apply for large spas and beauty salons, quickly have a stable income if you are serious and always enthusiastic about the profession.
Footnotes: Everything You Need To Know About Eyelash Extensions
With a methodical training curriculum and a team of dedicated instructors, eyelash extension courses at Miss Tram Academy will prepare the most complete luggage to help you confidently enter the profession. Miss Tram also always supports the needs and difficulties of each student in the learning process. So, if you are planning to pursue a career in eyelash extensions, please contact Miss Tram for detailed information about courses!
Hope this article will be useful to you. Good luck with your chosen path!
See More About News – Share Other Miss Tram Academy:
Miss Tram Academy Does Spa Course Pay Installment?
Does Miss Tram Academy Offer Installment Cosmetology Tattoo Lessons
What is required for Eyelash Extension Practice Certificate?