The best way to treat dark lips
Darkening treatment is one of the important technical steps, deciding the perfection of the lips after spraying. Because each customer's body is different and not everyone has pink lips, even because of environmental impacts or the use of many cosmetics can make lips dark. If you do not treat the dark before spraying, the lips will not have the desired color, not achieve a certain smoothness.
Why should I treat dark spots before spraying lips?
Spray lips is a form of modern aesthetics, using a sprayer with a specialized needle to put ink into the skin. Before that, the lips of the maker were shaped, aligned with the appropriate proportions to the face as well as deciding on a favorite color. Lip spray not only has a single spray pattern, but now is very diverse with many methods such as spraying soot, collagen lip spray, spray pink lips, micro point lip spray… Each style will have its own beauty, meeting different styles and needs for customers. In general, these lip spray types have in common that they will bring lips with a natural and harmonious color that is difficult to recognize as a result of aesthetics.
The lip spray process goes through many steps, including the evaluation of color selection, anesthesia and antiseptic, treatment of dark lips, putting ink into the skin, etc. In which, the darkening process is quite important, because it can affect the quality of lips after spraying.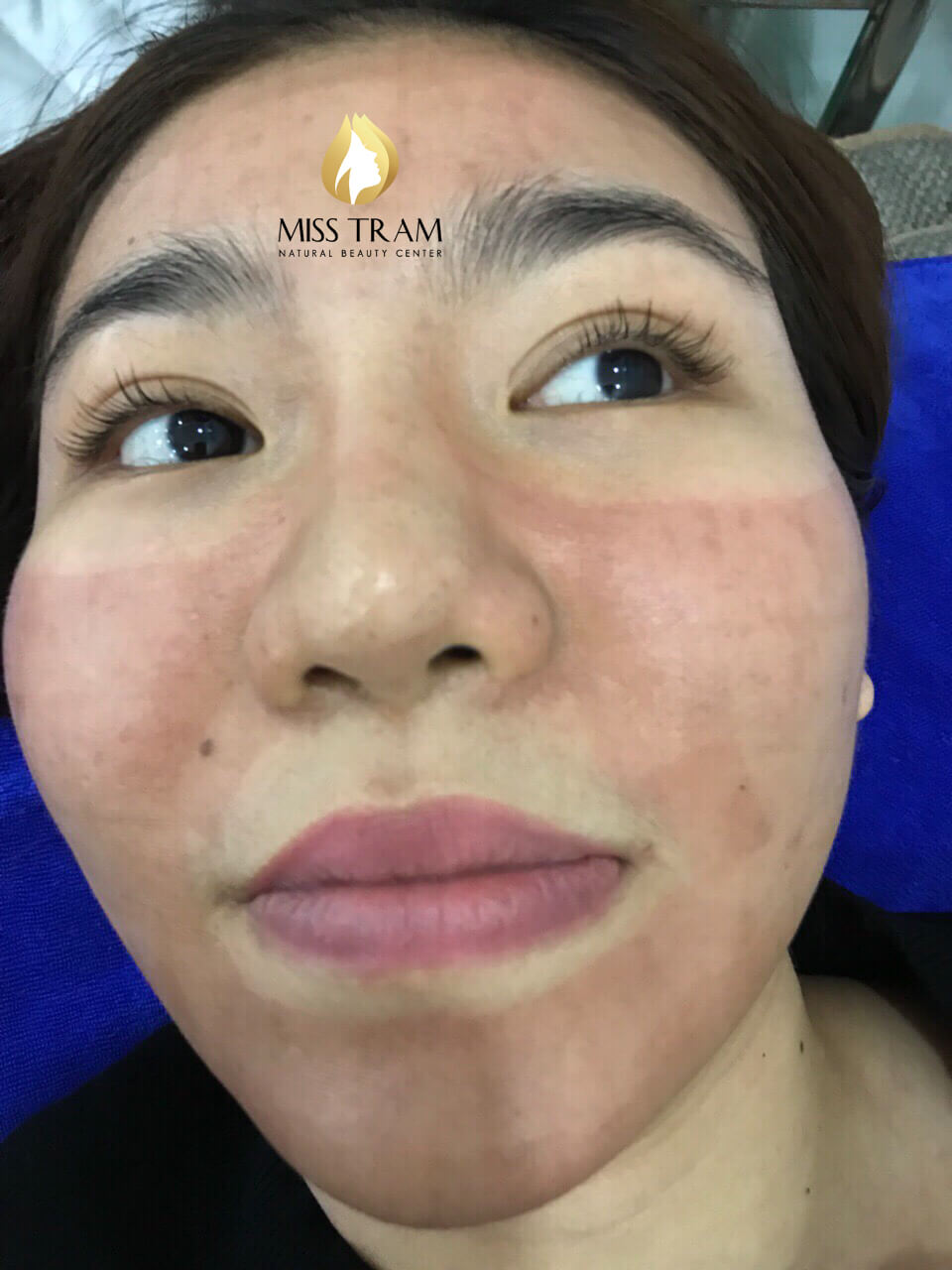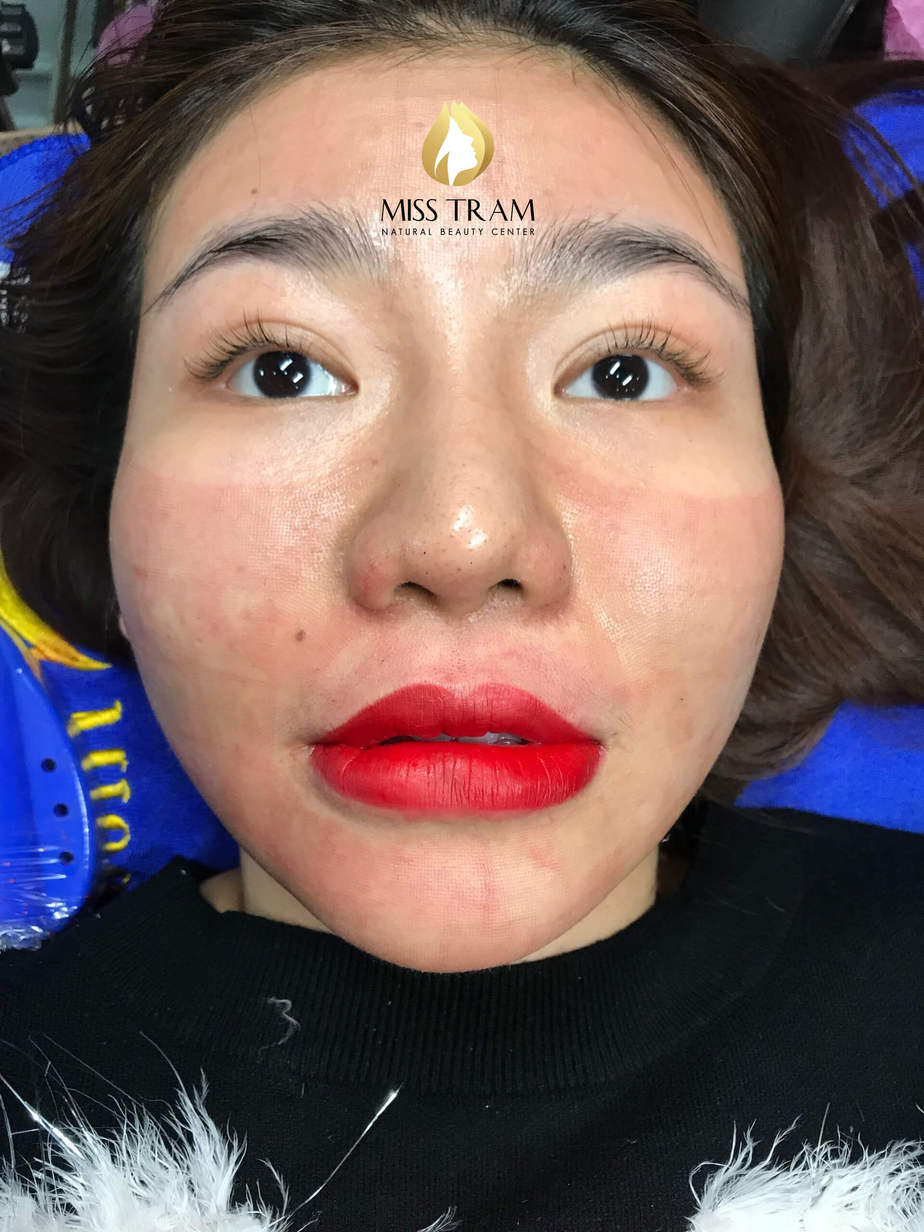 In fact, not all customers have good lip anatomy, bright lip color. And a lot of people who come to spray their lips are having a very poor lip condition (the border or the heart of the lips). According to the experience of Miss Tram Academy, dark lips are caused by the following factors:
Environmental impact (ultraviolet, sun, wind and smog)

Unhealthy lifestyle, diet, frequent use of stimulants (coffee, tea, tobacco, ...)

Regularly wearing makeup, using poor quality lipstick

Part of it is due to congenital anomalies
Deep lips does not affect health but causes many aesthetic inconveniences, causing us to lose confidence when communicating. Not only that, dark lips also cause the color to spray up non-standard, lips are less fresh, color spots appear, .. Therefore, one of the basic techniques of lip spray is to check and handle. thoroughly before proceeding with ink injection.
See Further Articles:
Lip Correction Techniques – Accurate Lip Contouring
Where Should I Learn Quality Eyelash Extensions
Important Points In Micro-Touch Ombre Technique
How to treat dark lips?
Deep treatment in lip spray is divided into 2 specific cases: treatment before spraying and after spraying.
Before spraying the lips, if the customer has dark lips, you will use a specialized baby pink to treat the dark. If the condition is mild, only spray about 2 layers, if it is heavily bruised, increase to 3-4 spray layers. When dark at the edge, only spray to treat this area.
Course: Transmission of Tattooing, Embroidery, Aesthetic Sculpture
Usually, people with severe dark lips after using baby pink, continue to spray with Orange Red until the color changes. To achieve good results, you will tell the customer to come back after 2 months to color.
Dark lips after spraying can be caused by the following causes:
You go too hard at the lip line

Using the wrong needle, the needle is deep
In this situation to handle the most effectively, you should tell the customer after 30 days to come back for orange or red orange.
Some techniques to treat dark lips above of Miss Tram Academy Hope to have helped you have more useful experience. Wish you always create the most beautiful, natural and youthful lips.