Do you have a dream of becoming a expert spray embroidery and aesthetic sculpture professionally. You want to have a high level of income. Do you want to open your own shop? spa business. But you don't know where to start? What should be done?
So don't worry, first you need to find yourself a good vocational training place. This will be a place to help you master all the knowledge about the profession, so please be more careful in choosing.
If you are in Thai Nguyen and is struggling to find spa vocational address Then you can refer to the list Miss Tram VietNam will introduce below.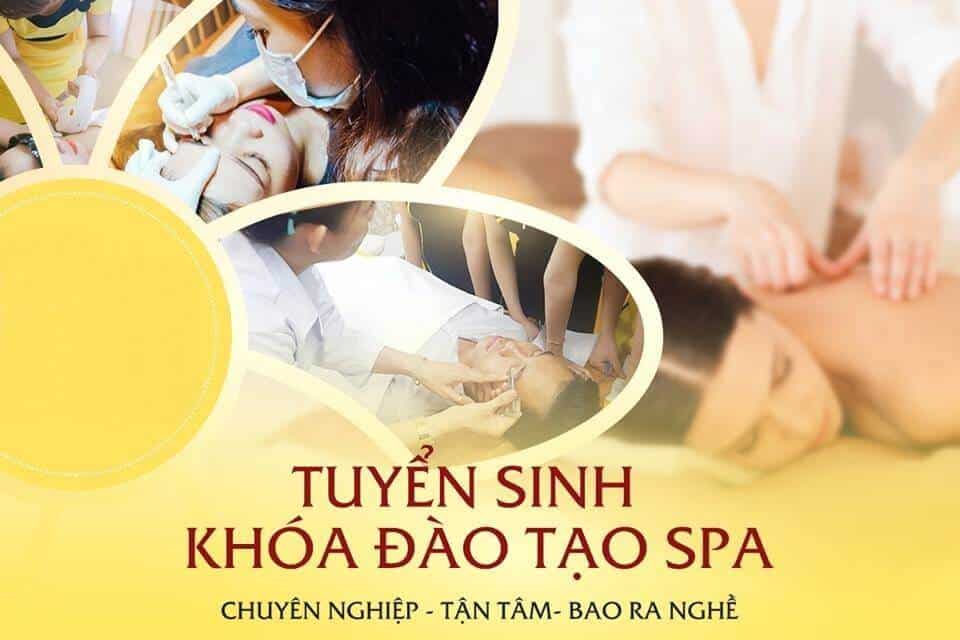 Spa Teaching Skin Care, Cosmetic Tattooing In Thai Nguyen
1. Kore Beauty Thai Nguyen
Kore Beauty is a famous vocational training address in Thai Nguyen, famous for the leading Korean standard beauty machine and technology system in Vietnam.
Address: 630 Luong Ngoc Quyen, Phan Dinh Phung, City. Thai Nguyen

Phone: 0363.559.255
2. Spa&Clinic Flavors
Known as a prestigious vocational training address in Thai Nguyen with good training quality, friendly learning environment and reasonable costs.
Address: Residential Area 5, Group 4, Phan Dinh Phung Ward, City. Thai Nguyen

Phone: 0917.333.110
3. Duong Hoa Spa
Come to Duong Hoa Spa Students will experience a spacious learning space, enthusiastic and professional teachers to ensure the best output quality for students.
Address: No. 26 - Sub-zone 3, Ba Hang Town, Pho Yen, Thai Nguyen

Phone: 0978.708.222 - 0945.114.190
4. Thuy Dung Beauty Salon
With a system of the world's most advanced modern machinery and equipment, along with a friendly learning environment, good training quality has helped the name Thuy Dung closer to young people in Thai Nguyen.
Facility address 1: 929/1 Duong Tu Minh Street, City. Thai Nguyen

Address 2: Group 23, Bac Son Street, Hoang Van Thu Ward, Thai Nguyen City

Phone: 1900.1202
5. Phuong Anh Spa & Clinic
Phuong Anh Spa & Clinic highly appreciated for its good quality of vocational training, methodical curriculum, and focus on practice to improve skills, so many young people love and study in Thai Nguyen.
Address: 204 Truong Chinh, Ba Hang Ward, Tx. Pho Yen, Thai Nguyen

Hotline: 0366.398.555
6. Royal Spa Thai Nguyen
Royal Spa Thai Nguyen gives students a great experience when investing in a system of modern facilities, spacious classrooms, and professional textbooks.
Address: 66 Bac Son Street, Hoang Van Thu, Thai Nguyen City

Phone: 0355.299.299
7. An Huong Spa
Students when coming to An Huong Spa will learn from lessons from beginner to specialized in cosmetology. Besides, there is also a lot of emphasis on practice, so students' skills are always steady.
Address: No. 23 Southern Pedagogical Area, Quang Trung Ward, City. Thai Nguyen

Phone: 0977.511.038 - 0334.642.333
8. Mie House Spa
Mie House Spa is a famous vocational training address in Thai Nguyen that is loved by many young people because of its good quality and relatively low cost.
Address: No. 9A – Alley 1, Minh Cau Street, Thai Nguyen City

Phone: 098/2211/994
9. Thien My Beauty Spa
With a system of modern machinery, a methodical learning curve and an affordable cost of learning, Thien My Beauty Spa is always a vocational training address chosen by many young people in Thai Nguyen.
Address Opposite Iron and Steel Hospital. Thai Nguyen City

Phone: 0913.710.854 - 0944.663.999
10. Hoai Thu Cosmetology
By no means inferior, Hoai Thu Beauty Salon It is also one of the prestigious and quality vocational training addresses chosen by many young people who are passionate about the beauty profession.
Address: 73 Minh Cau Street, Group 3, Phan Dinh Phung Ward. City. Thai Nguyen

Phone: 0984.133.888 - 0973.960.833

To be able to stay with the spa profession and have a high income, choosing a professional and quality vocational training institution is extremely important. Understanding that, Miss Tram would like to suggest to readers some notes to help choose a good and suitable vocational training place for them. Check out the details here: 8 Notes on Choosing a Beauty Profession & Experience Choosing a Beauty Training Place – Aesthetic Spa Is Right For You
Besides, in order to create conditions for young people to learn the art of spraying embroidery and aesthetic sculpture, they have limited time and limited expenses. Miss Tram would like to introduce an online course with professional, methodical and effective training experiences at home - the quality is still guaranteed but the cost is much lower.
With this course, students will still receive professional training like an offline course with a specially designed learning program.
Equipped with sufficient knowledge and skills to work or open a Spa/Cosmetology Center.

Join the group to exchange experiences, talk about careers, make many new friends.

Be connected directly with the Academy Manager to have your own personalized study schedule at home. The staff of teachers/caregivers always accompany throughout the learning process.

Updated, catching up on beauty trends continuously in the cosmetic tattoo industry

Granted VIP account, have the right to study online all courses (skin care, cosmetic tattoo spray, makeup, nails, ...) of internal Miss Tram.

Upon completion of the course, a nationally recognized and valid diploma is awarded.
With more than 17 years of experience, Miss Tram is confident to bring the best experiences, the most solid luggage after graduation. From there, students can confidently pursue their own passions.
To make the process of learning eyebrow sculpting easier for students, Miss Tram would like to share tips to help you master the techniques, how to make standard eyebrows, and a unique shape at Miss Tram.
Determine and draw a standard eyebrow shape suitable for artificial skin or real model (horizontal, curved, European, lance-shaped, horizontal curved and slanted eyebrows).

Standard color mixing formula: depending on preferences, skin color, hair color to use reasonable ink colors (black brown, gray brown, western brown, chocolate brown...

Incubate eyebrows: use numbing cream to incubate the entire eyebrow and wait for 1-15 minutes to numb the other side (depending on how thin or thick the client's skin is).
Manipulation:
Install the blade at an angle of 25 degrees to the handle, with the tip facing up.

Hold the knife firmly, use 2 fingers to gently stretch the straight skin to make the engraving smooth and even.

The hand force is decisive, the tip of the knife is 0.5mm deep into the skin, engraved in the direction of the eyebrow of the pattern (single thread, double thread, staggered thread in a reasonable, orderly manner).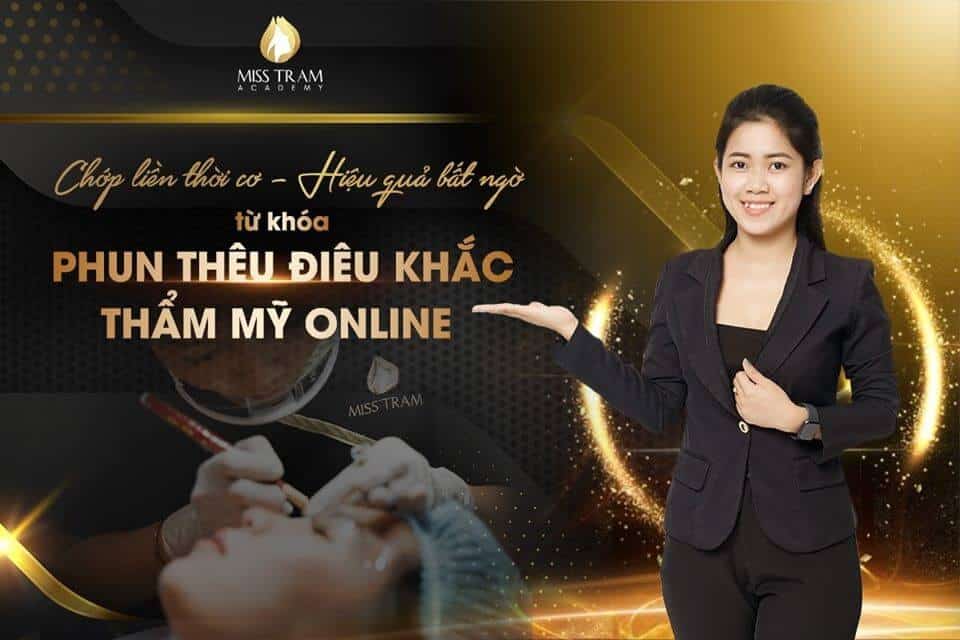 So attractive with a quality course that is super economical like above? Please refer to more detailed information about the course of eyebrow-eye-lip sculpting spray-embroidery course at Miss Tram in the article: Aesthetic Sculpture Embroidery Course Online – Why Not?
Surely finding a spa apprenticeship address will not be difficult for you anymore. Because you already have a list of addresses and useful notes that Miss tram introduced above, right? I hope you find the best and most suitable place for you to study. Please share the post to let everyone know.